In this week's guest post, co-host from The Cruise Dudes, Scott Andrews, gives us his review of Princess Cruises' new restaurant SHARE on Ruby Princess. Be sure to check out their weekly podcast as they explore the exciting world of cruise ship vacations.
SHARE on Ruby Princess Restaurant Review
While in dry dock December 2015, Princess removed Sabatini's restaurant on the Ruby Princess to make room for her new restaurant, "SHARE" which is currently also on the Emerald Princess. Curtis Stone, an award-winning chef, has teamed up with Princess to create an exciting and breathtaking new restaurant.

SHARE is just that, sharing. Curtis Stone sums it up best: "Sharing food and conversation with family and good friends is the best way to eat. I love the process of passing plates amongst each other and creating meaningful connections, sharing what you like, and reflecting on your adventures during the day. It's these moments that create memories we treasure forever."
During our recent sailing on the Ruby Princess, we were fortunate enough to experience this innovative new specialty restaurant firsthand.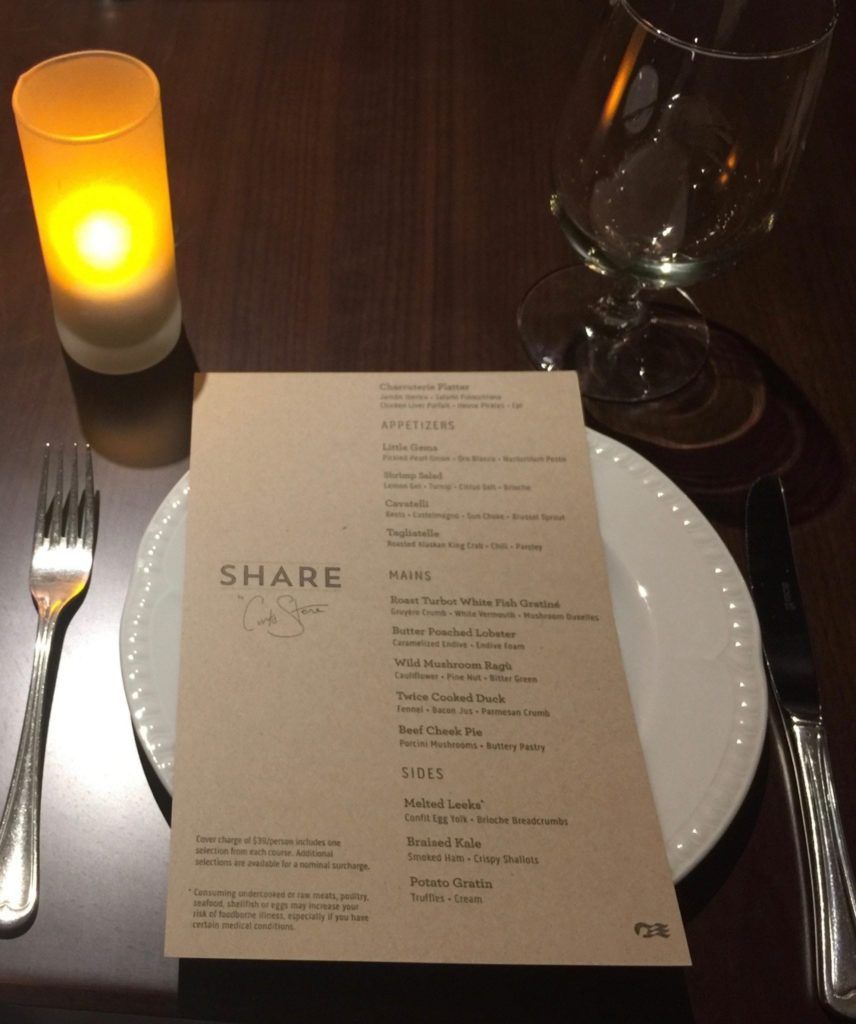 The meal started with the "Charcuterie Platter" which included Jamon Iberico, Salami Finocchiona, Chicken Liver Parfait, House Pickles and Epi. I was surprised- even though I am not a big fan of liver, it was smooth and pleasant to the palette. The Appetizer was "Cavatelli"- Beets, Castelmango, Sun Choke, and Brussel Sprout. If you were upset about Sabatini's being gone, this dish will put you at ease. This Italian style appetizer was sweet, bitter, and cheesy all in one. The gnocchi was cooked to perfection – it melts in your mouth.
SHARE on Ruby Princess – Charcuterie Platter
The main course was the "Twice Cooked Duck" with Fennel, Bacon Jus, and Parmesan Crumb. The Duck was cooked twice- the inside was soft, and the outside was crisp. It was so tender that I was able to cut it with my fork. Another main entree sampled was "Beef Cheek Pie". This meat and mushroom pie had a flaky crust with a hole in the center. Our waiter poured hot gravy into the hole at the table, which kept the pie piping hot. It was amazing!  The side's chosen were the "Melted Leeks" – Confit Egg Yolk with Brioche Breadcrumbs,  "Braised Kale", and "Potato Gratin"- truffles in cream. All are excellent choices. The leeks were hot, and the confit egg was runny. The kale was sweet, yes sweet with the smoked ham and the crispy shallots, a great combination.
SHARE on Ruby Princess – Twice Cooked Duck
With any meal wine is a must. Our host recommended a Blend by Ridge Lytton Spring, 2013. As a wine maker myself for nine years, it's something I would not have chosen. However, the host was right; the wine complemented every dish being served.  SHARE on Ruby Princess has a wide range of wines available to best match with your meal.
SHARE on Ruby Princess – Ridge Lytton Spring, 2013
For dessert, the "Dark Chocolate Cremeux" – Toasted Hazelnut Feilletine with Burnt Vanilla Bean Ice Cream and the "Ricotta Fritters" – Spiced Pear Rum Compote and Crème Fraiche Ice Cream were served. They were both perfect in size, flavor, and presentation. A fantastic ending to a wonderful meal!
SHARE on Ruby Princess – Dark Chocolate Cremeux
The chefs at SHARE on Ruby Princess are trained personally by Curtis Stone. SHARE also has a separate preparation galley area. The host explained all food purchases are sourced and delivered to the ship specifically for this restaurant.

The waiters are helpful and knowledgeable which adds to the style and experience of what SHARE brings to the table. The menu, just like in Curtis Stone's land based restaurants, will be changing every six months giving new and return cruisers fresh new choices to explore and enjoy.
SHARE on Ruby Princess is a specialty dining option with a cost of $39.00 per person. If unsure of trying SHARE, Princess has made available a small selection of Curtis Stone's menu in their dining rooms at no cost.
The entire dining experience from appetizer to dessert will be around two hours. It is well worth your time to enjoy and savor the flavors of Curtis Stone's excellent food choices. This is a restaurant not to miss, so make reservations before boarding or right after check-in on the ship – don't miss the boat!  "Until Next Time, Keep On Cruising".
Comments
Have you dined at any of Curtis Stone's restaurants either on land or a Princess ship? What do you think of the menu and the new SHARE concept? Drop us an anchor below to tell us about your experiences and whether you would pay the upcharge to try this new specialty restaurant.
[author] [author_image timthumb='off']https://eatsleepcruise.com/wp-content/uploads/2016/03/ScottAndrews2.jpg.optimal.jpg[/author_image] [author_info]Scott Andrews is the cohost of the popular podcast The Cruise Dudes. Follow all of his cruising adventures on social media including Twitter, Instagram, Facebook, and Pinterest.[/author_info] [/author]