One of Norwegian Cruise Line's signature specialty dining venues is the steakhouse, Cagney's, which is found on many of the fleet's ships. Cagney's Steakhouse on Norwegian Escape offers the traditional dining atmosphere as well as Waterfront seating. Located in the aft of the ship on Deck 8, the restaurant is part of a small enclave containing the Prime Meridian Bar and another specialty restaurant, Moderno. This cozy and secluded area is dimly light and lined with leather chairs and dark woods for a sophisticated feel.


This restaurant is open nightly for dinner from 5:30pm to 10:00pm, and the menu is priced a la carte. You may use your specialty dining package at Cagney's, but note that you are only allowed one entree at this restaurant. Additional entree selections will be charged at $10 per plate. However, feel free to order as many appetizers as you want when using the Specialty Dining Package.
We dined at Cagney's on the third night of our cruise.  On this night, the restaurant was particularly busy. Arriving right on time for our 6:30pm reservation, there were a few couples ahead of us waiting to be seated. We could see that the restaurant was very full, with even some tables technically outside of the restaurant, filled with guests.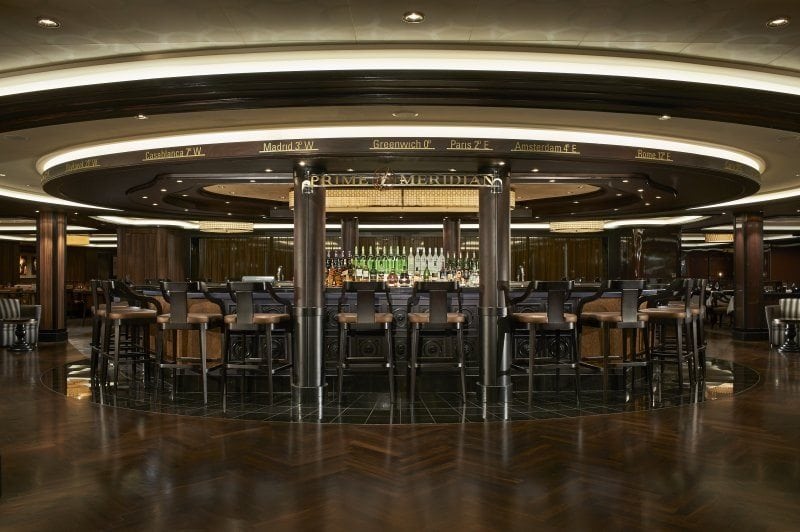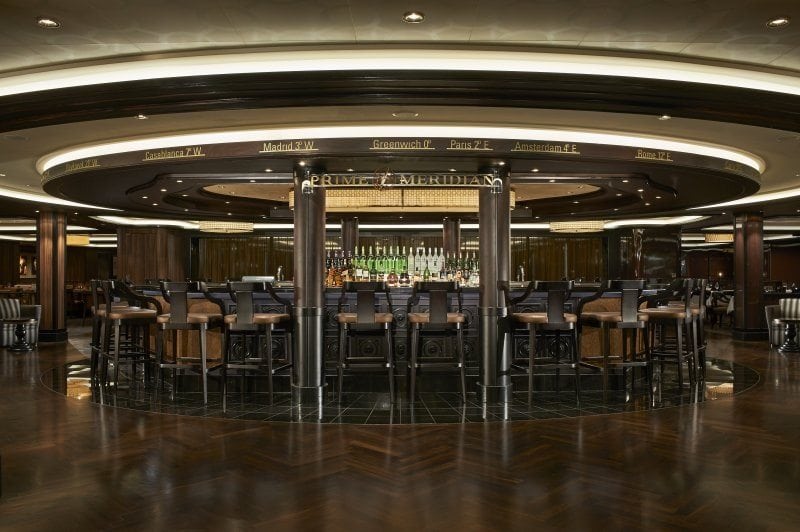 After taking care of the individuals in front of us, we were ready to be seated. We were not given a choice of seating preference, which was okay as we had no desire to eat outside on the Waterfront this particular evening. If you do want to eat al fresco, we did find certain restaurants had more availability than others. Depending on what time and day you eat at Cagney's Steakhouse on Norwegian Escape, you may want to ask ahead of time about reserving an outside table.
Waterfront seating at Cagney's Steakhouse on Norwegian Escape
For popular restaurants like Cagney's Steakhouse on Norwegian Escape, we suggest making reservations ahead of time. For all of our specialty dining on Norwegian Escape, we pre-booked our reservations prior to sailing. If you do not want to plan that far in advance, we recommend booking once you board either through your television or the NCL smartphone app (For more insider tips on planning a Norwegian Escape cruise, see our 25 Norwegian Escape Secrets.).
Seated in a table for two in the center of the restaurant, we were surrounded by a crowd of fellow cruisers and restaurant staff that scurried around at a non-stop pace. It took only a few moments for our waiter to come by the table to introduce himself; although, he did seem a bit distracted. He arrived with a basket of bread, which was soft and crusty and accompanied by whipped butter. Planning on filling up on the steak, I did not want to go too crazy with bread.

Still reviewing our menu options, our waiter was off to get some ice water for the table. Upon his return, he was ready to take our dinner order without offering any drinks from the bar first. Unlike some other cruise lines, Norwegian Escape restaurants do not have dedicated bar staff. Not impressed with the one and only signature drink on the menu, the Princess ordered her default Cosmo, and I ordered a glass of Pinot Noir.
Wine and a Cosmo at Dinner
Now, it may sound odd that we decided to eat at a steakhouse, given that the Princess does not eat red meat or seafood. In fact, all she eats is chicken. But, given it is one of the line's signature restaurants, I had to try it out. The new menu at Cagney's Steakhouse on Norwegian Escape does not contain any chicken dishes; thus, the wife asked if she could be accommodated with a chicken entree. Our waiter obliged, offering the chicken dish from the MDR that night, but did not seem all that happy about having to grab it.
For starters, the Princess ordered the wedge salad. This classic salad was served in a traditional manner with a blue cheese dressing topped with bacon and tomatoes. A solid way to begin the dinner.
The Iceberg Wedge
For my starter, I selected the lump crab cake. Great choice as well; it was light yet crispy with an excellent combination of stuffing and crab meat. You could see and taste the crab meat.
Lump Crab Cake
Even though we ordered our appetizers and entrees together, it seemed like quite a long lapse between courses. It appeared that our waiter could have definitely used an assistant waiter to help with refilling our water and taking our dirty plates. We could see all of the staff hustling as it seemed like not a single table was empty. As soon as one party left, the table was cleaned, and other cruisers quickly occupied the seats.
When dinner did arrive, the wife was presented with pecan crusted chicken. Good thing she does not have a peanut allergy as she was never actually told what she was being served. Not being one to provide much detail when it comes to food, her chicken dish seemed to be satisfactory.
Pecan Crusted Chicken Breast
Not knowing ahead of time what the Princess was going to be served, we decided to order a bunch of sides. We had noticed that the sides were small when glancing around at other tables, so we did a total of four.

The mashed potatoes and the corn that the Princess ordered were average. The same was true for the onion rings that I ordered. But my other side dish, the Brussels sprouts were actually a great choice. Not really a vegetable that I order too often, this cabbage was roasted and had a smoky flavor. Trying to convince myself that they were healthy, I finished the entire order with no help from the Princess.
Side Dishes at Cagney's Steakhouse on Norwegian Escape
When it came to ordering dinner, I dropped the ball. Thinking it would be the best of both worlds, I decided to order the surf & turf, which included a petite filet mignon and a lobster tail. In hindsight, I should have gone for the porterhouse or ribeye as those plates being delivered to other tables around us looked much better. In terms of the filet, I ordered it cooked medium, and a cut down the middle indicated that it was slightly pink in the center, but honestly, it lacked any real seasoning or flavor. I was expecting more.
Surf & Turf
The lobster tail was also a bit of a let down. I am used to eating multiple lobster tails in the MDR on other cruise lines, so by paying for one on a cruise ship, I expected it to be a notch above the complimentary offerings. This time around, however, the lobster tail was just on par with what I have gotten on previous trips. Not sure if it had to do with how busy the venue was this particular evening, but the entrees were a bit disappointing.
While we are usually so stuffed at this point in the meal that we both have to force down a dessert, both of us were ready to indulge in something sweet this evening. During the two previous dinners, I had ordered coffee that was never delivered, but thankfully, the waiter did deliver on the after dinner caffeine tonight.
Even though I am the chocolate feign, the Princess also ended up ordering a dessert featuring chocolate. As usual, her choice, the chocolate fudge brownie, was not as good as my seven layer cake. While my dessert was a step above hers, neither of them were all that memorable.
Cagney's Steakhouse on Norwegian Escape Restaurant Review Recap
For those who like expertly made steaks, Cagney's Steakhouse on Norwegian Escape offers a wide selection of different cuts. All orders are cooked to your specifications. Next time we dine at this restaurant, I would definitely opt for a different cut of beef. While my steak was cooked as I requested, the seafood was a bit of a let down. I definitely saw other plates coming out of the kitchen that looked much tastier than mine. It turned out that our selections at Cagney's were hit or miss. While we both really liked our starters, the entrees and desserts were just average.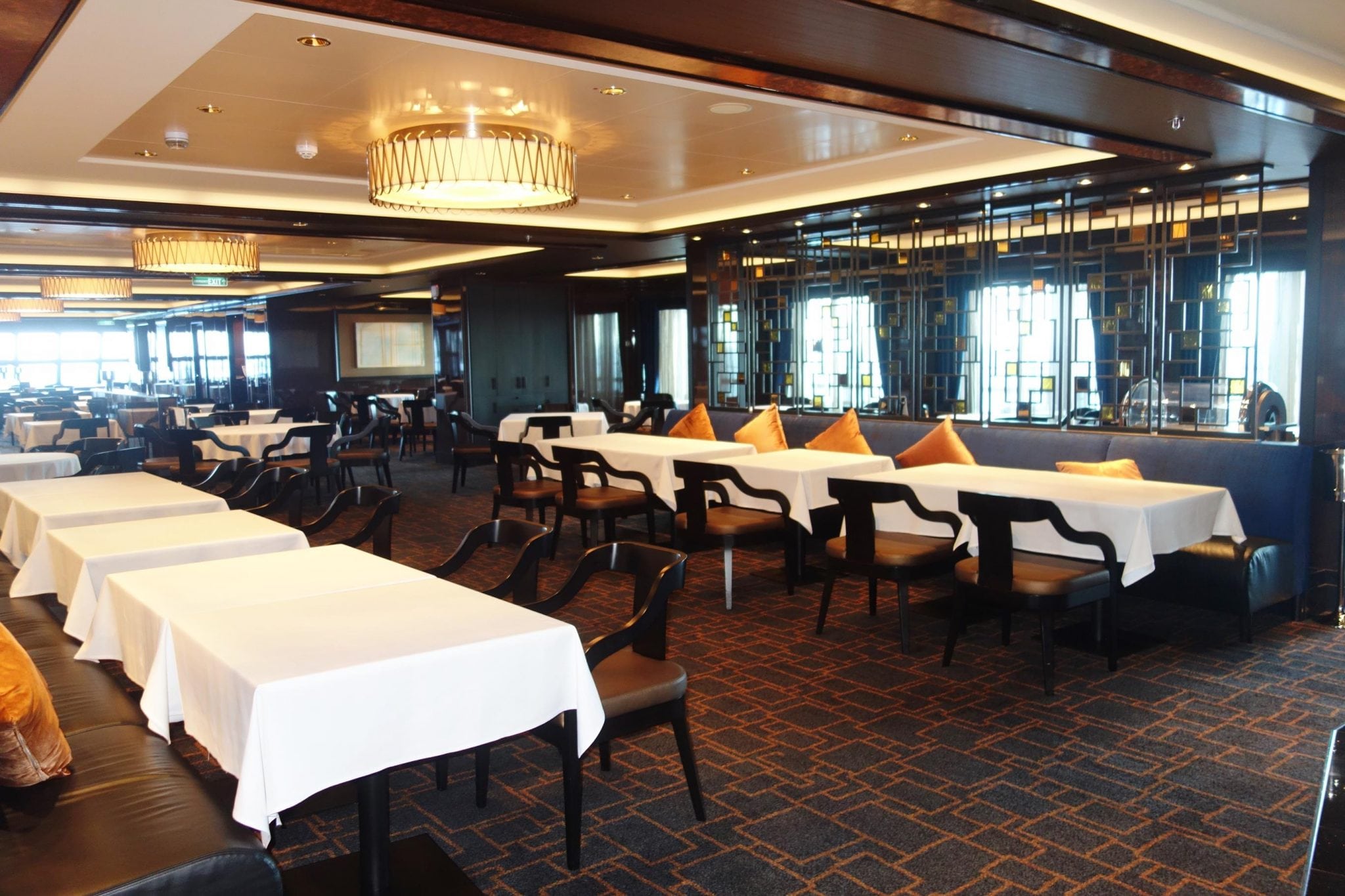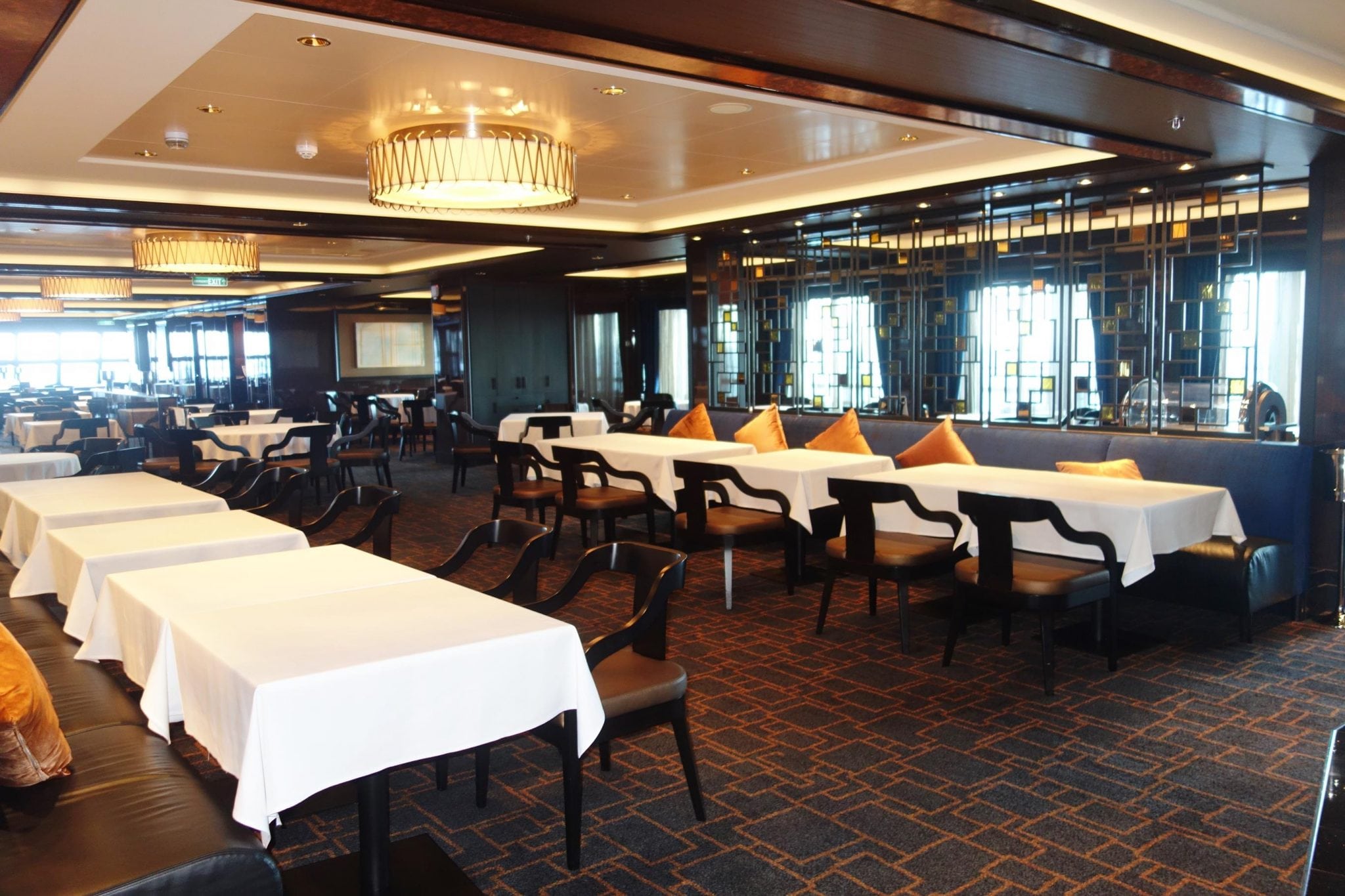 Not sure if it was because the restaurant was particularly busy the night we dined there, but the restaurant did seem short staffed as well. The staff were working very hard, but it made it difficult for them to deliver the expert level of service that you would expect in a specialty dining restaurant. Our waiter never had the opportunity to stop in and ask how the meals were or if we needed anything else, like another drink.


Comparing the costs of our dinners to the cost of the Specialty Dining package, I came out way ahead. Adding up the individual items ordered, my tab would have been $48.38 (including 18% gratuity), and the Princess' was $15.34 (as her entree was technically complimentary). Considering the specialty dining package ran us each $20.45 (for a 6-meal plan- price per meal does vary depending on the number of meals purchased with the average cost lessening with the greater number of meals purchased), we still saved money even with the Princess ordering a complimentary entree. All in all, if you plan to dine at specialty restaurants during your Norwegian Escape cruise, we highly recommend the dining package.
Comments
Have you dined at Cagney's on Norwegian Escape or any other ship in NCL's fleet? Do you like the Waterfront dining option? Drop us an anchor below to give us your thoughts on the food choices and specialty dining available on this newest ship in Norwegian Cruise Line's fleet.