While the cruise ship and ports of call are the feature of any cruise vacation, you should not overlook a ship's home port. There are often many things to do and see before (or after) your cruise right where the ship docks. For our recent cruise on Norwegian Escape, we set out to explore some of the city of Miami. We decided to take in many of the highlights using a Big Bus Miami Tour. Well, three tours to be exact.


Offering travelers various bus routes, as well as optional walking tours and even a bay cruise option, a Big Bus Miami Tour is a great way to explore the vibrant areas of Miami and Miami Beach.  See all of the great Miami city attractions that we were able to capture during our Big Bus Miami Tour.
Capturing Miami on a Big Bus Miami Tour
Miami City Loop
All of the company's bus tours originate from the large shopping center, Bayside Marketplace, a great place to shop or grab a drink and bite to eat, so make sure to set aside some time to wander through this rather large outdoor mall as well. Staying within walking distance to Bayside Marketplace at the Intercontinental Miami Hotel, we returned later that night for some live entertainment and daiquiris.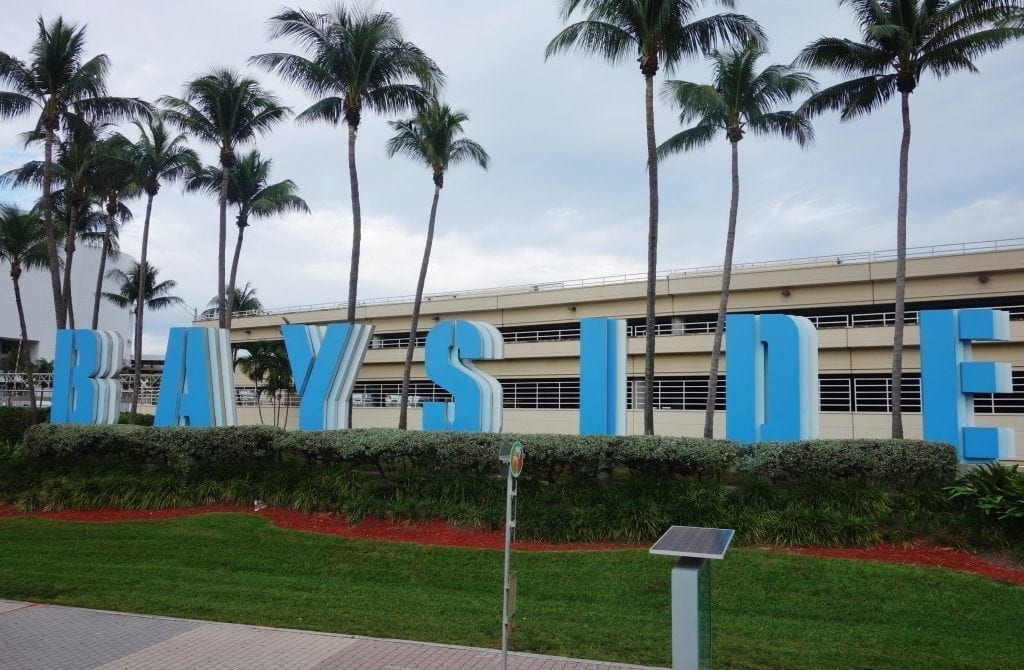 The longest tour option (distance-wise) with the Big Bus Miami Tour is this City Loop. Be sure to have your camera battery charged as there will be a lot to see during this 90 minute loop. Since this was our first visit to Miami, we mostly stayed on the bus to capture the highlights, but the next time we visit this city, we must get off and explore more of the neighborhoods.
Big Bus Miami Tours – One of the Fleet's Double Decker Buses
As soon as your Big Bus Miami Tour vehicle leaves the marketplace, you are greeted by the Freedom Tower. Now a museum, this building played a significant role in the immigration of Cuba refugees during the mid twentieth century.
Freedom Tower Downtown Miami
Not too far from this historic building, you will cross the American Airline Arena. Home to the Miami Heat, the center also hosts various concerts, sporting events, and special events. Depending on when you visit, you might be able to catch a game or a world class performer before jumping on the cruise ship.
American Airlines Arena
During the Big Bus Miami Tour, you will also discover some great architecture as you coast along the city streets. One impressive building is the federal courthouse that was designed to resemble a cruise ship.
Yup, This Federal Courthouse Does Resemble a Cruise Ship
Once you enter the oldest neighborhood in Miami, Coconut Grove, you will encounter the Vizcaya Museum and Gardens as well as some other unique homes, including the infamous Cohen home. You just have to be quick with the shutter to capture these spectacular places. We were not quick enough to capture any pictures of the famous museum, so we definitely plan to complete a more in depth tour of this historic site during our next visit to Miami.
One of the Unique Homes in Coconut Grove Area
If time permits, you might also want to hop off at the upscale shopping area of CocoWalk in the center of the Coconut Groove. Whether you want to do a little shopping, enjoy a nice lunch, or just relax, this is a great area to wander the streets and see some of the oldest buildings in the city.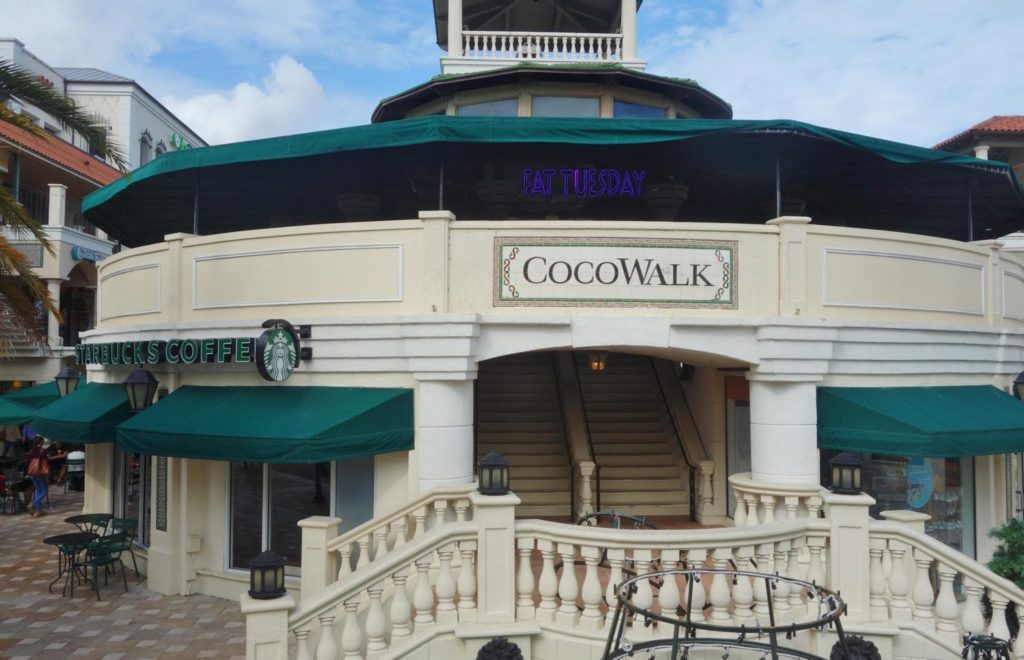 Speaking of history, there is nothing more noteworthy than the Biltmore Miami Hotel. Located in the Coral Gables area of the city, this 90 year hotel exudes elegance and beauty. The signature main building, surrounded by Palm Trees, is one postcard worthy photograph you must capture when on a Big Bus Miami Tour.
Biltmore Hotel Miami
Continuing the tour in "The City Beautiful", you will come across the Venetian Pool. Also over 90 years old, this public pool was created from the remains of a coral foundry. The lavish design and decor of the pool make it a place to stop and admire. Unfortunately, it was closed for renovations during our trip to Miami. Add this historic pool to our list of must visit attractions during our next trip to Miami.
Entrance to Venetian Pool
Given our limited time in Miami and the bus schedules, we decided to make our only hop off in Little Havana. This dynamic neighborhood is rich with Cuban and Latin American culture. Restaurants, shops, and music fill the air with rich flavor and tradition in this neighborhood.
Welcome to Little Havana
The bus drops you off near Domino Park. Admittedly, we did not expect the park to be so small or filled with concrete. While exploring Little Havana, be sure to capture some photos of other notable landmarks such as the Tower Theater and the Calle Ocho Walk of Fame, where Latin Americans are immortalized in this neighborhood's version of the Hollywood Walk of Fame. With the 30 minutes we had to traverse the neighborhood, we did not manage to find Gloria Estefan's star.

The remainder of the city loop includes more skylines and buildings. Traveling on the highway, it is windy, but time things right and you can get some great cityscape photos before returning back to the central station to hop on another Big Bus Miami Tour.
Miami High Rises
Uptown Miami – The Art District
The Uptown Miami Loop (also know as the art district) is the shortest tour option at 60 minutes. Taking the last tour of the day at 4:00pm, this meant we could not get off at any of the stops, unless we wanted to take a taxi back. On your journey to the art district, you will pass the Port of Miami, and if you are lucky enough, you might be able to capture a few cruise ship photos.
The main attraction on the Uptown Loop though is the Wynwood Walls– a giant set of outdoor murals. These artistic displays have revitalized this neighborhood and were one of the main reasons we decided to complete this loop as part of the Big Bus Miami Tour.
Wynwood Walls in Uptown Miami
Completed over the span of only a few days, buildings of this area are transformed by graffiti artists. There are really no words to describe these masterpieces. The photos you will capture will speak for themselves.
Of course, it would take days of exploration to see all of the different scenes depicted on the buildings in this area. On a Big Bus Miami Tour, you will get a glimpse of this one of a kind street art collection, but if you are intrigued by what you see, you can always return on your own for a more in depth look.
During this loop, you will also pass by some historic Miami spots including the Prohibition Restaurant, Lyric Theater, and the History Miami Museum. But, you will have to be quicker than us if you want to capture any photos of these landmarks. The final sections of the tour overlap with part of the other loops, meaning you may be able to let your camera take a rest and just relax during the final stretch of this loop on your Big Bus Miami Tour.
A Glimpse of Miami Beach
The morning of day 8, following our cruise, we set out to capture the remaining Miami city highlights by taking the Beach Loop on the Big Bus Miami Tour. Our transfer from the cruise port got us to the Bayside Marketplace just in time for the 9:30am tour departure. We also snagged some of the last seats on the upper deck of the bus. Due to a local art festival and street closures, the tour unfortunately had to take a different route, meaning we did not actually see any of the beach or retro lifeguard stands during the 90 minute tour.
Upon leaving the Bayside Marketplace, you quickly hop on the MacArthur Causeway to head over to Miami Beach. If you are taking the Big Bus Miami Tour post cruise, you will get the chance to take a few more pictures of your cruise ship docked. We were able to snag two decent photos of Norwegian Escape and Carnival Breeze. Sadly, the ships would be leaving later in the day without us!
You will also pass by some of the exclusive areas around Miami, including Star Island. This ritzy neighborhood, which is a small island west of Miami Beach, has been home to Miami celebrities including Don Johnson and Shaquille O'Neal. Your tour bus won't be making a stop here, but if you are quick, you might be able to grab a photo of the island.
Star Island, Miami
A popular lookout point for cruise ships is South Pointe Park. If you decide to do this loop on your Big Bus Miami Tour pre-cruise, try to time your visit for sail away. Or, you can always grab a taxi here on your own later to capture some great photos of the cruise ships and ocean vistas.
Entrance to South Pointe Park
Given the detours and road closures, we were not able to get any beach pictures. Limited time also meant we were not able to hop off the bus much to explore the area. We had to take all of our pictures of the Art Deco buildings and high luxury establishments from the bus. A future visit to this area for further exploration is definitely on our agenda.



There are many luxury hotels and million dollar homes on the Beach Loop, including the Loews Hotel, the Riviera, the Rui Hotel, and the Fontainebleau to name a few. It is really a great chance to take pictures of some one of a kind buildings and architecture. If time allows, you might want to hop off and take an Art Deco Walking Tour.



We did hop off at one stop during our Big Bus Miami Tour of South Beach at Lincoln Road. This shopping district was relatively quiet. But with over a mile of shops, we did not have enough time to see everything. We were able to capture a few photos of the Lincoln Theater, the Lincoln Park Soundscape, and The Fillmore at Jackie Gleason Center Miami Beach.



After spending about a half hour in this area, we caught the next bus to complete the loop and head back for our airport transfer. Unfortunately, we were not able to get outdoor seats for the remainder of the tour. While disappointing, the rest of the route was mostly duplicates of what we had already seen anyway.

Summary of a Big Bus Miami Tour
We completed the Big Bus Miami Tour both pre-cruise and post cruise. The pre-cruise day was booked directly with the bus company, and the post cruise day was booked with the cruise line as a shore excursion including transfer to the Ft. Lauderdale airport. We did receive complimentary tickets from Big Bus Miami for our pre-cruise tour in exchange for this review, but all opinions of this tour are our own.
The shore excursion that we purchased for post cruise included transportation to and from the cruise terminal, luggage storage, and a transport back to the airport. Flying from Fort Lauderdale, there were only two shuttle options- a 12:00pm or 2:30pm. Given that our flight was 3:30pm, we had to take the 12pm shuttle limiting our tour time. If you are flying out of Miami, there is greater shuttle availability, running almost every hour and giving you more time to explore the city.
Highlight
You can see virtually all of the major landmarks of Miami in a limited amount of time with a Big Bus Miami Tour. With flexible options, you can do things on your own schedule, hopping on and off as you please. Maps and schedules are provided so you know when the buses are expected to run and have a list of all the hop on/hop off locations. In general, pick ups are every 30 minutes on the red loop and blue loop and every 45 minutes on the green loop, but we suggest giving yourself a few extra minutes as the buses can come early depending on the time of day. With buses leaving Central Station from around 8:30am to 5pm, you are free to see as much (or as little) of the city as you like in the comfort of the open air buses.
DB and The Princess Chilling on the Big Bus Miami Tour Bus
What's Missing
While the buses do run on a schedule, if you hop off, you do not know how busy the bus will be when you hop back on, so you may not always get a seat outside. Luckily, we did get top deck seating during all tours, except the last part of the Beach Loop. Another let down was the inconsistencies with the tour guides. Some buses had live tour guides, whereas others had pre-recorded narration. Also, tours were offered in multiple languages on some tours, but not on others; so we did see some frustrated passengers who hopped on the bus expecting narration in their native language, only to be told this particular tour did not.
Main Takeaway
We enjoyed sightseeing on the Big Bus Miami Tour. Completing all three loops in two days is doable, but we did not get to really discover any areas of the city in depth. Hopping off only twice, we did feel a bit rushed. However, the tours were a great introduction to the city, so now we can plan to visit certain attractions during our next trip to Miami to explore them in more detail. We certainly would recommend first time travelers with limited time in Miami take a Big Bus Miami Tour. We suggest starting the day with either the Beach or City Loop and ending with the Uptown Loop. If time permits, share rides are always available to take you back to the areas you want to explore more in depth. Thanks to Big Bus Miami we have a better understanding of the city, its history, and where we want to visit during our next pre-cruise stay.
Comments
Have you taken a Big Bus Miami Tour or any other organized city tour? What are your favorite things to do and see in Miami? Drop us an anchor below to share your favorite ways to traverse this great city before or after a cruise vacation.