Food, and lots of it, is a hallmark of any cruise vacation. Today, many ships offer a wide range of dining options including complimentary and for-fee themed restaurants. But, a constant for the more traditional cruisers is the main dining room (MDR). Here, every night you can select from a different menu offering a wide array of classic cruise starters and entrees.
A Traditional Main Dining Room on Royal Caribbean Ships
Well, last year, Royal Caribbean announced a new concept, Dynamic Dining. This would replace the traditional dining experience that we cruisers have grown to know and love by eliminating the main dining room (along with a host of other changes). A lot has happened since the debut of Dynamic Dining on Quantum of the Seas. Based on customer feedback, the Dynamic Dining concept has been evolving since its inception.
Royal Caribbean has recently announced a commitment to Dynamic Dining, but the company will make some tweaks to the program before expanding it to other ships in their fleet, including the soon to debut Anthem of the Seas.
With Dynamic Dining permeating the future of cruising on Royal Caribbean, we have put together this Dynamic Dining Review to help you master this new concept.
Bon Appetit!
Dynamic Dining Review
What is Dynamic Dining?
Unlike other cruise ships in Royal Caribbean's fleet, those with Dynamic Dining have no main dining room. Instead, these ships have multiple dining venues with various culinary inspirations and unique menus. These different restaurants include a mix of complimentary and up-charge venues. Under this recently modified Dynamic Dining concept, cruisers will now have two options to select prior to cruising: Dynamic Dining Classic or Dynamic Dining Choice.
Royal Caribbean International ©
Dynamic Dining Classic
Under this program, cruisers will have a more traditional setup, with a set dining time of either an early seating (around 6:00pm every night) or a late seating (around 8:30pm). The table arrangement will be the same each night, with a service team that stays with you as you rotate through each restaurant.
Instead of meeting in the same main dining room for dinner each night, guests will rotate on a predetermined schedule, through all the complimentary restaurants – which can include American Icon Grill, Silk, Chic, and The Grande Restaurant. It is unclear at this time how the rotation will be determined, which might pose some challenges for guests who want to replace a night in one of these restaurants with a specialty dining option.
Inside one of our Favorite Dynamic Dining Restaurants- American Icon Grill
We have restaurant reviews for all of these venues here.
Now, with this option, cruisers can enjoy the consistency and familiarity of having the same wait staff every night- one of the biggest complaints of cruisers experiencing the current Dynamic Dining on Quantum of the Seas. Plus, travelers opting for this dining setup do not need to worry about making dinner reservations or scheduling times as you will dine at the same time every night.
Of course, you can choose to dine at a specialty restaurant at anytime during your cruise. You can schedule these reservations pre-cruise using the Cruise Planner or while onboard.
Dynamic Dining Choice
Under this program, which was the original Dynamic Dining concept we tested on Quantum of the Seas, cruisers have no set dining times or venues. They can eat at any restaurant, any night of the cruise, at any time-well, at least in theory.
You Can Make Dining Reservations for Dynamic Dining on the Cruise Planner
There is an online reservation system on Royal Caribbean's website, the Cruise Planner, where you can make reservations. With this system, you can make reservations at any restaurant for your time preference, which can be different each night. You can also link different cabins or members of your party to allow you to make reservations for varying groups, so you are never locked into a specific table arrangement either.
If you are more free spirited, you can wait until you are onboard the ship to make reservations or just "walk up" to a venue at a given time. Just like a restaurant back on land, you can just show up and based on availability either be sat or put on a waiting list.
You are really in control of your dining experience with this option. As the name indicates, you have lots of choice about when and where you eat dinner during your vacation. With this option, you chose to forgo the consistency of service staff during your cruise.
Dynamic Dining in Action
In January of 2015, we cruised on Quantum of the Seas doing an eight night sailing using Dynamic Dining Choice (there was no Dynamic Dining Classic option for that sailing). Our recommendations and observations in this section of our Dynamic Dining Review are based on these experiences.
Quantum of the Seas Docked in San Juan, Puerto Rico
Given that we are both planners by nature, we opted to make all our dining reservations in advance using the Cruise Planner on Royal Caribbean's website.
Making Dining Reservations
Dynamic Dining Review: Rating 3.0/5.0
Tip #1 Check your cruise planner early to make reservations.
We booked our Quantum cruise about 7 months out and were able to begin making Dynamic Dining Reservations right away. Our Anthem of the Seas dining opened up over 500 days from our sail date, and we (initially) made reservations for that cruise as soon as they became available.
Tip #2 Check your cruise planner frequently for new openings.
Over the seven months between booking and sailing, new dinner times would become available as other cruisers made changes to their plans. At first take, we did not get our desired dining times as prime times (6:00-8:00pm) did fill up quickly. But, we were able to make changes along the way as new times became available.
Tip #3 Call Royal Caribbean if you experience difficulty using the cruise planner.
Using the Cruise Planner is a bit hit or miss. The website itself is slow at times, and there were multiple tech issues we encountered when trying to reserve dinner times. Time out errors and shopping cart issues frequently occurred.
We also experienced difficulty when attempting to modify our existing reservations. On at least two occasions, we had to call Royal Caribbean's customer service to change the times of our reservations.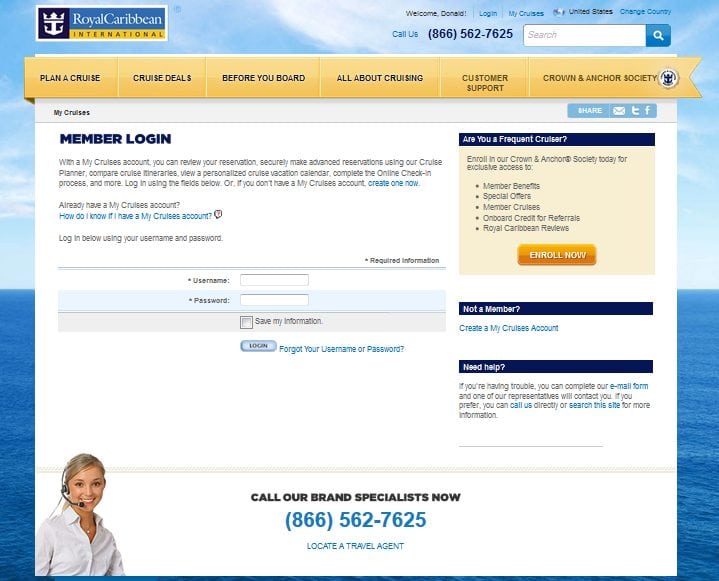 Dynamic Dining Once Onboard and Restaurant Check-In
Dynamic Dining Review: Rating 4.0/5.0
Once onboard, we were provided with a print-out of all the reservations we made prior to the cruise. For 8 nights, we made 7 dinner reservations-we had a night time excursion planned during our stay in Puerto Rico.
Tip # 1 Print out your email confirmation and online cruise calendar prior to sailing so you have a "hard copy" of all your reservations just in case.

Our Reservation to Wonderland was "lost" but quickly found!
Five of the seven reservations we made were correct on Royal Caribbean's print out-two were missing. Honestly, at first glance, we only noticed that we were missing our reservation to the specialty dining venue Wonderland planned for Day 3. A quick chat with the hostess at the restaurant confirmed that our reservation was in the system, and we were all set.
A few days later, it came to our attention that our reservation at American Icon Grill on Day 7 was also not listed, so again we had to get that fixed. After a brief conversation, we were given a reservation and told to just show up at the time we had originally scheduled. She made a note with our reservation, and we had no issues when we arrived at the restaurant.
At two of the complimentary restaurants we did encounter waits. On the first night, there was a 20 minute wait at Silk. We also had to wait about 10 minutes at Grande on night 5. All other nights, we walked up to the restaurant and were ushered to our table very promptly. Throughout the cruise, we did regularly see lines at some restaurants, especially Grande, perhaps because of the formal wear requirement?
Tip # 2 Get to the restaurant a few minutes before your scheduled dinner reservation. Often there are two lines at restaurants, one for stand-by and one for those with reservations, so be sure you are in the right line.
Dynamic Dining Food
Dynamic Dining Review: Rating 5.0/5.0
The food on Quantum of the Seas was the best cruise food we have ever had. This is really where Dynamic Dining shines! The quality and presentation were consistently outstanding during our cruise.
Hibachi Steak at Silk
Having been on most major cruise lines, we usually know what to expect from the main dining room. On Quantum of the Seas, those expectations were shattered as the food tasted fresher, and the serving sizes were much larger than normal.
All of the venues offer plenty of selections for starters, entrees, and desserts, so you should be able to find something you like (if not love). The Princess is a very picky eater, and she too enjoyed the selections more than the typical MDR options.
Each restaurant has a different theme and menu, but all have a standard menu of classic dishes if nothing peaks your interest. Even though you are on a cruise ship, each of the larger venues do feel more like you are in a restaurant. The signature drink menus, décor, and ambiance of each restaurant is unique, offering a much more authentic experience.
Chicken ala Orange from Grande
Since our sailing, the menus have been updated at most restaurants based on customer feedback, but many of our favorite selections are still available. Many cruise staples, like roasted duck and lobster tails, can still be found in at least one of the restaurants. Just like any cruise, you can order as much as you like at any of the restaurants, so make sure you go hungry.
Pork Shank From Wonderland
Tip # 1 Try a specialty restaurant. There are so many to choose from and even if you normally avoid these restaurants, you will be pleasantly surprised with the food and experience!
On most cruises, we usually avoid specialty dining restaurants. On Quantum of the Seas, we did try three of them-Wonderland, Jamie's Italian, and Devinly Decadence (which is now complimentary). Each restaurant was well worth the cover charge. For our Anthem of the Seas booking, we have already made reservations at these specialty restaurants again.
Delicious and Healthy Devinly Decadence is Now Free
Dynamic Dining Restaurant Service
Dynamic Dining Review: Rating 3.0/5.0
If the food is where Dynamic Dining shined during our cruise, the restaurant service was where Dynamic Dining fell short.
At the complimentary dining venues, we found the service slow and difficult to get bar service. At all venues, we were only able to get one round of drinks, even though we were at some restaurants for close to two hours.
Beverage Service was Limited At Many Dining Venues
Normally, in the main dining room, there is a team consisting of a waiter and an assistant waiter that care for your table during your dining experience. But on our sailing, there was primarily only a waiter.  At some venues, there were additional staff that functioned like food runners.
Since our sailing, Royal Caribbean has added additional wait staff, with recent cruisers reporting a more traditional waiter and assistant waiter set up. Now, with the Dynamic Dining Classic option, you will be assigned the same waiter and assistant waiter for the duration of your vacation. Unfortunately, we had a different waiter every night.
On our trip, the servers were working very hard, but they seemed overwhelmed and overworked. There were often long delays between ordering and delivery of courses. It often took a while for dishes to be cleared, and getting refills on water and coffee were difficult.
Our Waiter at Chic was Very Knowledgeable about the Menu
It was a new ship, and we know adjustments have been made and will continue to be made. So, we are hopeful that with more staff and more training, the service will be improved during future Dynamic Dining experiences.
Dynamic Dining Review Final Thoughts
We are sailing on Anthem of the Seas in January 2016 and have switched from Dynamic Dining Choice (the only offering at the time of our booking) to Dynamic Dining Classic as we prefer the traditional dining set-up. We enjoy the consistency of dining times and wait staff, so we are definitely glad that Royal Caribbean has listened to customer feedback and added this option.
We will be sure to update this Dynamic Dining Review once we return from that 12 night sailing. We suspect that the positive aspects we liked about Dynamic Dining-the food options, the more quaint restaurant setups, and the variety- will be maintained, and we hope that some of the elements we did not like-the wait times and inconsistent service- will be resolved.
Comments
Have you experienced Dynamic Dining? Do you have some recommendations or tips based on a cruise on either Quantum of the Seas or Anthem of the Seas? Drop us an anchor below to help your fellow cruisers learn more about this new dining concept!