For our final Dynamic Dining experience on our 8-night Quantum of the Seas sailing, we made reservations to eat at the specialty restaurant Jamie's Italian. We both love Italian food, and the menu as well as the location of the restaurant, in the Via, made this the perfect place to spend the last night on this ship!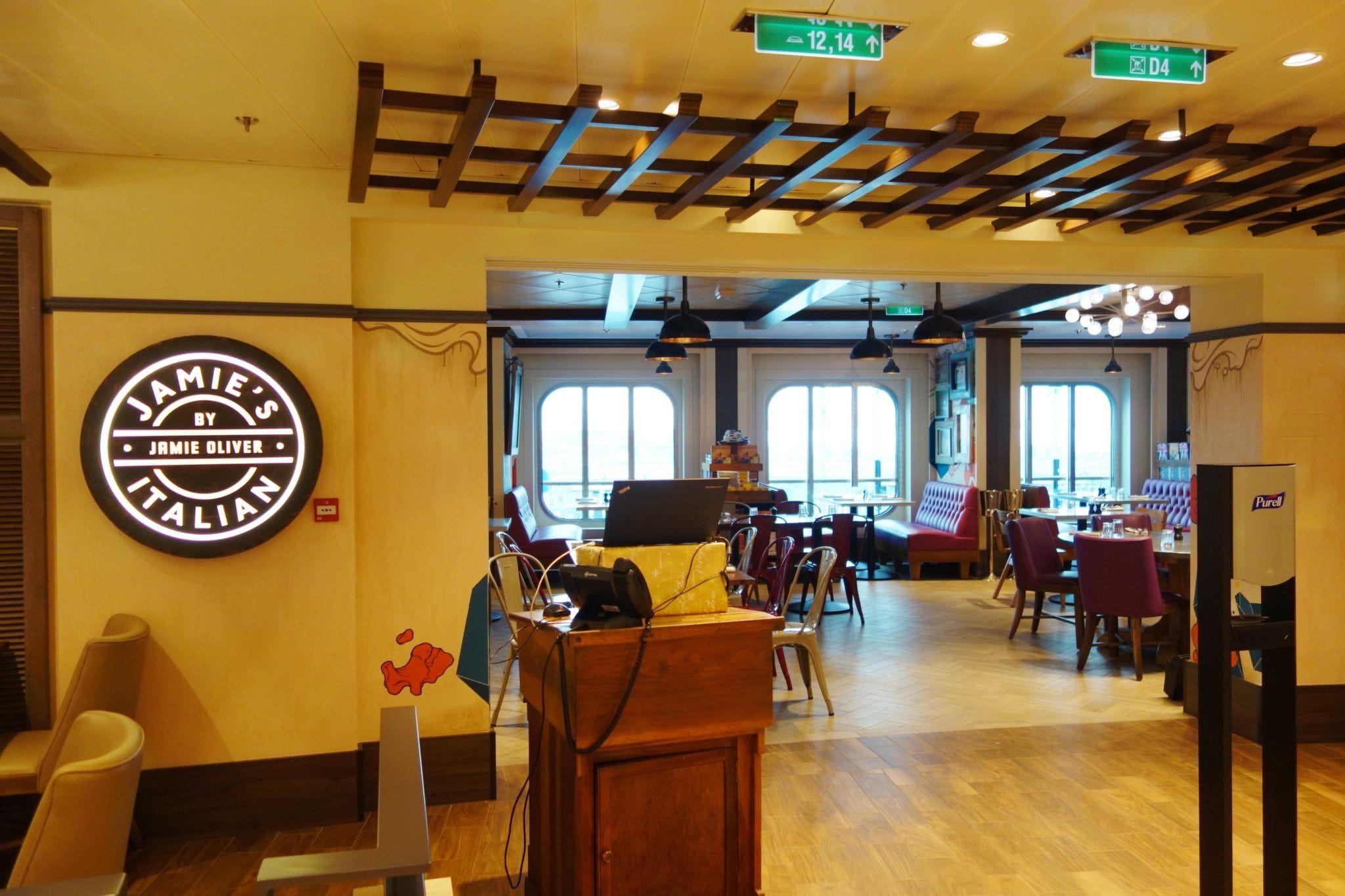 Quantum of the Seas: Dynamic Dining Review Jamie's Italian
Jamie's Italian, by celebrity chef Jamie Oliver, has a very relaxed atmosphere with decor similar to a restaurant you would find in a metropolitan area, like New York City or downtown Boston. With pops of color, the funky yet casual feel is perfect for a low key dinner.  The restaurant is very wide open, and you have the option to dine "al fresco" with tables that are essentially in the Via. We opted for a booth inside, with a large window looking out to the ocean.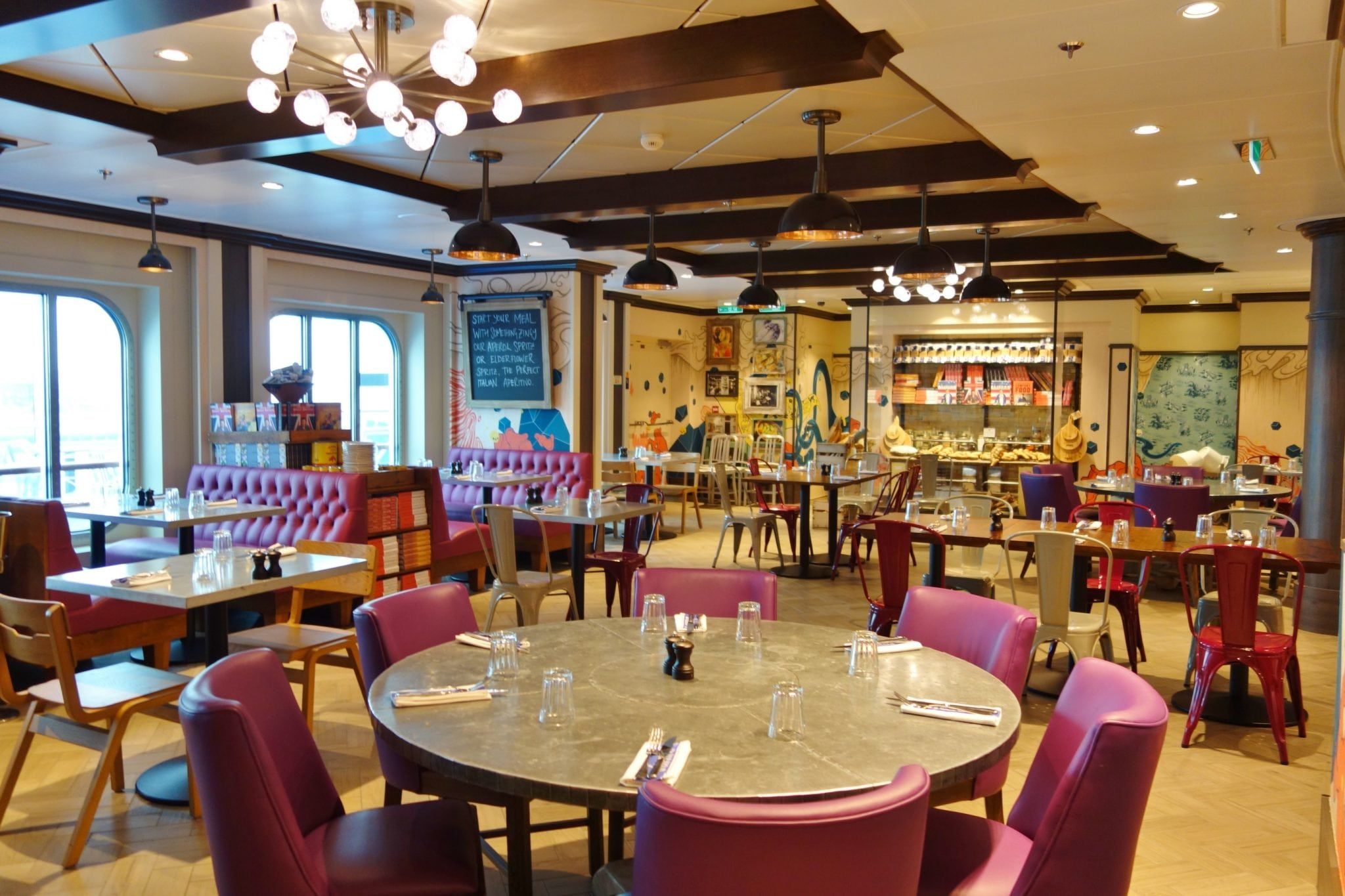 The menu is quite large (see the link below to download the complete menu) and consists of different starter plates, pasta dishes, and main courses. Many of the dishes are similar to what you would find in an Italian-American restaurant with a hearty, rustic flavor.
Jamie's is known for their planks that consist of a mix of cured meats and cheeses as well as accompaniments of pickles and other sides. Almost every table we saw had one of these starters. Since it was only the two of us, and we had been eating non-stop all week, we decided to not order one of these plates.
Our waiter, whose name escapes me, was from Italy. He was very attentive and timely. Service here was some of the best we had all cruise. Jamie's is a smaller venue and was definitely properly staffed. Most of our server's recommendations were spot on, even if The Princess did not listen to him!
Of course, we started with a few cocktails. Being a fan of cognac, I ordered the signature cocktail Gennaro's Sidecar on the menu, which included limoncello. What I did not notice is that this was one of the few drinks that cost more than $12, so I did have to pay the remaining $3.00 for this drink at the end of the dinner. Not a huge deal. The wife opted for the Rossini, a bubble and fruity cocktail that was sweet enough for her tastes.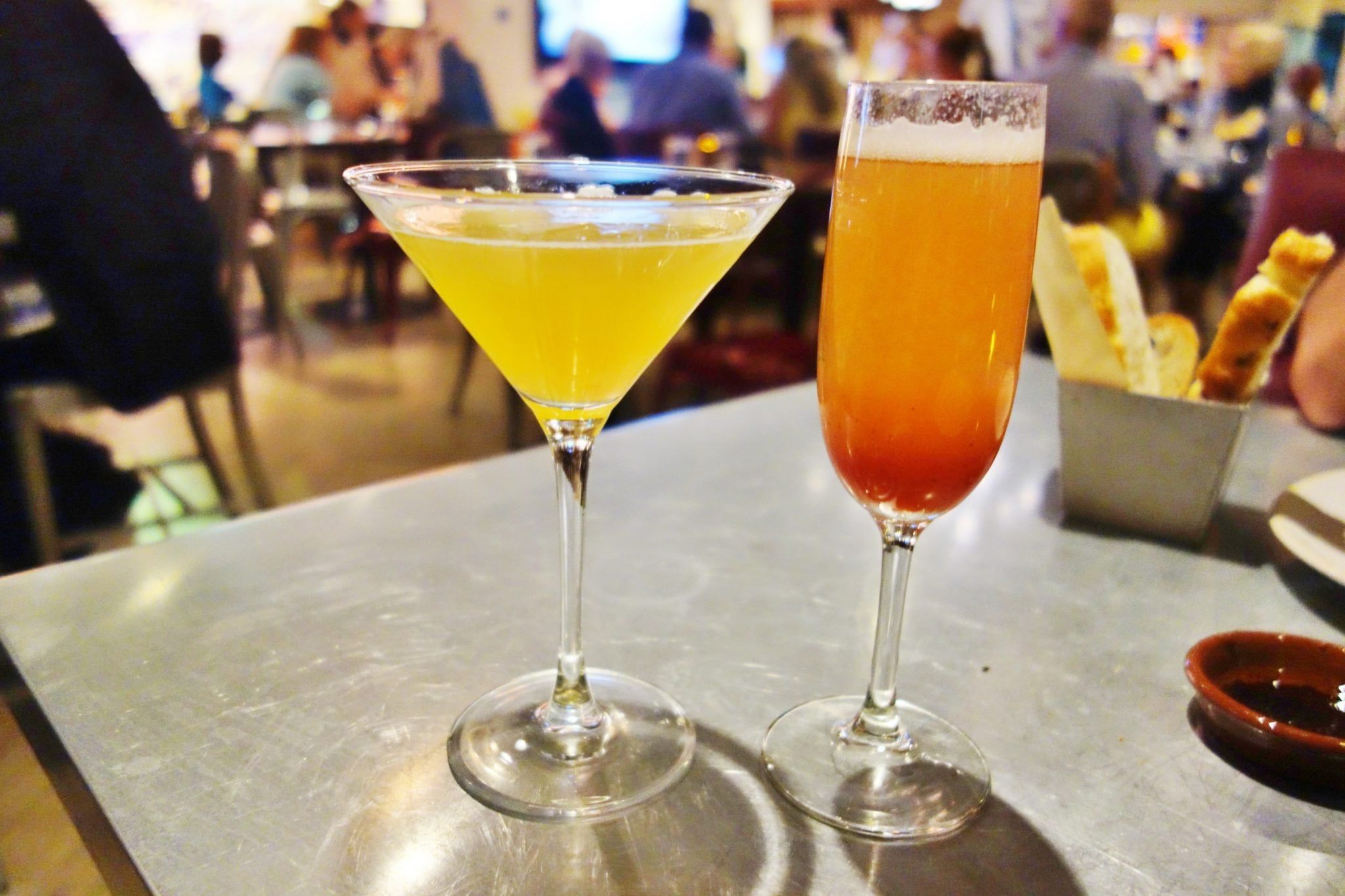 We did of course order some bread with olive oil dipping sauce as well to start, an Italian staple. There was a nice selection of different breads, including crusty Italian bread, focaccia, and bread-sticks. Not that we needed this carb load on the last night!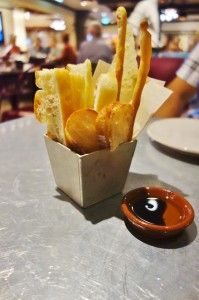 Instead of a plank, we tried some other appetizers, including fried calamari, something I have never had on a cruise ship. Coming from New England, I was a bit skeptical as to how the squid would be prepared, but I was pleasantly surprised that the starter came out with a light, crispy batter. The squid was cooked to perfection with a mayo base dipping sauce that remind me of "tartar sauce". It  was some of the best calamari I have had, on land or sea.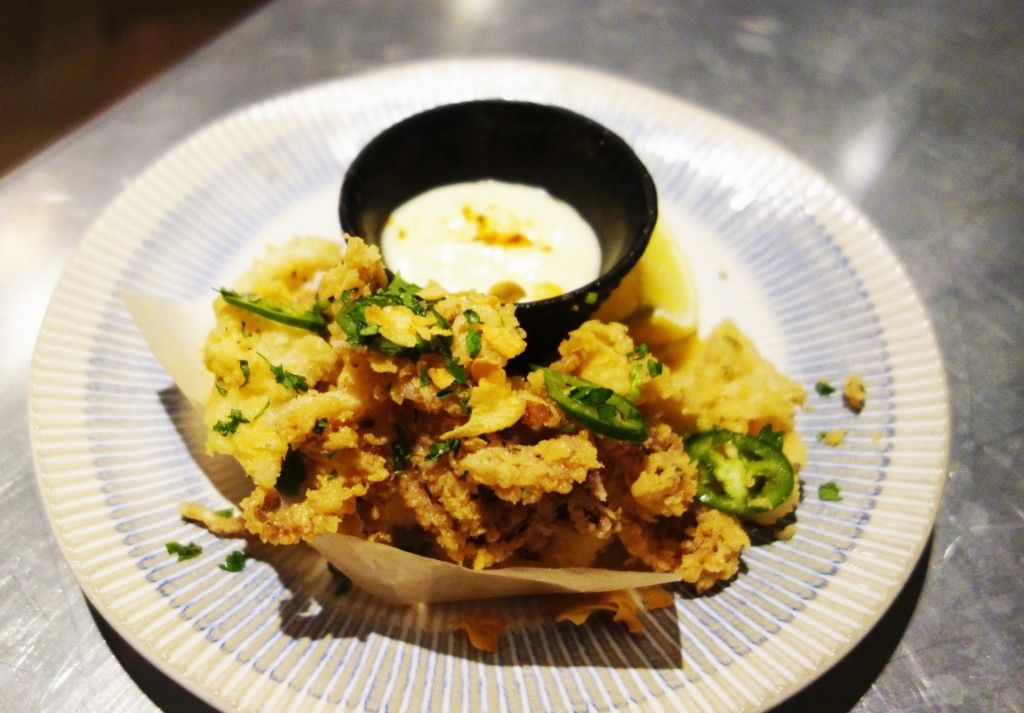 The Princess is not a seafood fan, so she began with Arancini Margherita, deep fried risotto balls with mozzarella that were covered in tomato sauce. Even though the order only came with three, she made me eat one. I was more than happy to comply and used one of those pieces of bread to soak up some of the leftover sauce. Again, a very classic Italian-American starter that was made just right.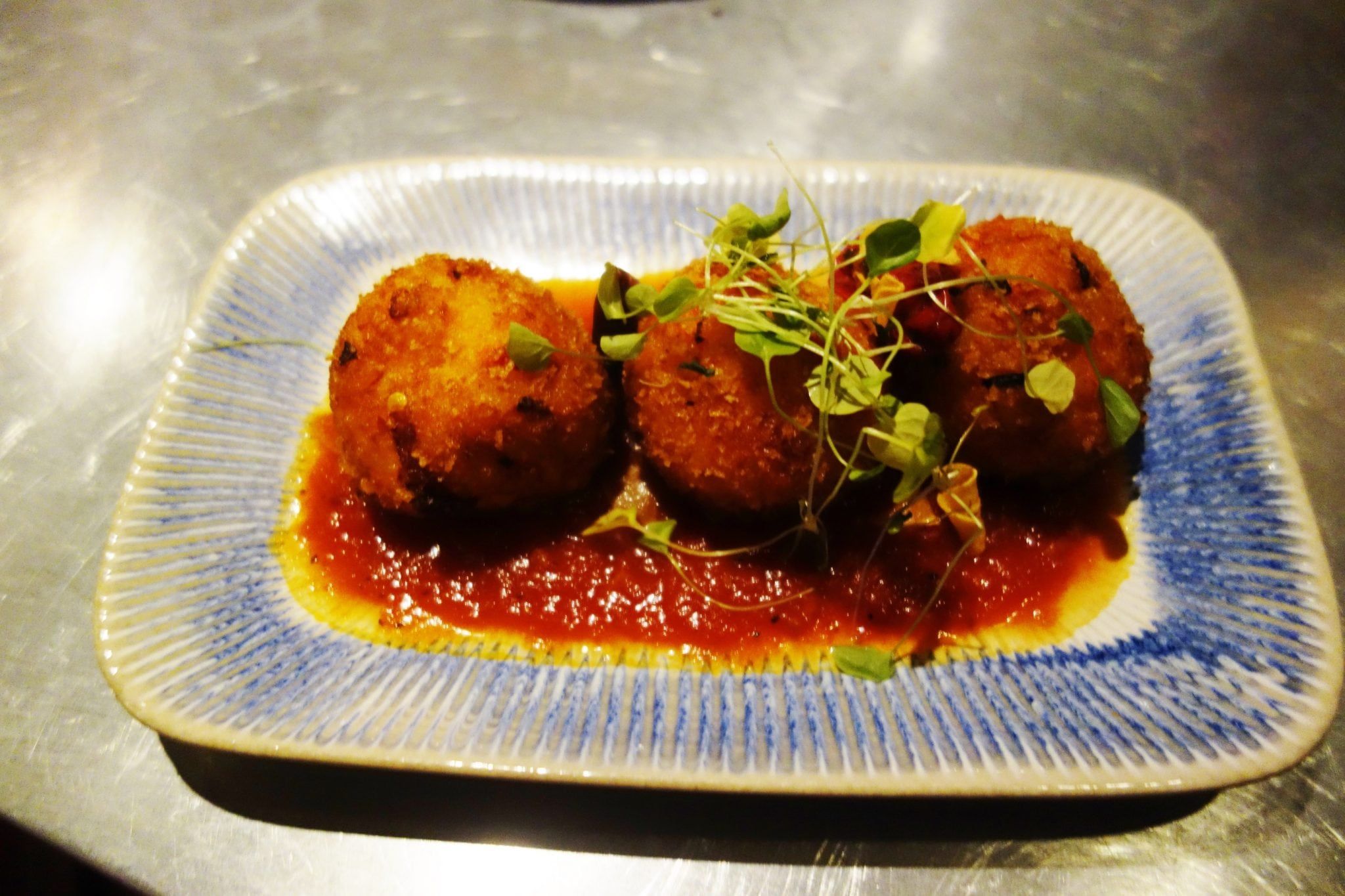 Having eaten Italian food in the main dining room of many other Royal Caribbean ships, we would say that the food at Jamie's Italian was definitely prepared with more care and flavor. While I hate to admit it now,  the food in specialty restaurants is better I guess. Not leaps and bounds better, but definitely a noticeable difference in taste and quality.
On recommendation from our waiter, we decided to order a pasta dish to split. We asked to have that come with our meals. All pasta is made in house, and if you have never had homemade pasta, be prepared, it is much heavier and denser. Given we both were getting entrees as well, we ordered the penne pomodoro. The pasta was excellent and a perfect portion to share.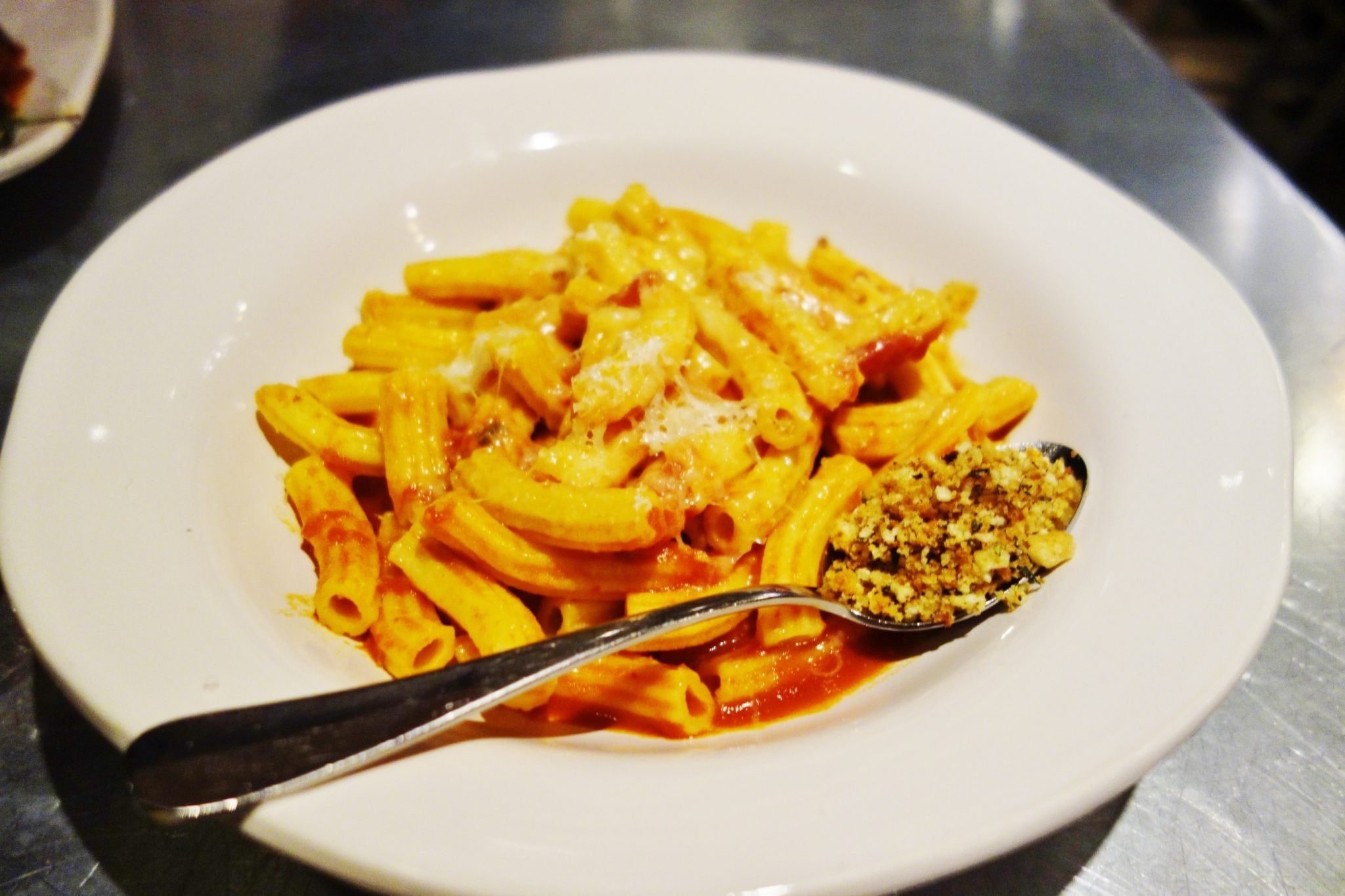 For dinner, you know by now that The Princess ordered chicken. The only chicken main entree on Jamie's menu is Chicken Al Mattone, a grilled chicken breast that is seasoned with garlic and rosemary. While the description of the chicken was ideal, this was actually her least favorite chicken meal of the cruise. The cut of meat was a thigh piece, not white meat, and the rub was very greasy.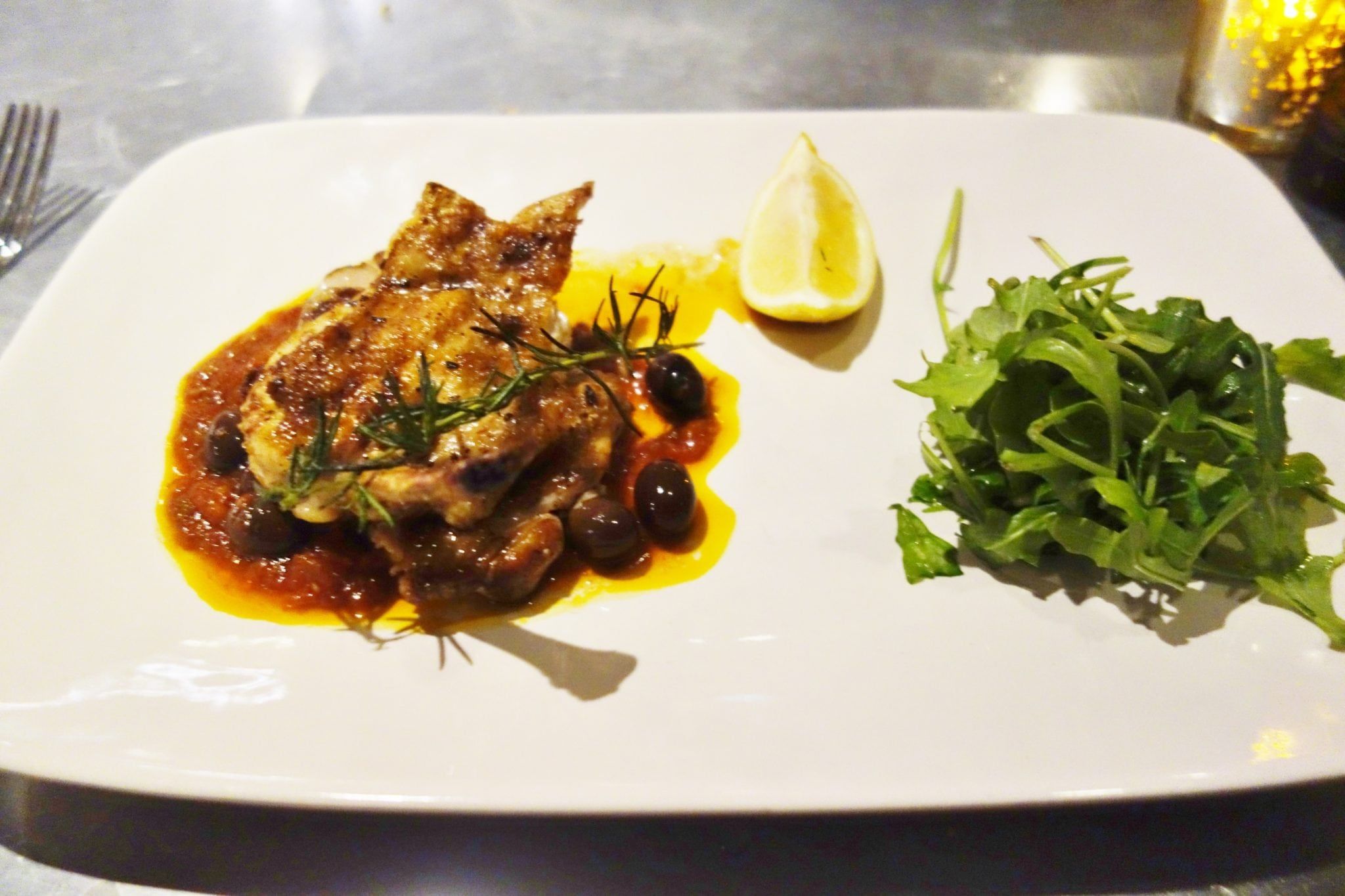 Again, as suggested by our waiter, we also tried the polenta chips as a side dish to share. Excellent suggestion. These were more like home fries, nicely textured and topped with rich Parmesan cheese. Not the healthiest side dish, but definitely a great addition to any dinner.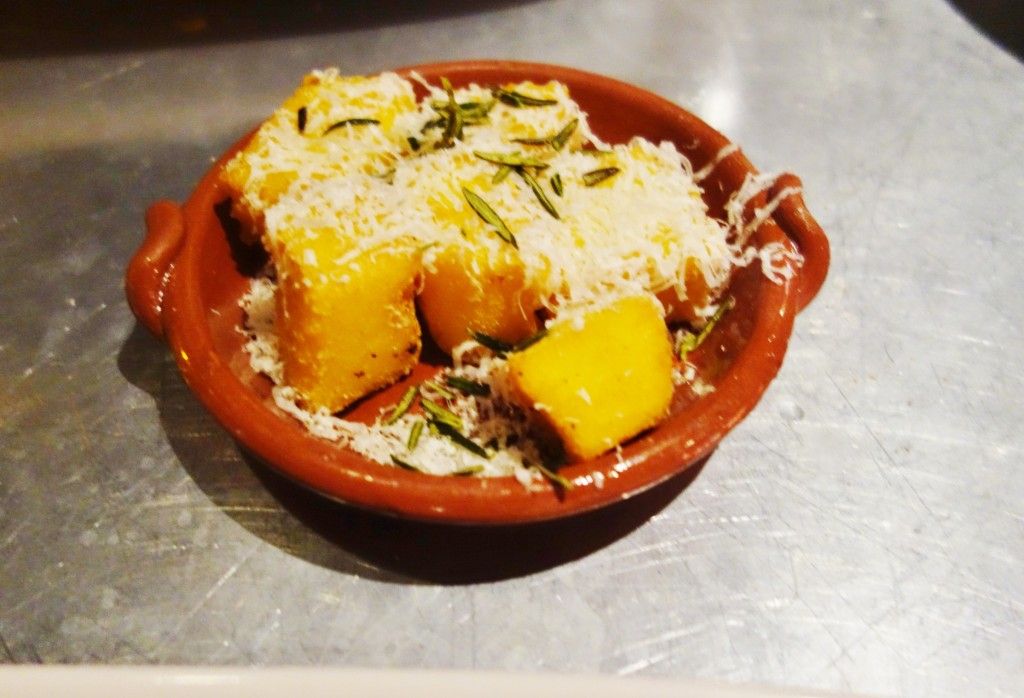 I decided to order the Lamb Chops Scottadito. Yes, my third lamb entree for the cruise. This was definitely the best lamb I had all cruise; it was a good serving size and had a nice grilled flavor. They were not necessarily what I think of when I think Italian food, but I am very glad I ordered them.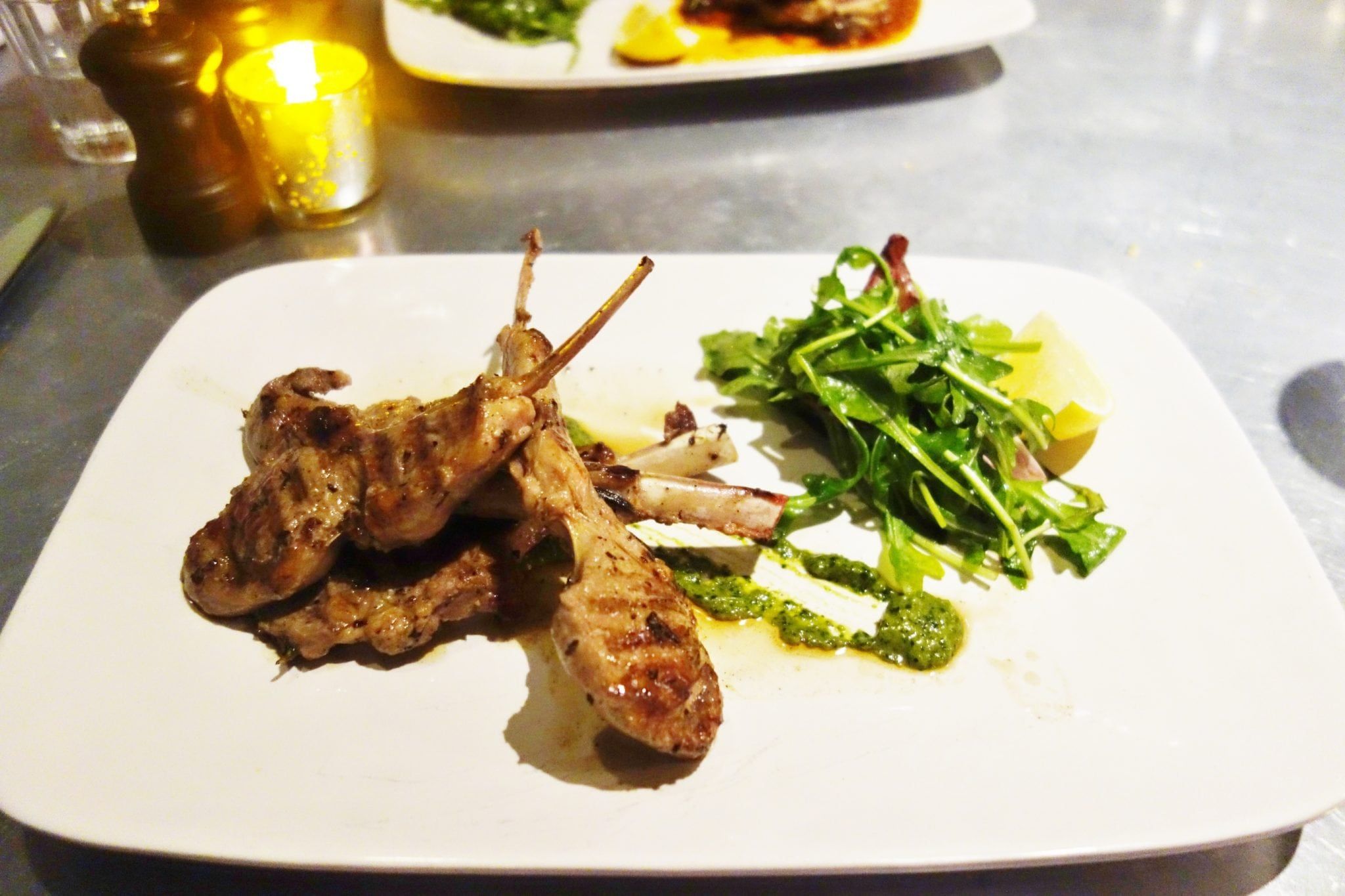 Now, Italians are known for desserts. Looking at the menu at Jamie's, the only "authentic" Italian dessert was the tiramisu. Against the advice of our waiter, the Princess insisted that she order that dessert. Unfortunately, it was disappointing. There was much more cake than mascarpone cheese, and it had an orange flavor. Not at all what we were expecting. Not that we needed dessert, but we should have listened to our waiter on this one.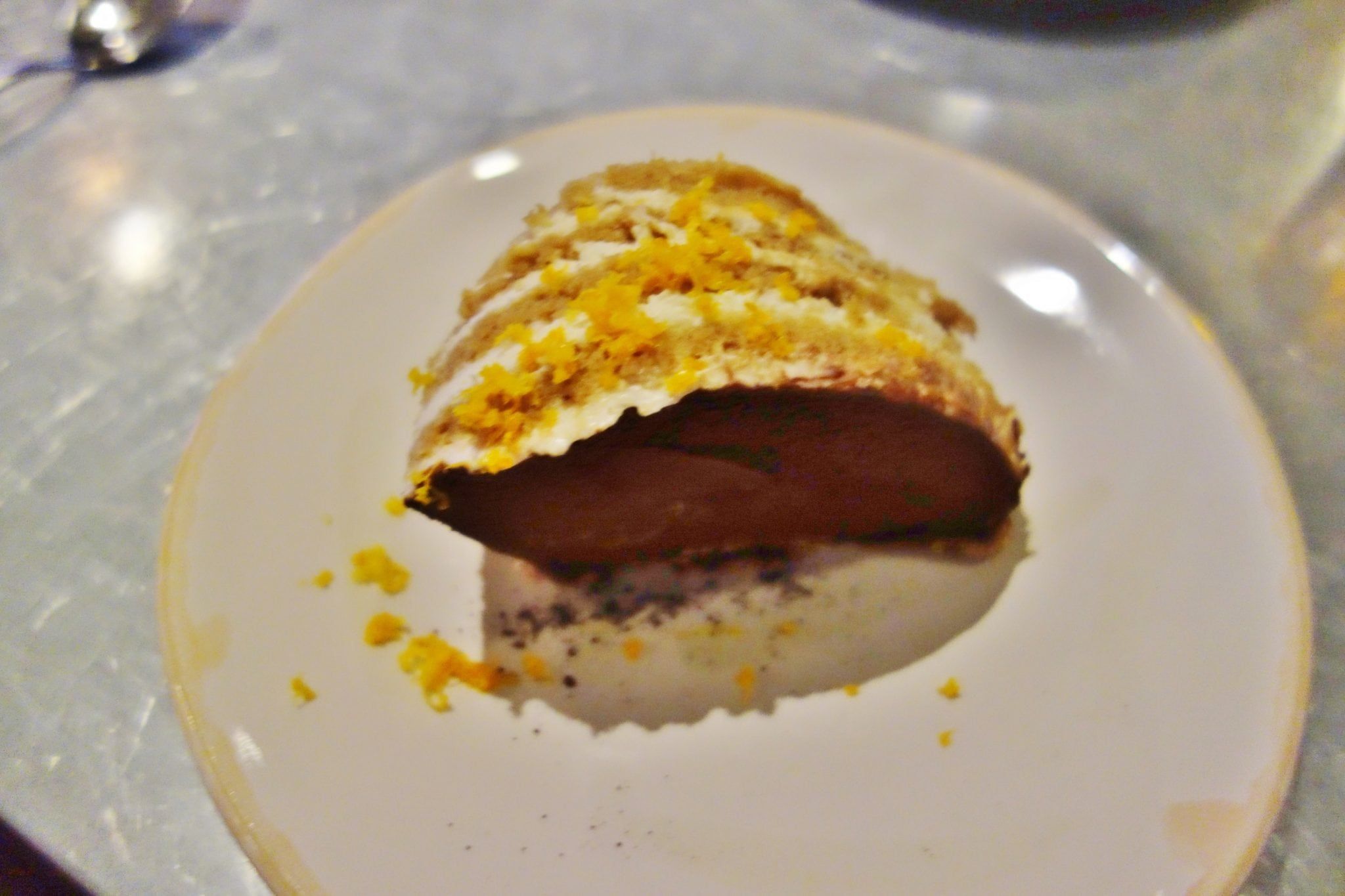 I played it safe and did the Epic Homemade Brownie. A combination of chocolate brownie and vanilla ice cream is always a sure to satisfy. This dessert was ok, nothing to write home about, but much better than the wife's tiramisu.
Frankly, the desserts at Jamie's were somewhat of a let down after all of the other great food we had sampled.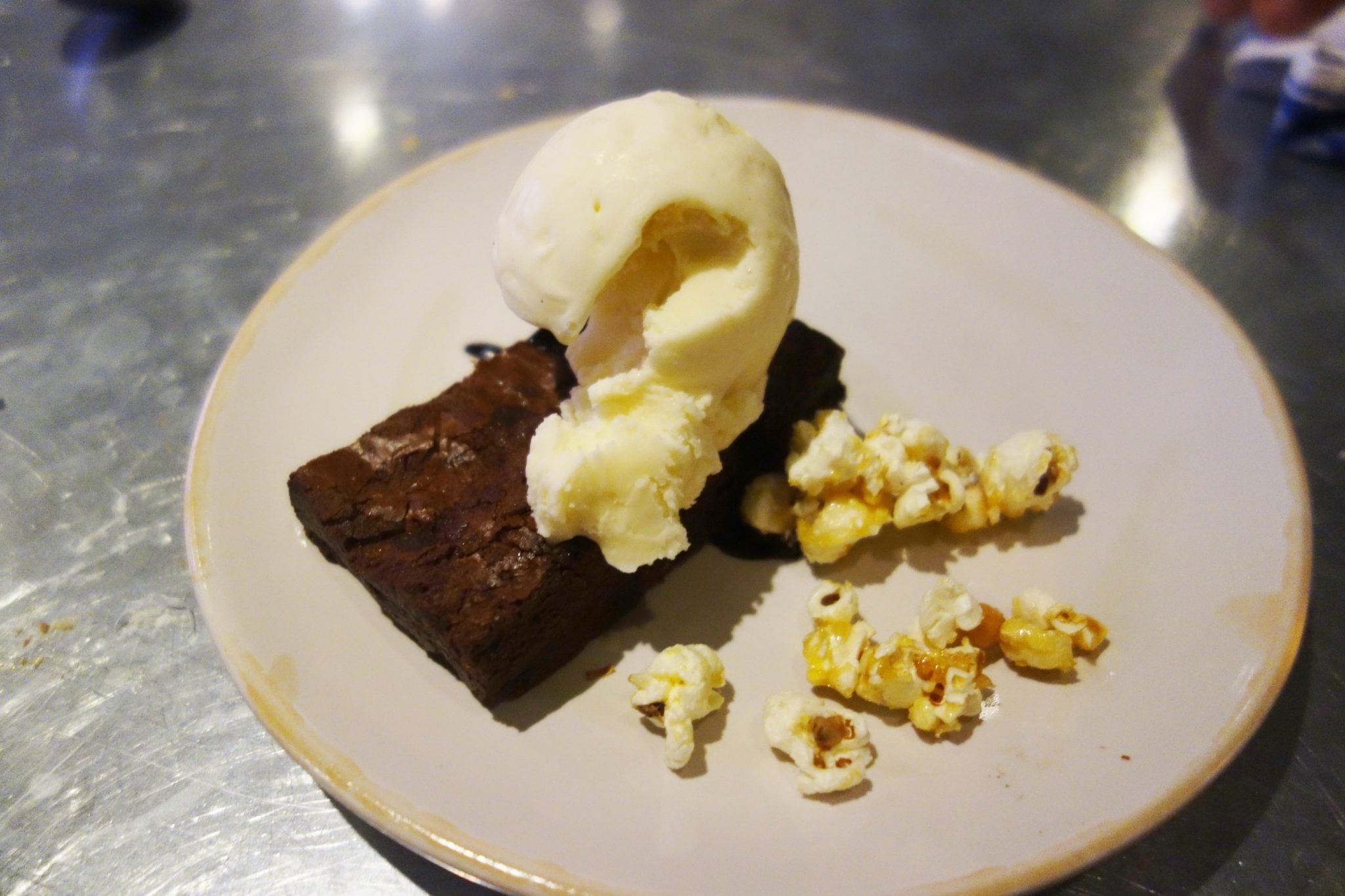 To recap our Dynamic Dining Review,  at Jamie's Italian we had a very enjoyable and authentic dinner. While we did not try the signature planks, they did look amazing. The homemade pasta and fresh seafood make this restaurant well worth the up-charge; although, the desserts were surprisingly plain. The service at Jamie's rounds out near the top for the week, and our total dining time here at this venue was about 90 minutes. On our next sailing on Anthem of the Seas, we have reservations at Jamie's Italian and will definitely make sure to sample more of the menu.
Summary
Comments
Have you had a chance to try Dynamic Dining yet? If so, what were your thoughts on Jamie's Italian Restaurant? Drop us an anchor below to let us know your favorite meals. We would love to hear about your experiences with the restaurants on this new ship, Quantum of the Seas!