Review of Mamma Mia Broadway Show on Royal Caribbean International
Broadway has come to the sea! An increasing trend in cruising is to have full theater productions of Broadway's biggest hits playing on the world's largest and most innovative ships. Of course, Royal Caribbean could not pass up the opportunity to have Mamma Mia onboard Quantum of the Seas. Playing during the first few nights of the cruise, this show features all of your favorite ABBA hits, as well as some great costumes, and plenty of hijinks and laughs.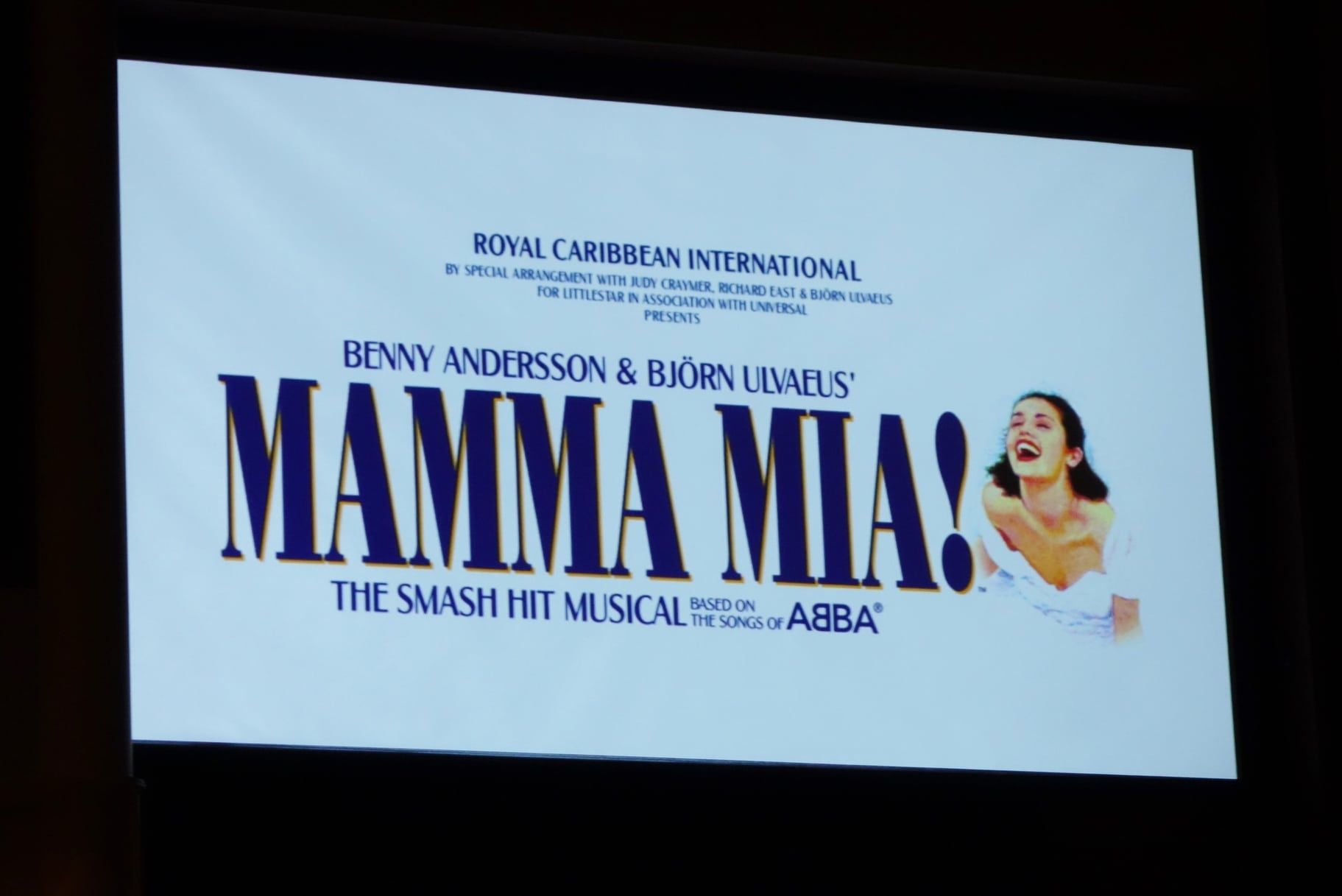 With so much entertainment on Quantum of the Seas, your travel calendar does fill up rather quickly. So on our eight night Eastern Caribbean cruise, we pre-reserved the last showing of Mamma Mia, on the second night of the cruise at 8:30pm. This show is a full two and half hours, with a 15 minute intermission. Yes, it is long, but the time goes by quickly. See that girl, watch that scene, it is time for our review of Mamma Mia.
Mamma Mia on Quantum of the Seas
On our Allure of the Seas cruise, we had our first encounter with Broadway at sea with the show Chicago.  We have seen our share of Broadway shows, but there is something to be said about watching one on a cruise ship. We had never seen Chicago or Mamma Mia but were definitely more eager to see Mamma Mia than we were to see Chicago, as we expected the story to be funny and high energy…and the cast delivered!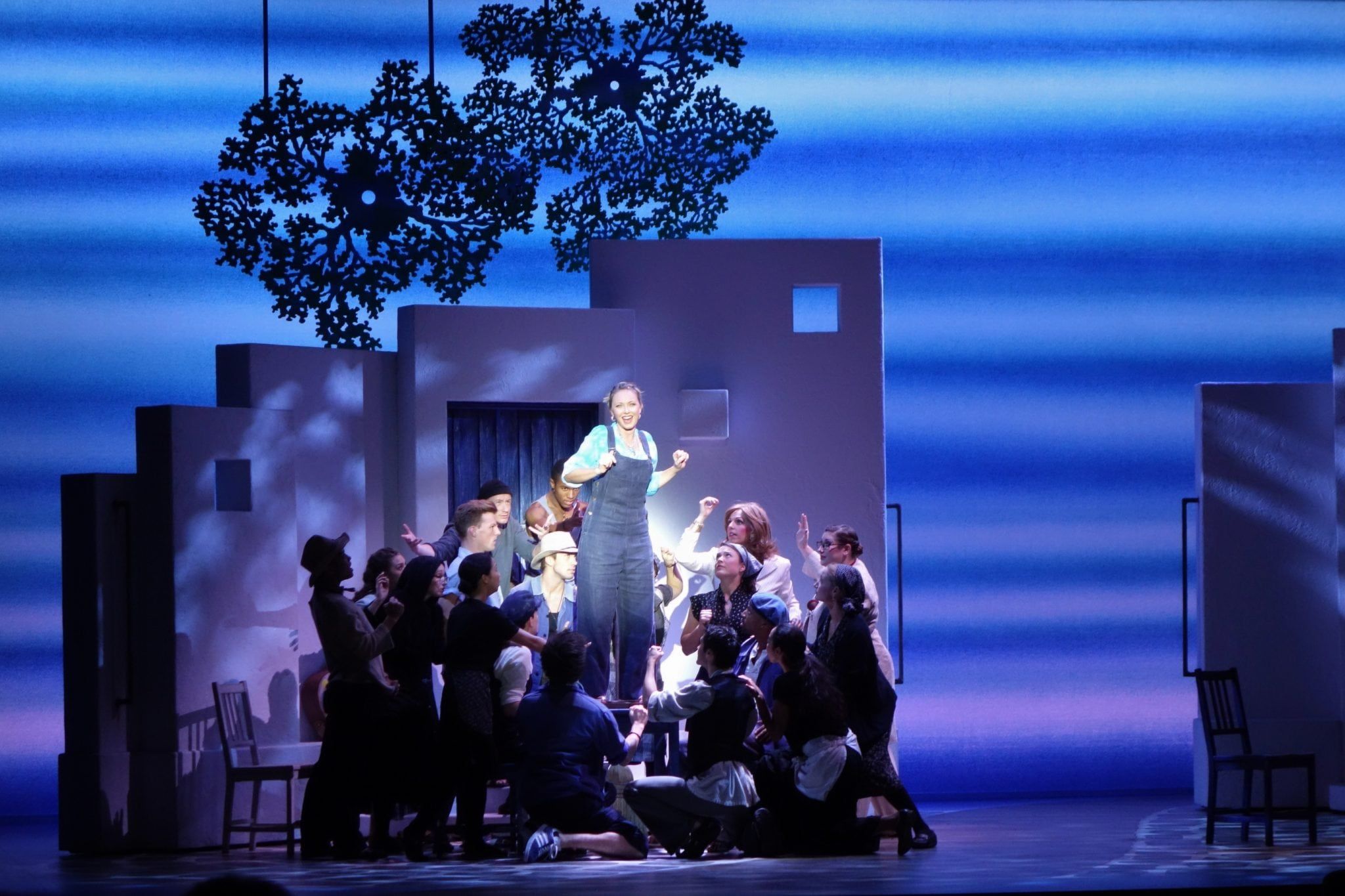 What's not to love about a wedding story on a fabulous Greek island, featuring music from ABBA. Not exactly my favorite band, but after watching this show, I came away with a new appreciation for their music. I am sure the arrangements strayed from the original scores, but now I can understand why ABBA has sold millions of albums. The tunes are quite catchy.
For our show, the led of "Sophie", the girl getting married, was played by Danielle Black and her soon to be husband, "Sky" was played by actor Schyler Conaway. Both performers had great voices, and there was good chemistry between these two.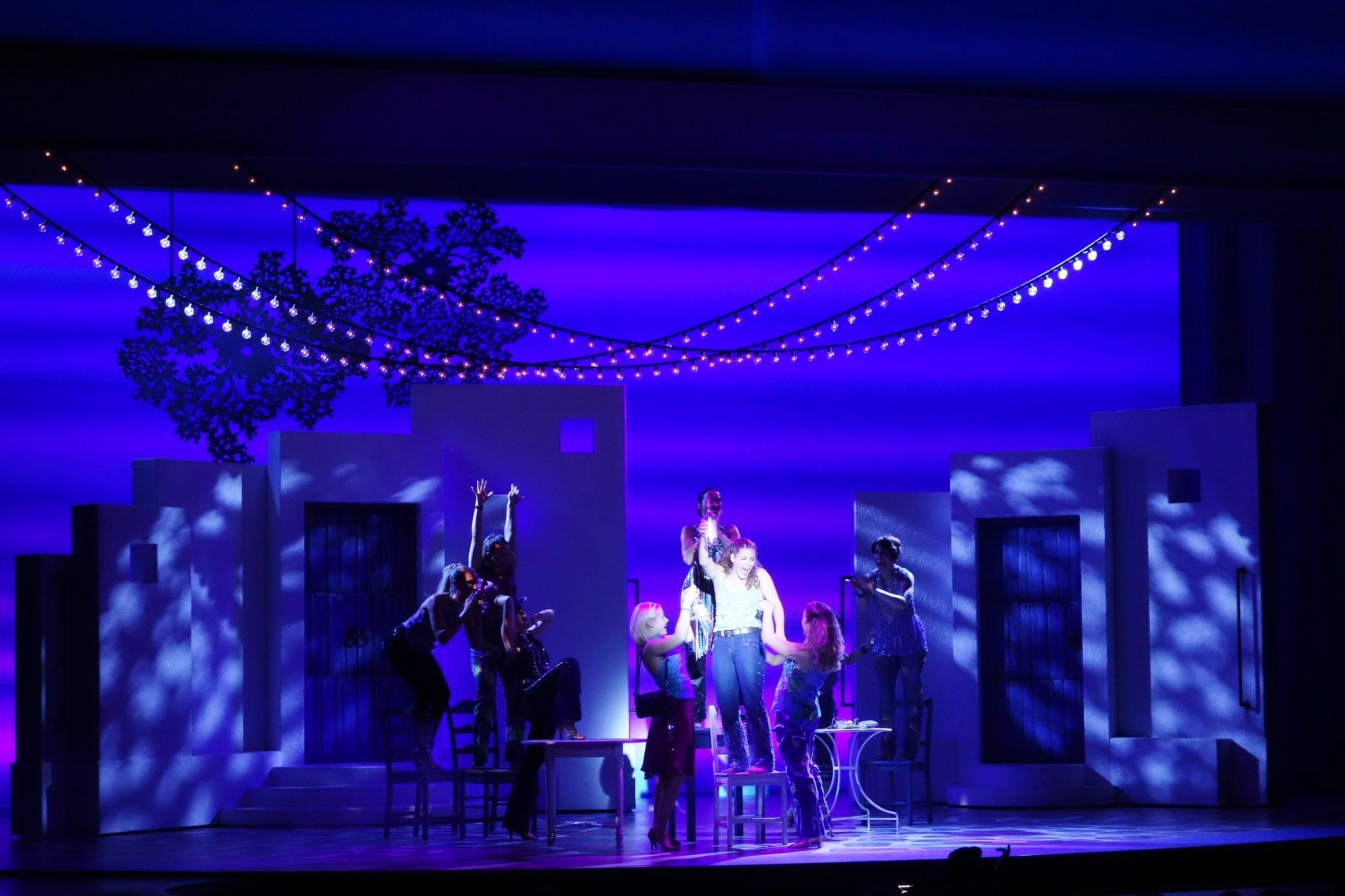 Not to give away too much of the plot. Basically, the story revolves around the wedding of Sophie to her fiance, Sky.  Sophie had been raised by her single mom "Donna", played by Carla Griffiths. But of course, Sophie had always dreamed about being given away at her wedding by her dad.  With some stealth investigation, or rather snooping in her mom's journal, Sophie discovered that one of three men could potentially be her dad. So, of course she decides to invite all three to the wedding, unbeknownst to her mom. Is this a comedy or a tragedy? For those who have not seen the show, or the movie,  I will not give away any more of the plot, but let's just say that things do not go exactly as planned. Do they ever?
Did I forget to mention that Donna's two best friends are also part of this shin dig? Tanya, a rather pretentious woman who has been married and divorced three times, and Rosie, a rather carefree and jovial woman, both add some humor and flare to this story.  These three ladies, once a group called "Donna and the Dynamos", who would play at lounges and bars, might just have a reunion in the works. Yes, some girl power. Actually, the show has a lot to say about empowerment, friendships, finding your way in life, relationships, and love.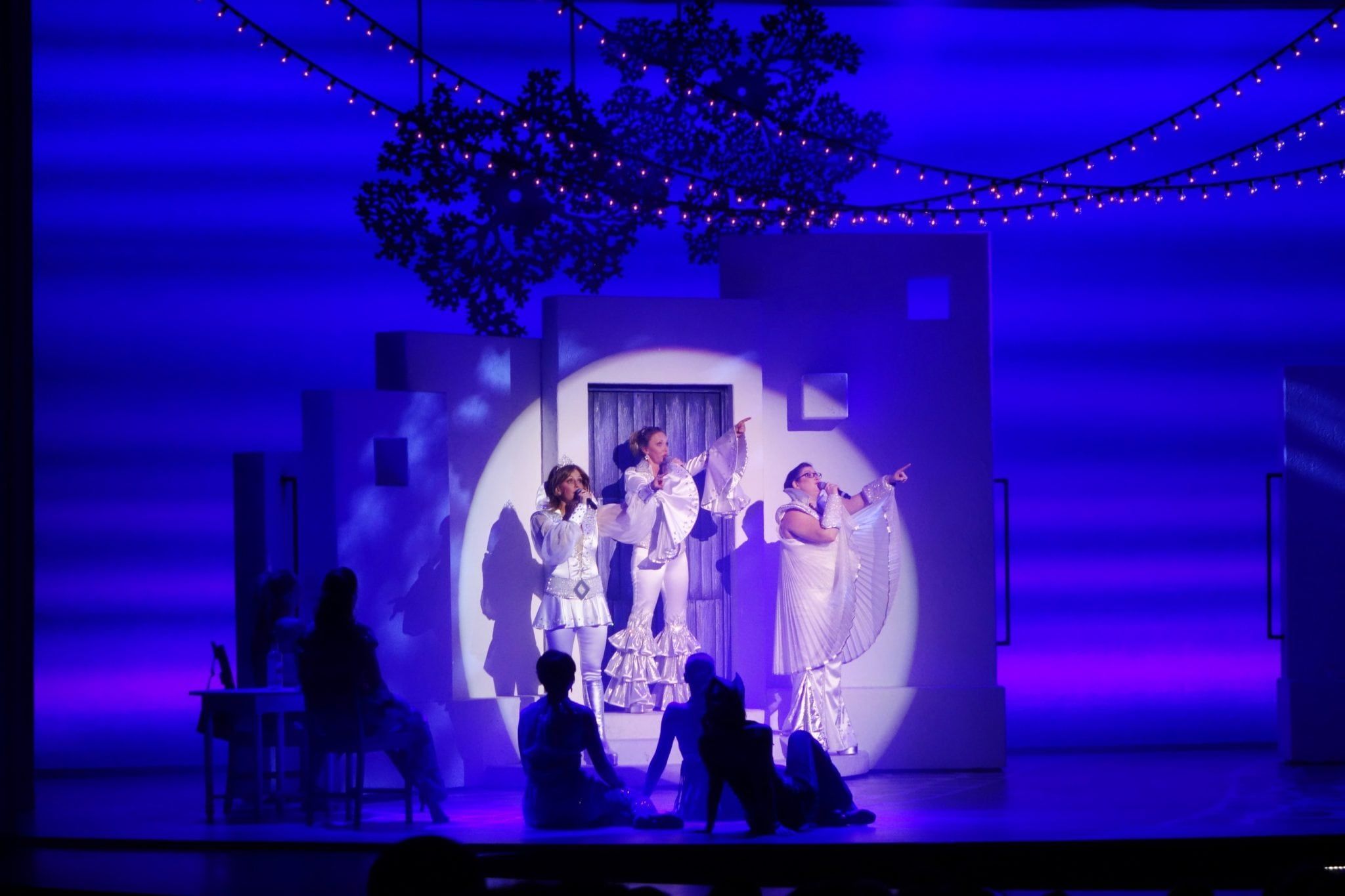 Well, about 20 songs later, a scuba diving bachelor party, a blast from the blast performance of the Dynamos, a rather funny "Mrs. Robinson" relationship between one of Sky's friends and Tayna, and of course a wedding, Mamma Mia brings you on a rock and roller coaster ride.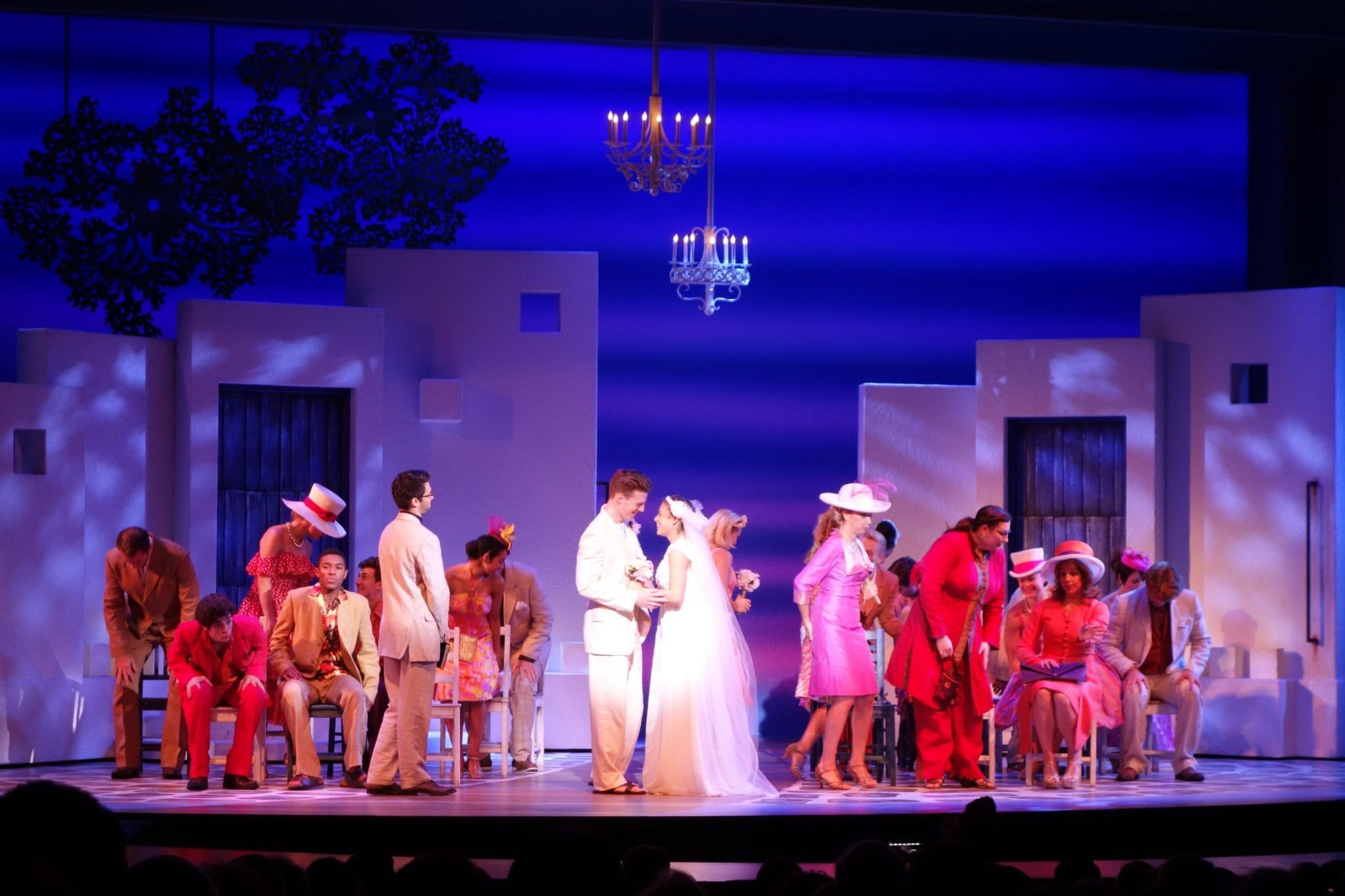 When compared to Sonic Odyssey and StarWater, this show definitely has a much more subdued set, with little technology and digital inclusions. Good thing, as the basic setup allows the performers to shine and captivate the audience's complete attention.
During our performance of Mamma Mia on Quantum of the Seas, some of the best numbers during act one included Donna and her friends, Rosie and Tanya, performing "Dancing Queen", and the ensemble performing "Gimme!  Gimme! Gimme!"
Of course, there was an intermission, followed by act 2, with the highlight being Donna's performance of "The Winner Takes it All". Her rendition certainly had a lot more soul and power behind it than the original ABBA version.
And, who doesn't love the encore, complete with plenty of 1970's outfits,  feel good music,  and the audience on their feet singing "Mamma Mia" along with the cast!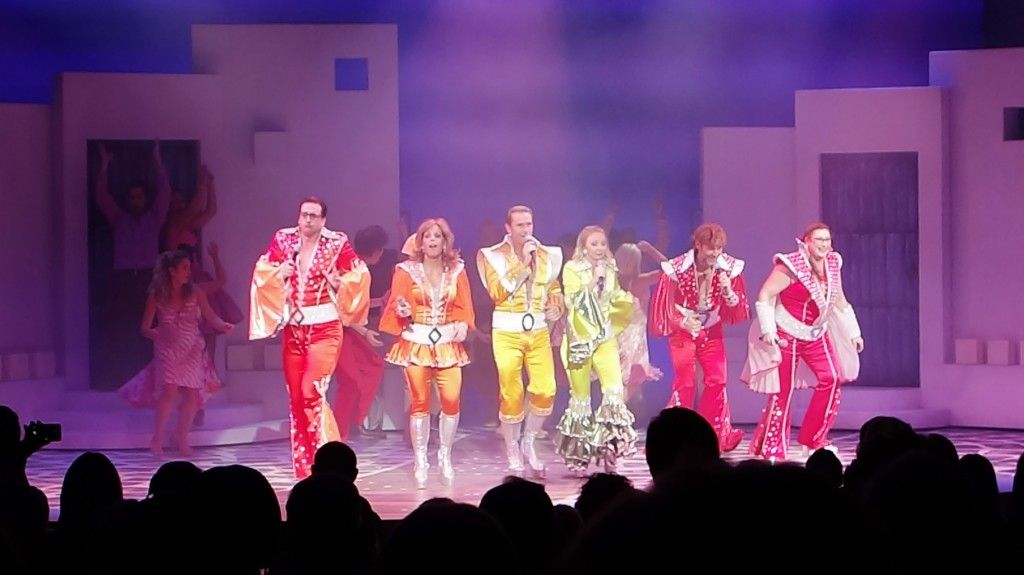 When comparing Mamma Mia to Chicago on Allure of the Seas, this show was hands down more entertaining. We thoroughly enjoyed the production of Mamma Mia, and we would gladly watch it again if sailing on Quantum of the Seas. It is currently unclear if the show will remain on Quantum of the Seas when the ship departs to China, but it has been reported that Allure of the Seas will be getting Mamma Mia after her dry dock this spring. Royal Caribbean has already announced that Quantum's sister ship, Anthem of the Seas, will be getting a different show "We Will Rock You" based on the music of Queen. Looks like the 70's will live on on Royal Caribbean ships!
Summary
Length: 2 hour and 20 minute show with 15 minute intermission
Royal Caribbean Show Description: "Dancing queens, your ship has come in.

Quantum of the Seas

debuts the smash hit Mamma Mia!, the fifth show in Royal Caribbean's lineup of Broadway favorites. For the first time ever, the award-winning musical brings ABBA's greatest hits to sea."
Comments
Now that we have shared one of our favorite show from Quantum of the Seas, you tell us your favorite entertainment. Have you seen Mamma Mia? Or is there another show from a different cruise ship that really rocked your boat? Drop us an anchor below to tell us about your preferred onboard entertainment.