Quantum of the Seas boasts  several complimentary dining venues that offer a variety of food options. One of the more casual establishments is the SeaPlex Dog House. This first "food truck at sea" is located on Deck 15 on the port side of the ship at the very end of the SeaPlex.
Dynamic Dining Review: SeaPlex Dog House
In the SeaPlex Dog House, you can sample different styles of hot dogs and sausages from around the world. Of course there are condiments like mustard and ketchup, as well as enhancements like sautéed peppers and onions that you can add to your selection, at no additional costs. Soft drinks and beer can also be purchased here while devouring your dog; beers run about $5-$7 dollars and sodas around $2.00. There is also a Coke Freestyle machine for travelers who have the soda package through the cruise line.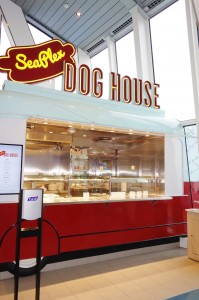 On our sailing the truck was open on most sea days from 11:30am to about 6:00pm to 7:00pm, meaning you could stop by for lunch, an afternoon snack, or an early dinner. The venue is typically not open while the ship is in port.
In the name of cruise review research, culinary experimentation, and perhaps some gluttony, I took it upon myself during the first few days of our recent cruise on Quantum of the Seas to devour EVERY HOT DOG found in the SeaPlex Doghouse.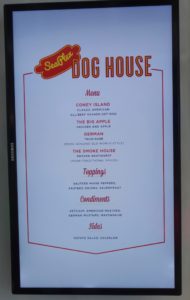 Eating Every Hotdog on Quantum of the Seas
Pictures and some of my impressions of these snacks are provided below.
While all of the hot dogs are tasty, perhaps my favorite is the The Big Apple. This dog contains chicken with some hints of apple and is served on a Parmesan and cheddar roll. It is very flavorful and not too greasy or salty, so I find this dog is good without any additional toppings.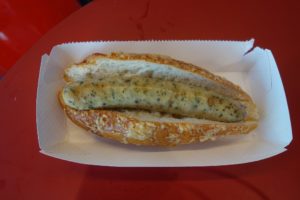 Probably next on my list is a Coney Island Hot Dog. This classic all beef, kosher style hot dog will remind you of summer, or those trips to the amusement park. It is served in a simple split roll. Everyone has their own special way of dressing this hot dog; personally, I like some mustard and a little sauerkraut to give this dog some extra kick.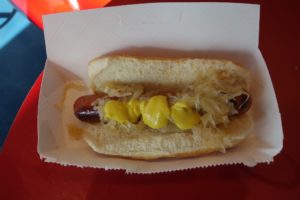 It is a tossup for 3rd runner up between the last two dogs offered in the SeaPlex Doghouse. If forced to choose, my third favorite would probably be the German. This dog is served on a baguette roll which is needed to house this massive, tasty offering. Consisting of pork and some mild spices,  I would consider this a sausage (and I did hear some fellow travelers refer to this as a polish sausage as well). Some sautéed peppers and onions gave this lunch just the right amount of flavor.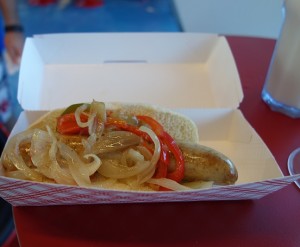 Rounding out this not even close to healthy eating expedition is the Smokehouse. Also served on the Parmesan and cheddar baguette, this pork sausage has a very strong musky flavor to it. Even with toppings, the flavor of this dog comes through. It is also greasier than the other hot dogs found in the SeaPlex, so you might want a few extra napkins for this one!
While enjoying your hotdog of choice, you can also sample some side dishes including cole slaw and potato salad. Both looked quite appetizing, but I was focusing on the dogs and did not try any of these sides.
Comments
Have you been to the SeaPlex Dog House on Quantum of the Seas or a Dog House on another Royal Caribbean ship? Let us know your favorite hot dog and how you like to dress it up by dropping us an anchor below.