The last complimentary restaurant at which we dined during our 8-night Quantum of the Seas cruise was American Icon Grill, on the seventh night of our cruise. Given the menus online, we were expecting to really enjoy this restaurant as it had many of the "comfort food" dishes that we are fans of back home. No one said we were refined eaters!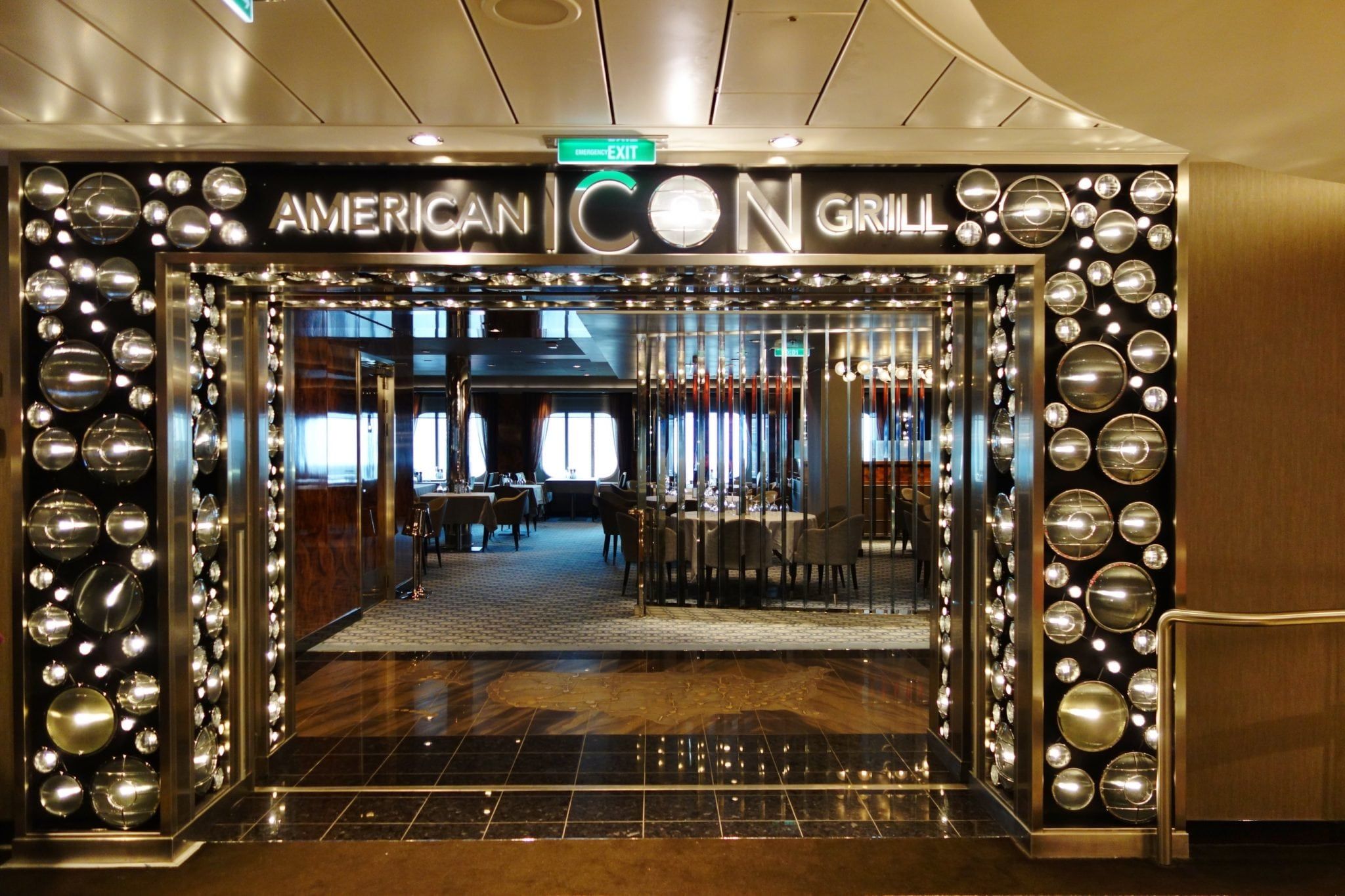 We had made reservations before the cruise to dine at 6:15pm on day 7. We did not notice until Day 5 of the cruise, but our online account did not show this reservation. Somehow, from the time we printed our cruise calendar prior to the sailing, the reservation was lost.
I went to American Icon Grill on Day 5 to let them know what happened. They were very nice and were able to accommodate us. All that was available was 6:00pm, but the hostess made a note and told us to just show up at 6:15pm. It sounded like this type of thing had been happening to not just us.
When we arrived at 6:15pm, there was no line whatsoever and no issue with the reservation. We gave them our cabin number, and we were whisked away to a table for two, with a partial booth, at the very back of the restaurant. It was like a maze getting to our seats. Passing by numerous empty tables, we were presumably sat all the way in the back to stagger crowds for the service staff.
Quantum of the Seas Dynamic Dining Review American Icon Grill
The inside of American Icon Grill has less of a traditional main dining room feel than Chic or Grande.  We knew we were in a dining room, but the Americana style artwork on the walls definitely gave this venue a different feel than the other dining rooms. Especially in the little area we were sat,  it had a more intimate feeling than some other restaurants onboard.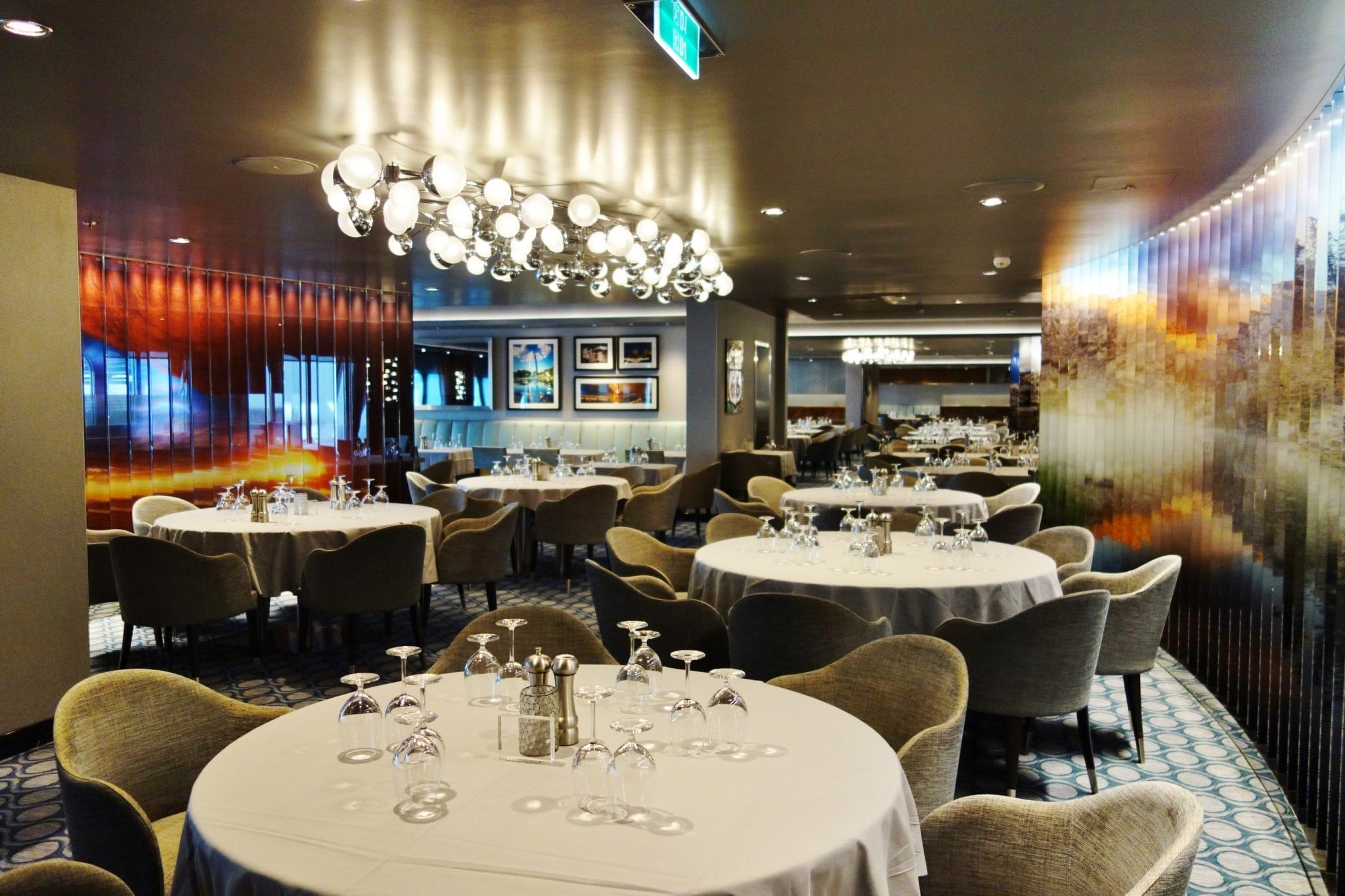 Upon being seated, a waitress came over to introduce herself and take our drink order. We did notice that the service seemed a bit more prompt and friendly at this venue. Again, staffing seemed to be the major downfall of our other Dynamic Dining experiences; here, the person who sat us was wearing a Michael's uniform. So it seemed as though Royal Caribbean was aware of the issue and pulling staff from wherever they could. There were also rumors on the ship that additional staff had been added at one of our ports of call.
The drink selection at American Icon Grill was actually not as impressive as the other restaurants. Some good American beers, but I had been drinking beer all week at Michael's Genuine Pub. I decided to order the Buttered Popcorn Sazerac, but they did not have the syrup available. So, I settled on an Old Fashion.  Not to be out done, The Princess ordered the New Fashion, even though she is not a Southern Comfort drinker. The drink service was prompt, and they were well made, even if they were a bit strong for the wife.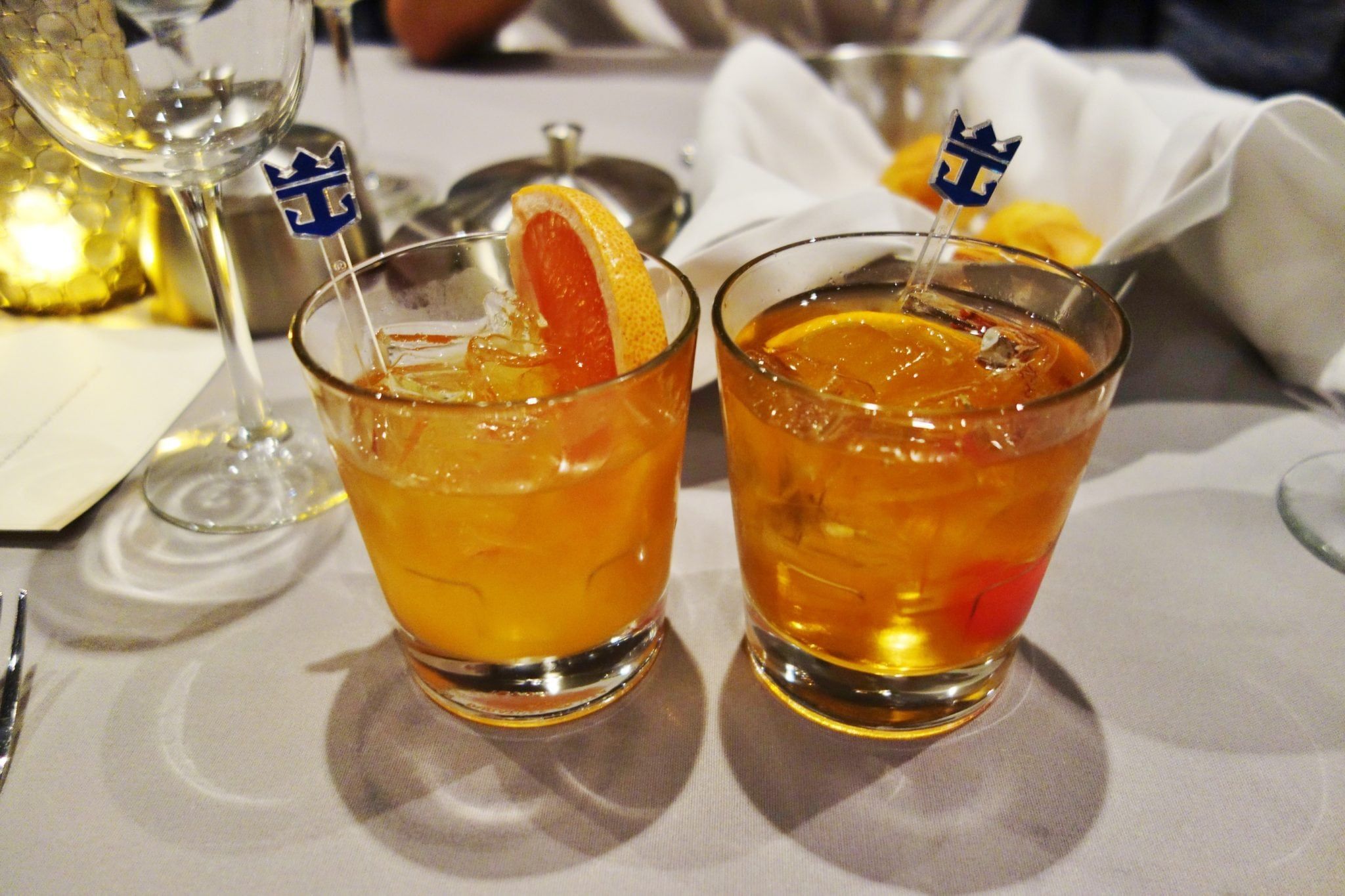 There was some delicious bread delivered to the table as well, included in the basket were a sort of sweet bread crescent roll and corn muffins. We could already tell we were going to like this place!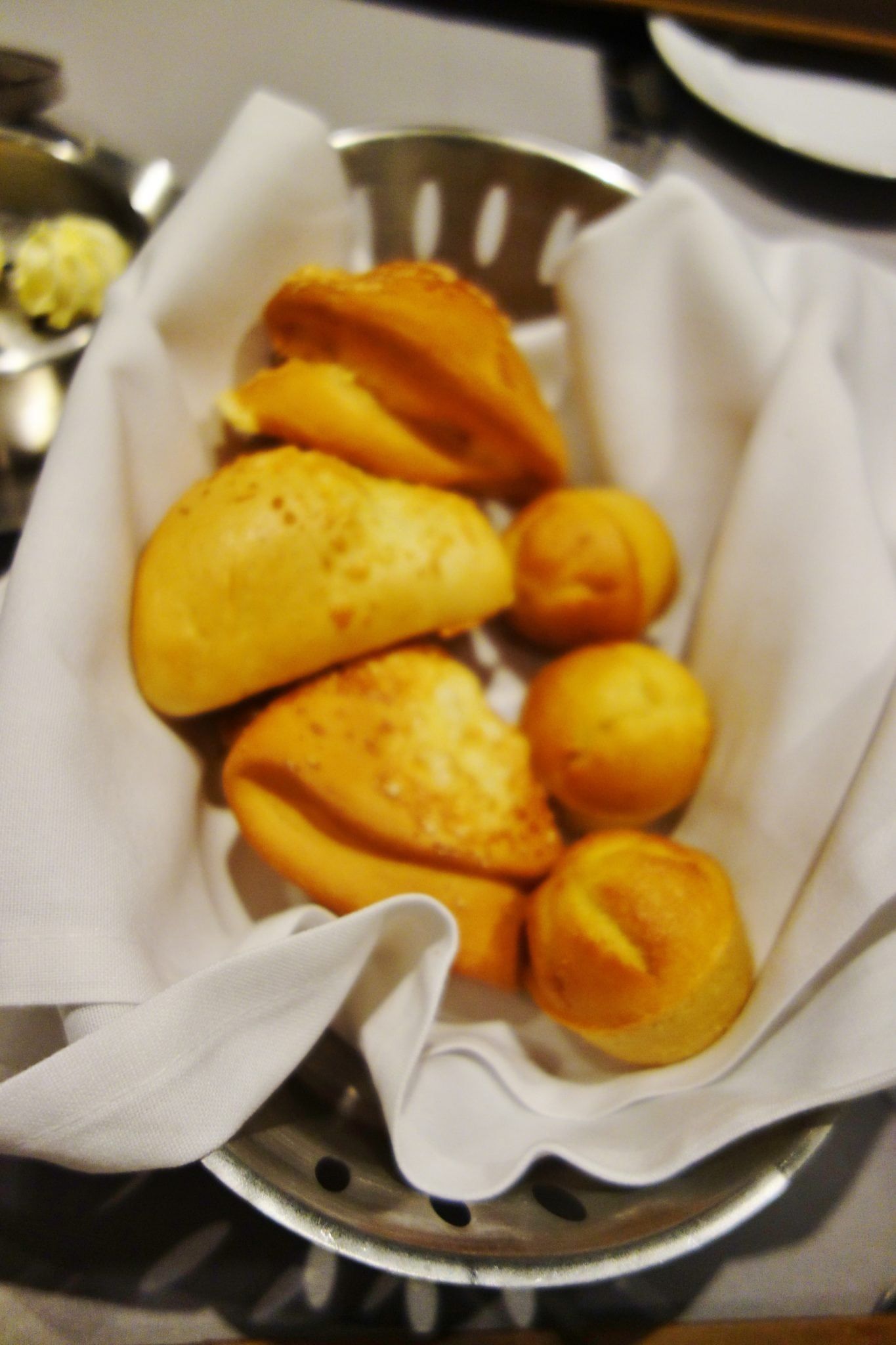 Come to find out, the woman who we thought was our waitress, Shernelle, was actually our assistant waitress. Our waiter, Joel, came by to introduce himself. He was very professional and friendly and was the only waiter, to date, that asked if we had any questions about the menu or any food allergies. We said no to two both questions, and we were ready to order. It was time to get to business.
As a starter, the wife ordered the Buffalo Chicken Mac n' Cheese. I am not a fan of this dish, but she thoroughly enjoyed it. It had just the right cheese consistency and was slightly crisped on top with the baked breadcrumbs. Even though it was heavy, she managed to eat the entire crock of it!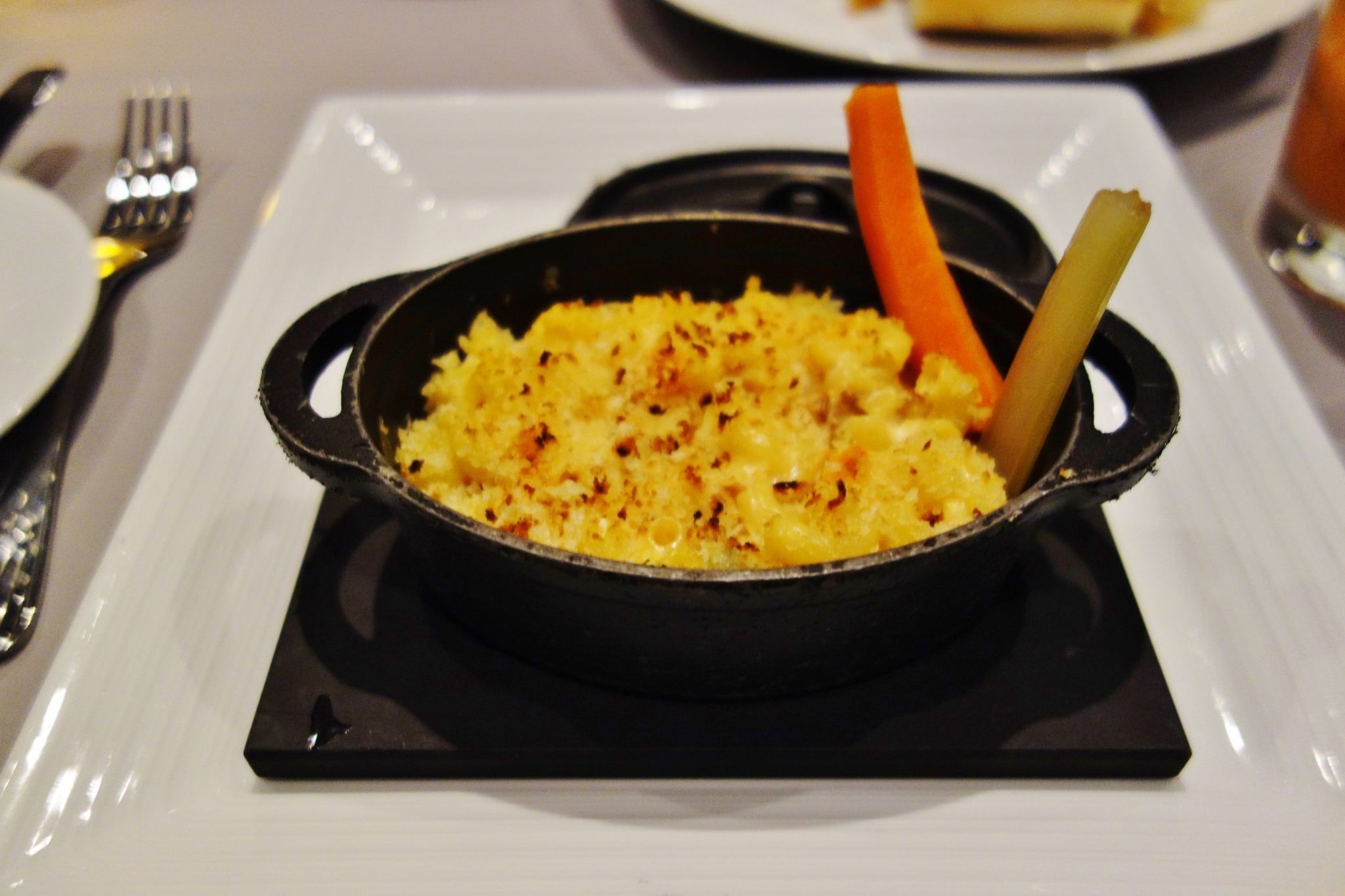 In keeping with trend, I ordered two appetizers, which both came out at the same time. Even though I had already eaten every hotdog at the first food truck at sea in the SeaPlex, I wanted to try the Yankee Franks–comfort heaven and a heart attack waiting to happen!  A bit cold, but tasty; they were wrapped in a pretzel roll and served with warm Cheddar Cheese sauce was much better than I was expecting, definitely NOT microwave cheese.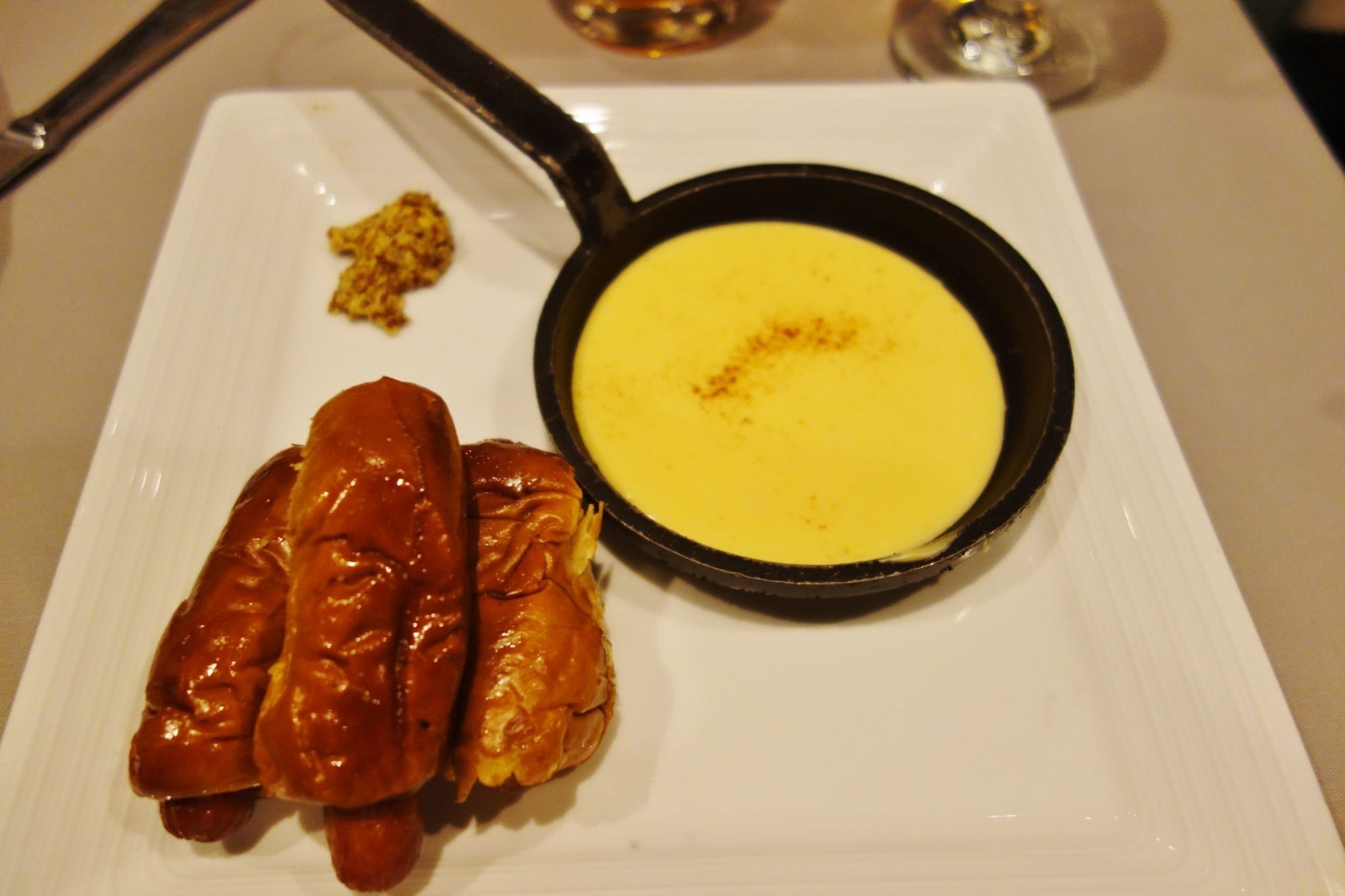 The second appetizer was the Shrimp Po Boy. The shrimp were light and crispy and the creole mustard was not too spicy. There was a lot of bread, and the app came with fries, which just seemed weird. I did like the dish, but think RCI needs to redesign the presentation of this starter. Maybe, incorporate these flavors into something that is not a sandwich?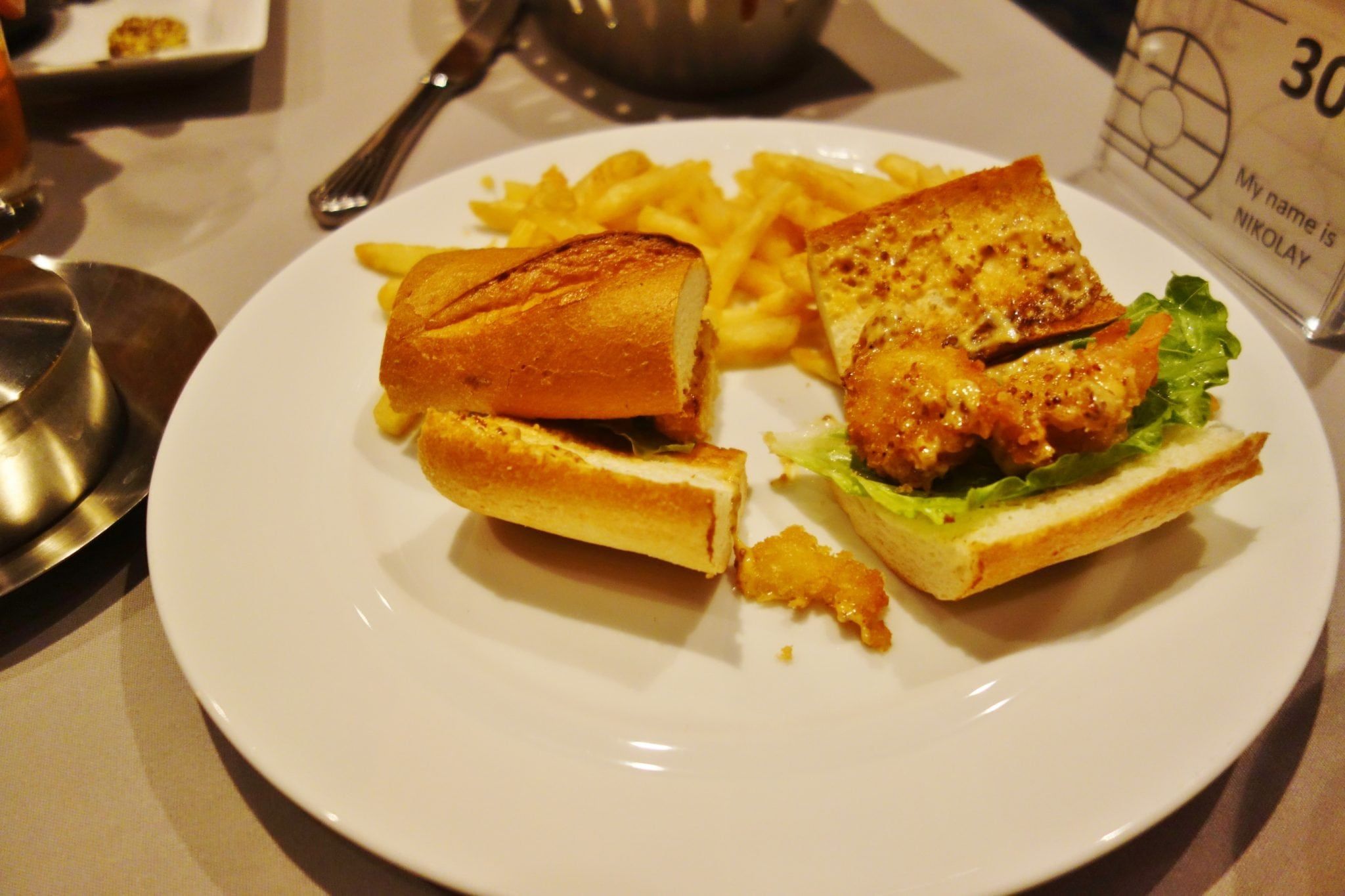 For dinner, the Princess had been waiting all week long for the Thanksgiving Dinner.  As she only eats chicken and turkey, this is the MDR meal she anticipates each cruise. She got a nice serving of all white meat sliced turkey with just the right amount of gravy,  some bread stuffing, cranberry, and root vegetables. The only thing missing was the mashed potatoes.  Either way, this was probably her favorite meal at a complimentary restaurant, though it is tough to mess up roasted turkey.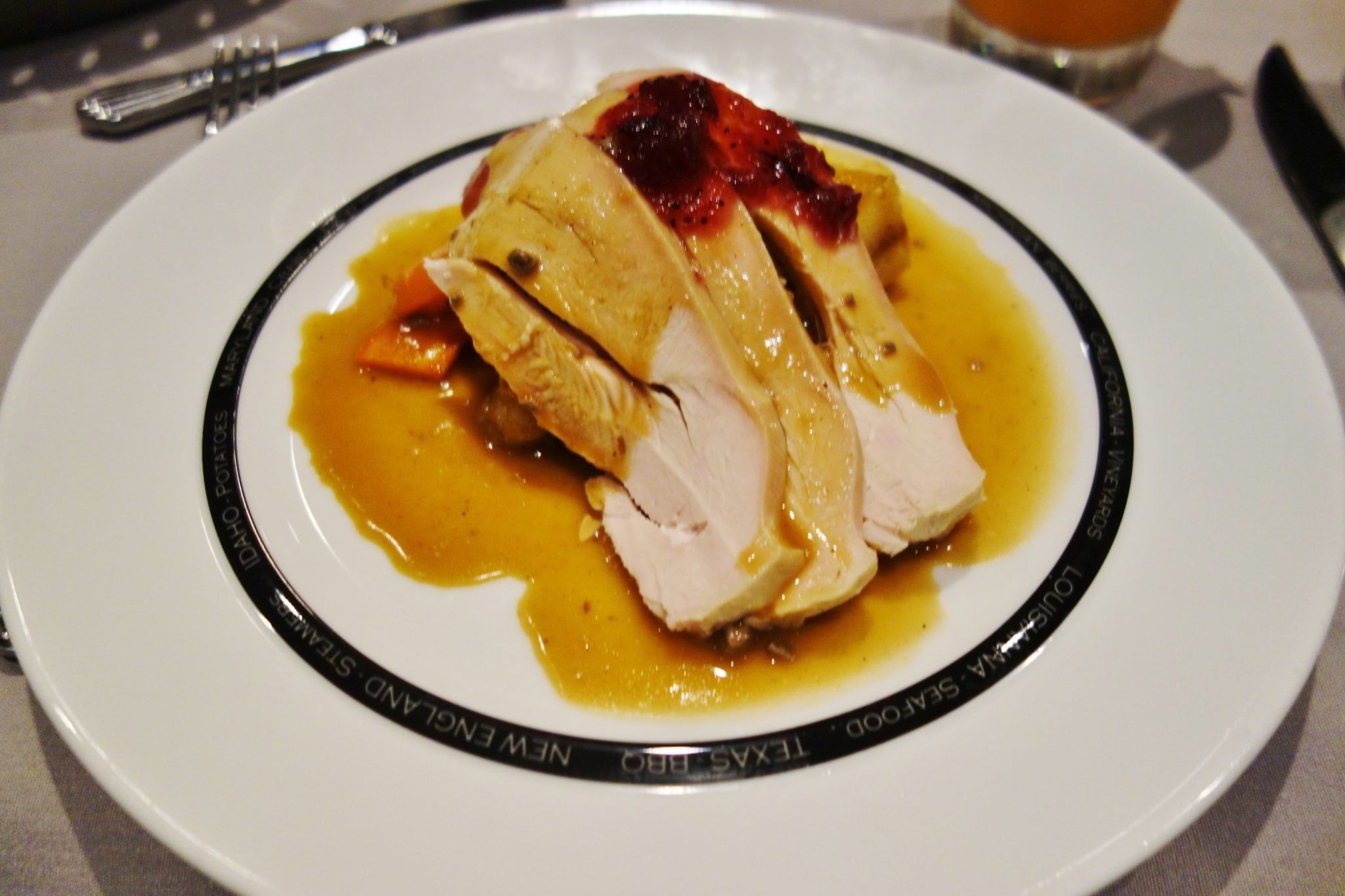 I was debating what to try, but in the end I decided to do the Surf and Turf. The steak was cooked exactly as I ordered, medium, and was a fine steak. The grilled shrimp were rather plain, but I like my shellfish simple.  I did not touch the baked potato, but I was a little let down with the onion rings. Being a fan of these deep fried delights, they tasted like they were fried with other food, giving them a strong, non-onion flavor.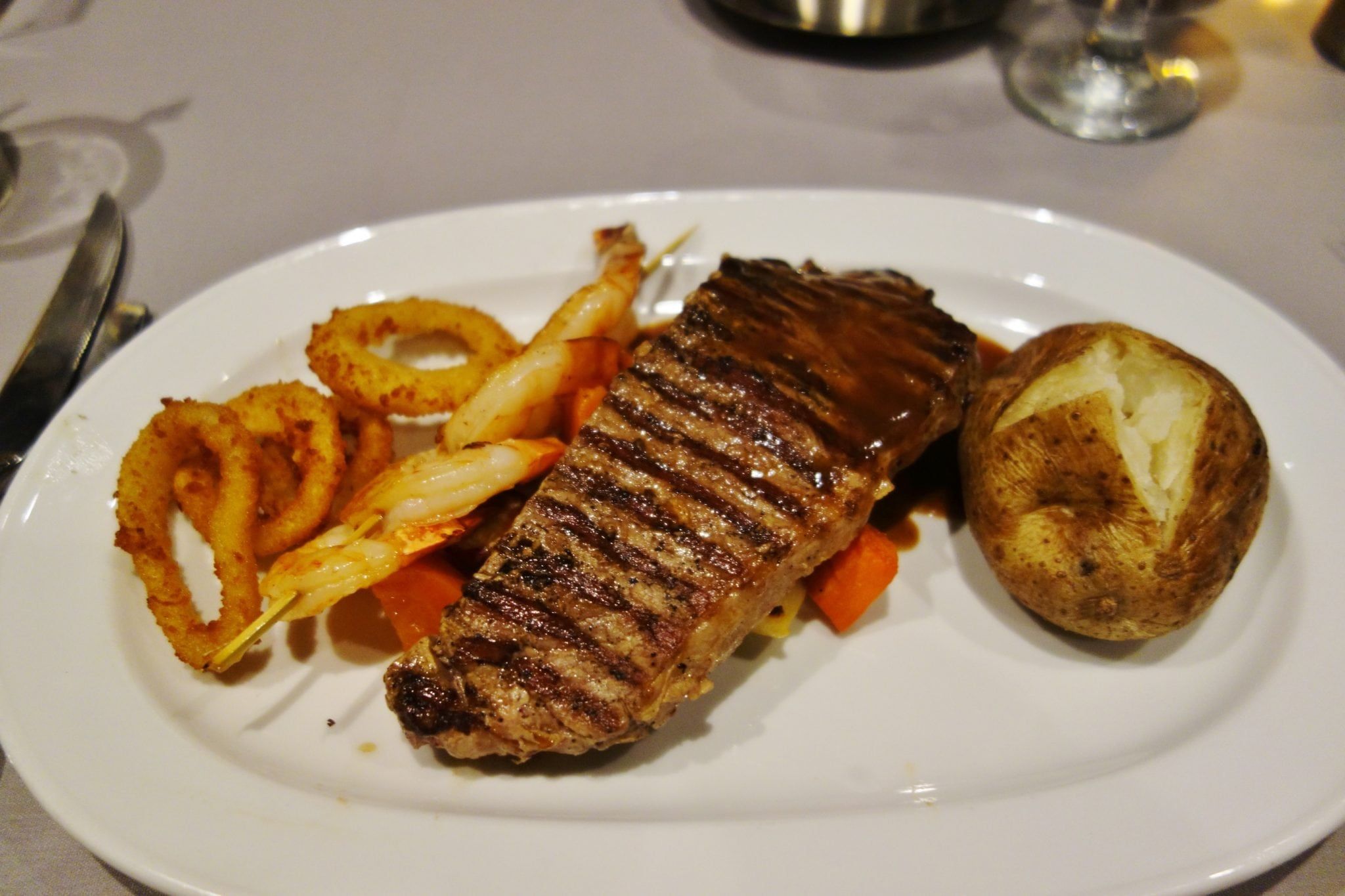 So, by now you know we are not bashful. So when it came to dessert, our assistant waiter brought over the menus. We asked her recommendations, and before you know it, we ended up ordering three desserts! I also got a coffee, which was served before the desserts arrived. This waitstaff here were the most attentive, and our dining experience was definitely the shortest we had, yet we did not feel rushed.
So, dessert is where American Icon Grill really shined.
First, you have to get the "Coffee and Doughnuts". These warm, fried doughnuts with sugar on top taste like they were made in your grandmother's kitchen. They were not greasy at all.  They were similar to fried dough or a doughboy, for those New Englanders out there!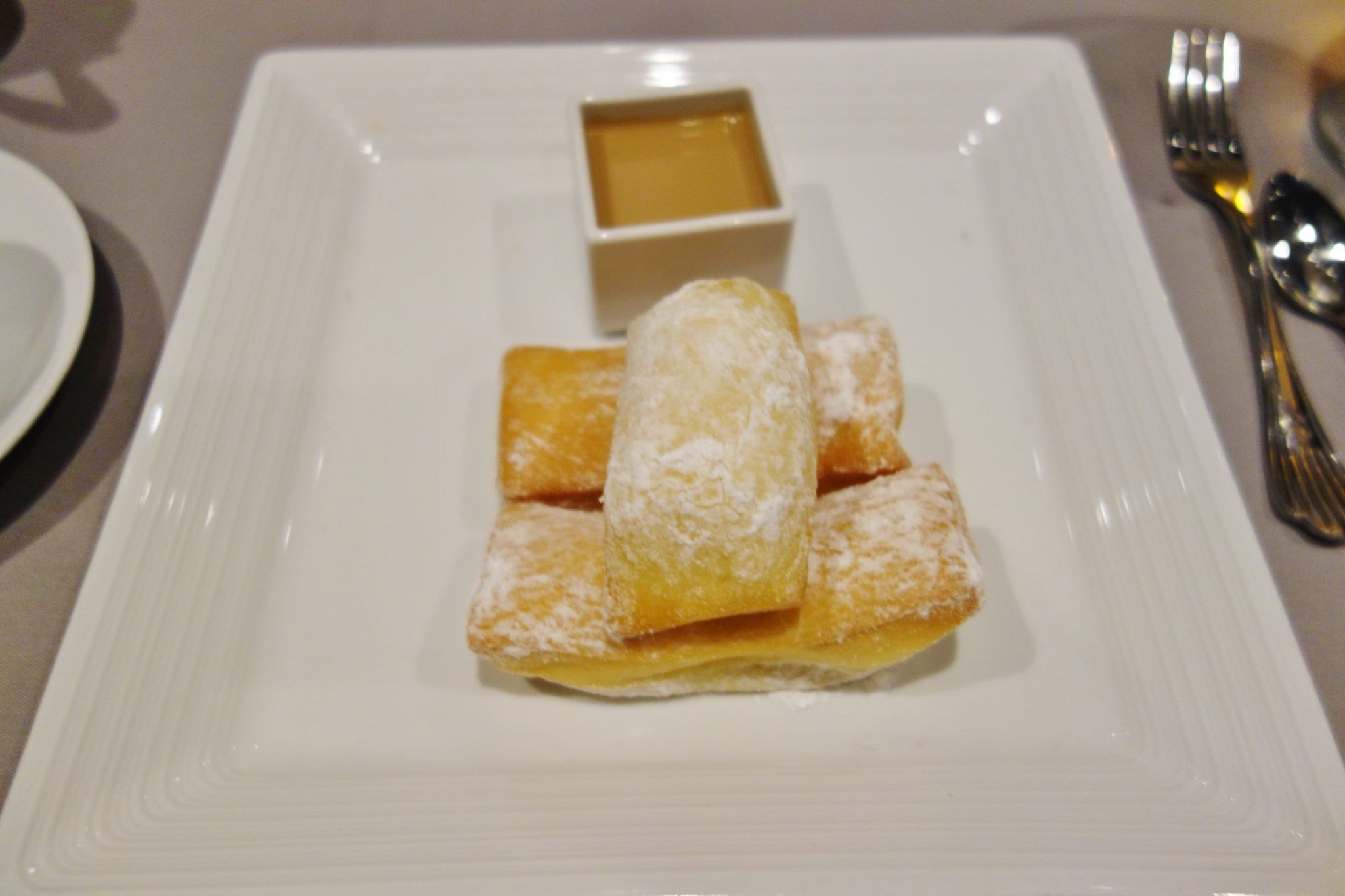 Next, we did the Icon's Candy Bar. It was an unbelievable mixture of tastes and consistencies with the airy mousse, chocolate coating, and crunchy brittle. Quite literally, this was a smooth, creamy candy bar you could eat with a spoon!
It was tough picking a favorite between these two, that is why the wife and I always split our desserts.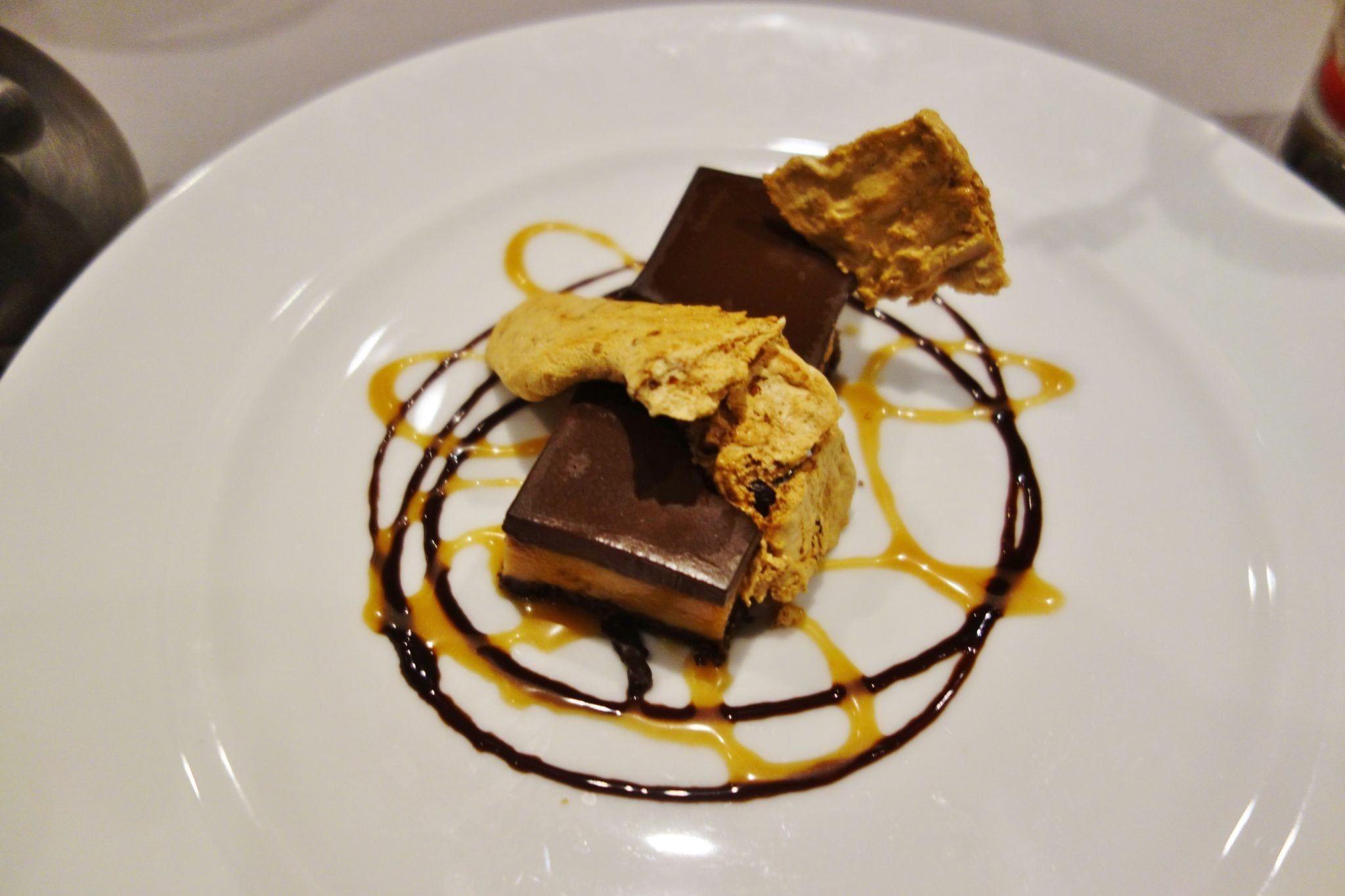 Based on our assistant waitress' suggestion, we also tried the Grilled Banana Sundae, which came complete with a grilled plantain. If we had to rank the desserts, this was our least favorite, albeit, still a very good treat.  I actually took some of the ice cream and put it on top of the Icon Candy Bar. Highly recommended!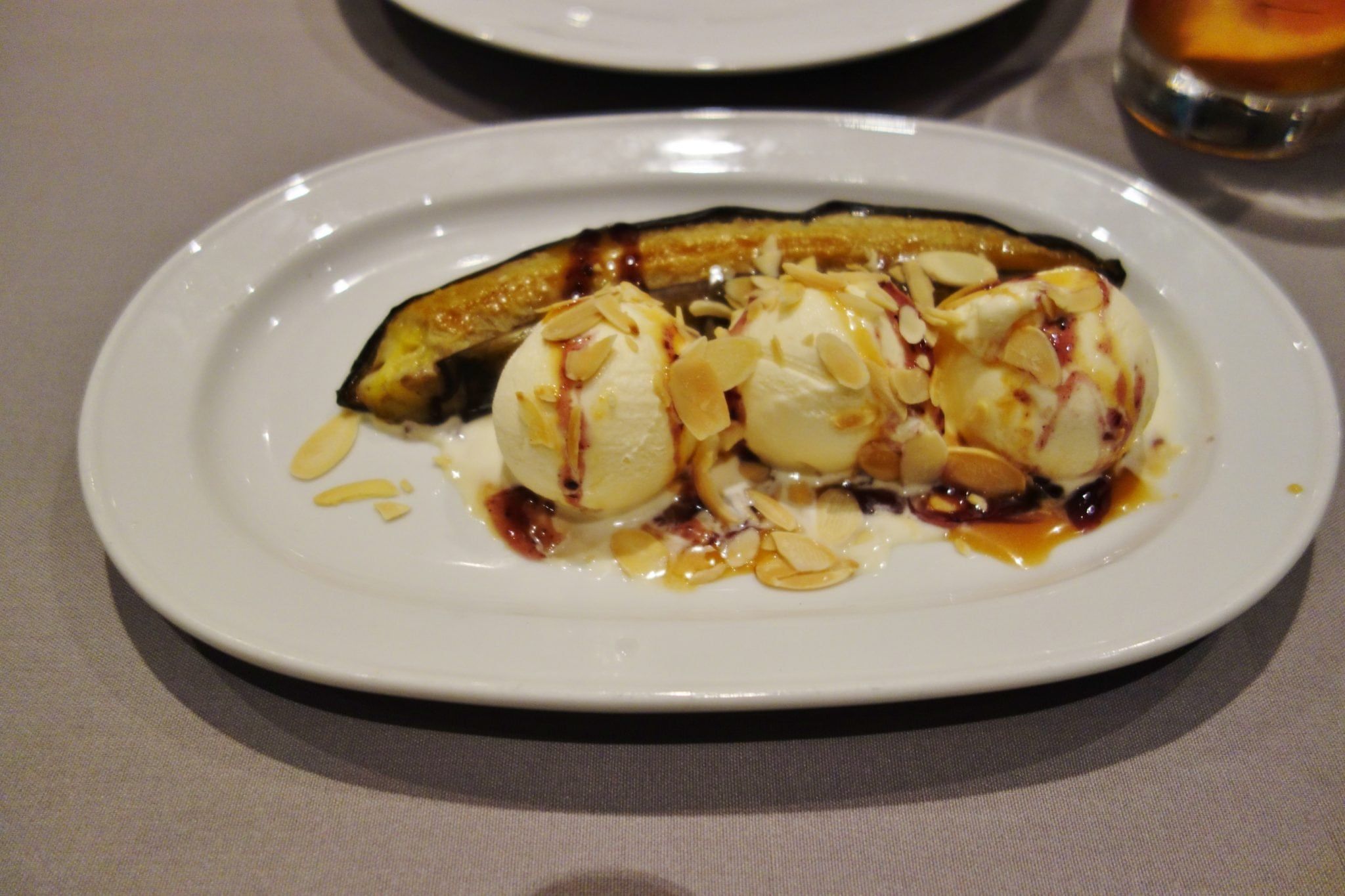 We did not try any of the after dinner drinks, but looking back at the menu now The Princess wishes she did. There is always time on Anthem of the Seas in 2016.
To recap our Dynamic Dining review of American Icon Grill, if you like basic, comfort food then you will love this spot. American Icon Grill  may not have the fanciest menu, but there are some really well done dishes that have a home-cooked feel and taste. Our total dining time was slightly under 75 minutes with the best service of the 4 complimentary restaurants. The starters exceeded our expectations. The wife loved her turkey dinner, while the surf and turf was average. The desserts were the superstars of this restaurant. We have two reservations for this restaurant lined up for Anthem of the Seas, and we will be keeping them both as there are many menu items we still want to try.
Summary
Type of Food- American Comfort Food
Meals served-Breakfast, Lunch, Dinner
Dress code- Smart Casual
Cost- Complimentary
Menus- Dinner, Simple Tastes,  Drinks, Dessert
Comments
Have you had a chance to try Dynamic Dining yet? If so, what were your thoughts on American Icon Grill? Drop us an anchor below to let us know your favorite meals. We would love to hear about your experiences with the restaurants on this new ship, Quantum of the Seas!