For our first night onboard the Quantum of the Seas, we made reservations at one of the four complimentary restaurants, Silk. This pan-Asian restaurant sports a modern décor with lots of red and tan and gold accents throughout the restaurant.
The food is reminiscent of Asian American restaurants with a mix of Eastern flavors. Even though the reviews on the internet and social media sites had indicated that Silk was the complimentary restaurant earlier cruisers on Quantum of the Seas liked the least, we decided to give this restaurant a try on day one. Here is our complete Dynamic Dining Review for SIlk.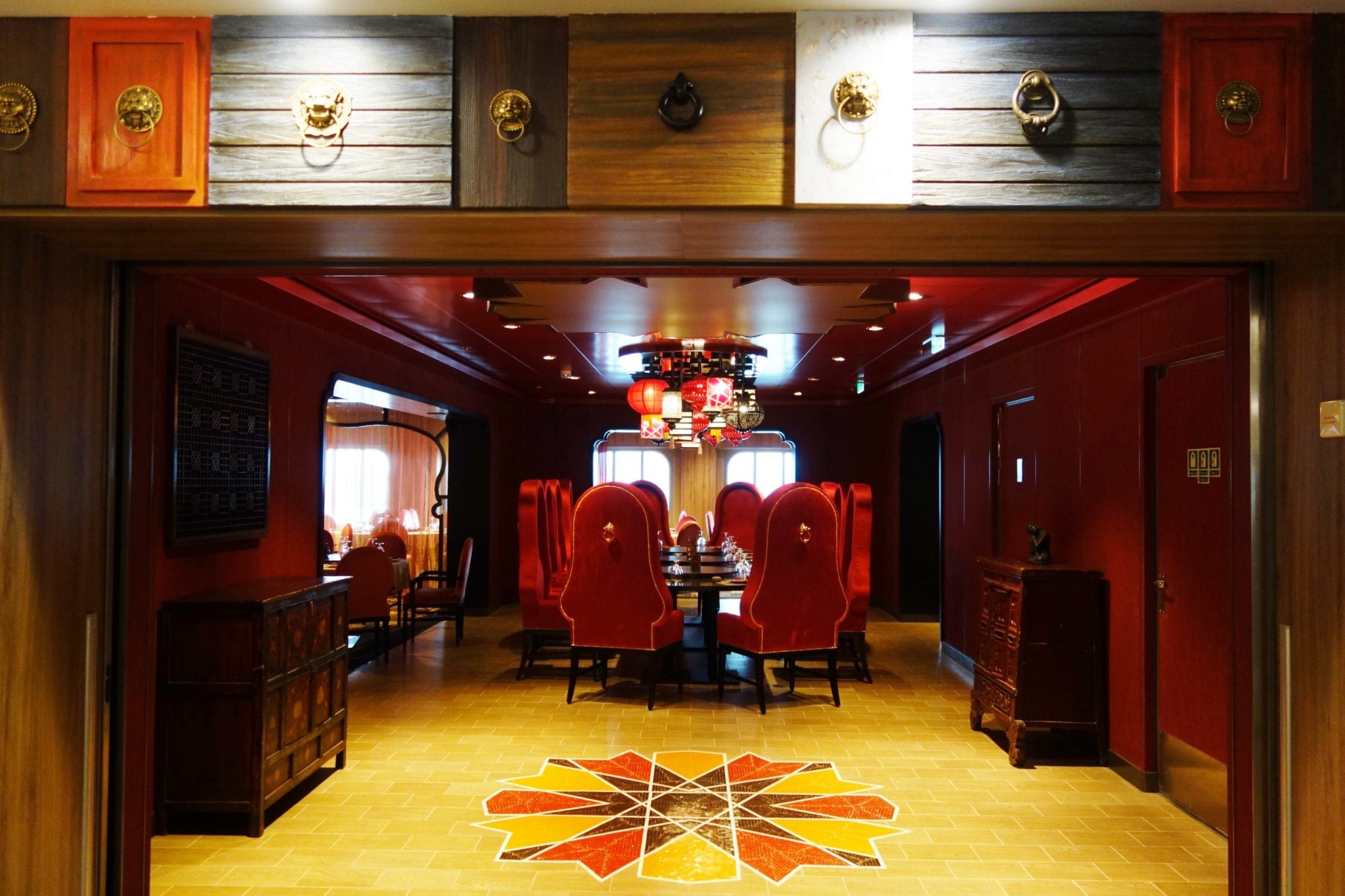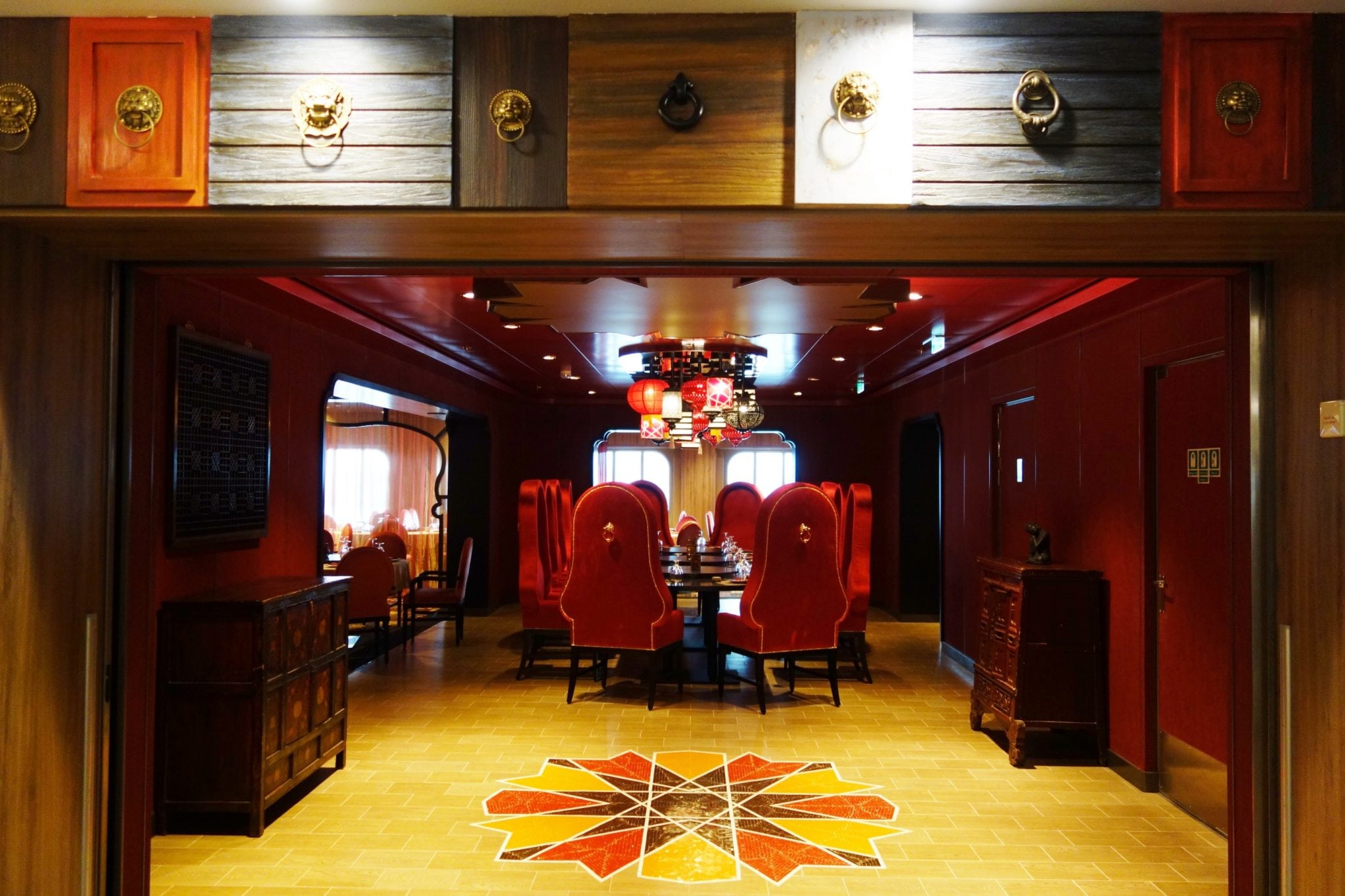 Quantum of the Seas Dynamic Dining Review Silk Restaurant
Our first impression was not very welcoming as we got to the restaurant for our 6:45pm reservation, right on time, only to be greeted by a rather long line. It was unclear if there was an issue with the computers or capacity, but we waited over 20 minutes to get seated. It turns out that this was an anomaly as we did not wait more than five minutes for any other restaurant during the cruise.
We did get a requested table for two, which was in close proximity to another table for two, but we are accustomed to such set-ups.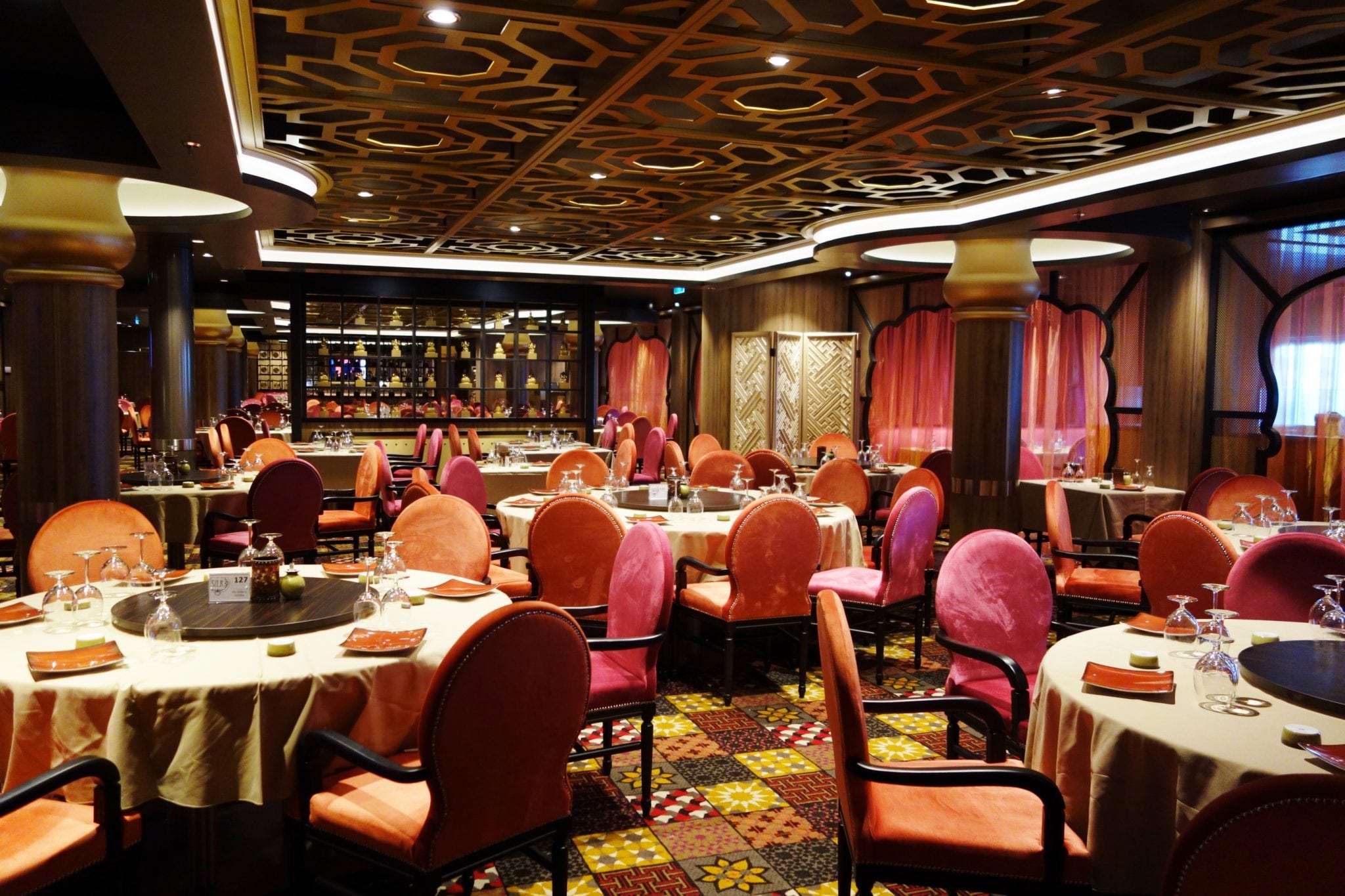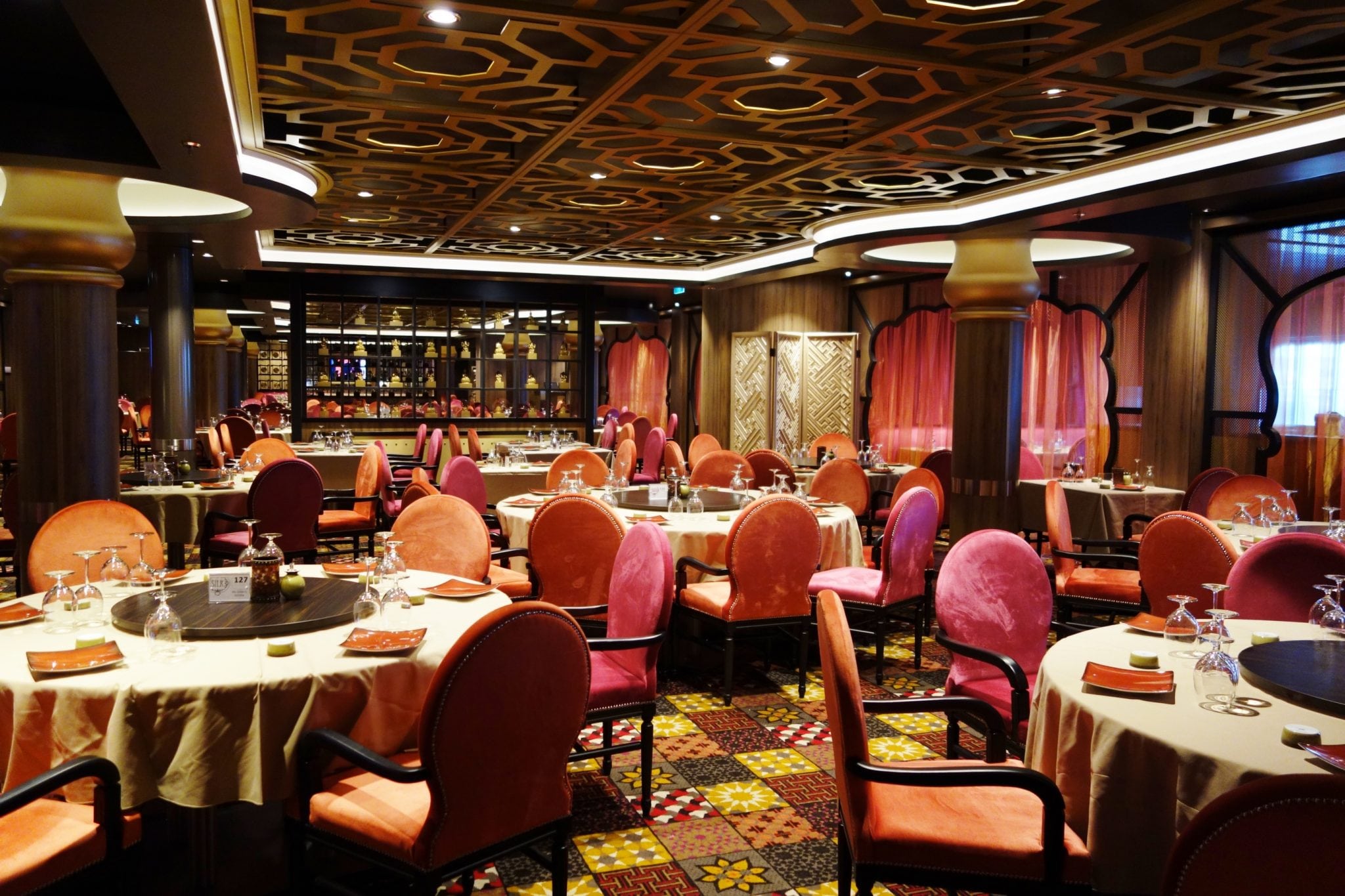 Our waitress was Junela; she was very nice and accommodating. There was a food runner/bus server who functioned sort of like an assistant waiter, but he did not introduce himself nor was he very visible during our dining experience. Overall, the service seemed a bit slower than we are accustomed to on a cruise ship.
After first being seated, the waitress brought over some very addictive wontons with a sweet and sour dipping sauce. These fried treats were provided in lieu of bread and between the delays in food I was routinely snacking on them.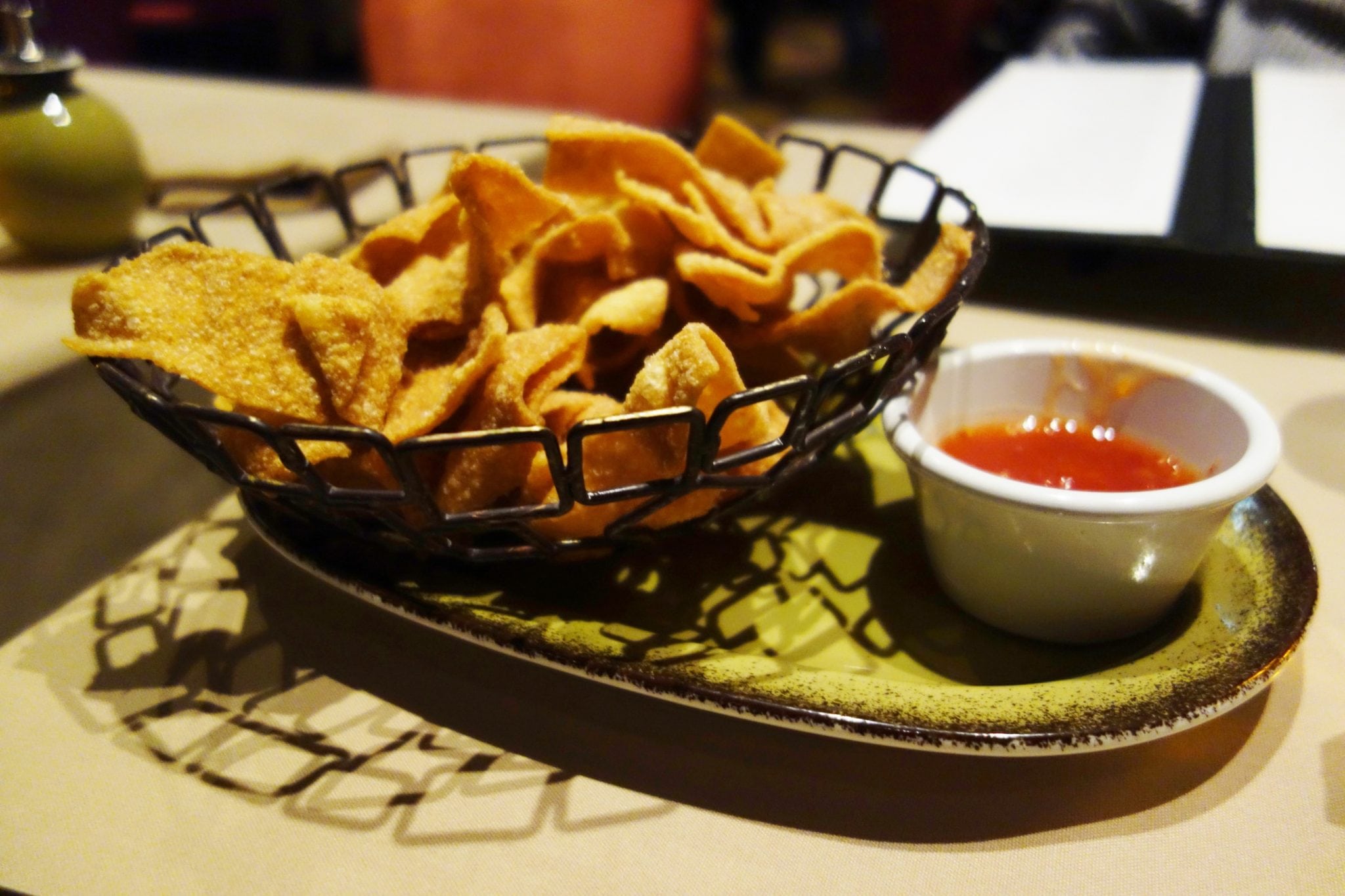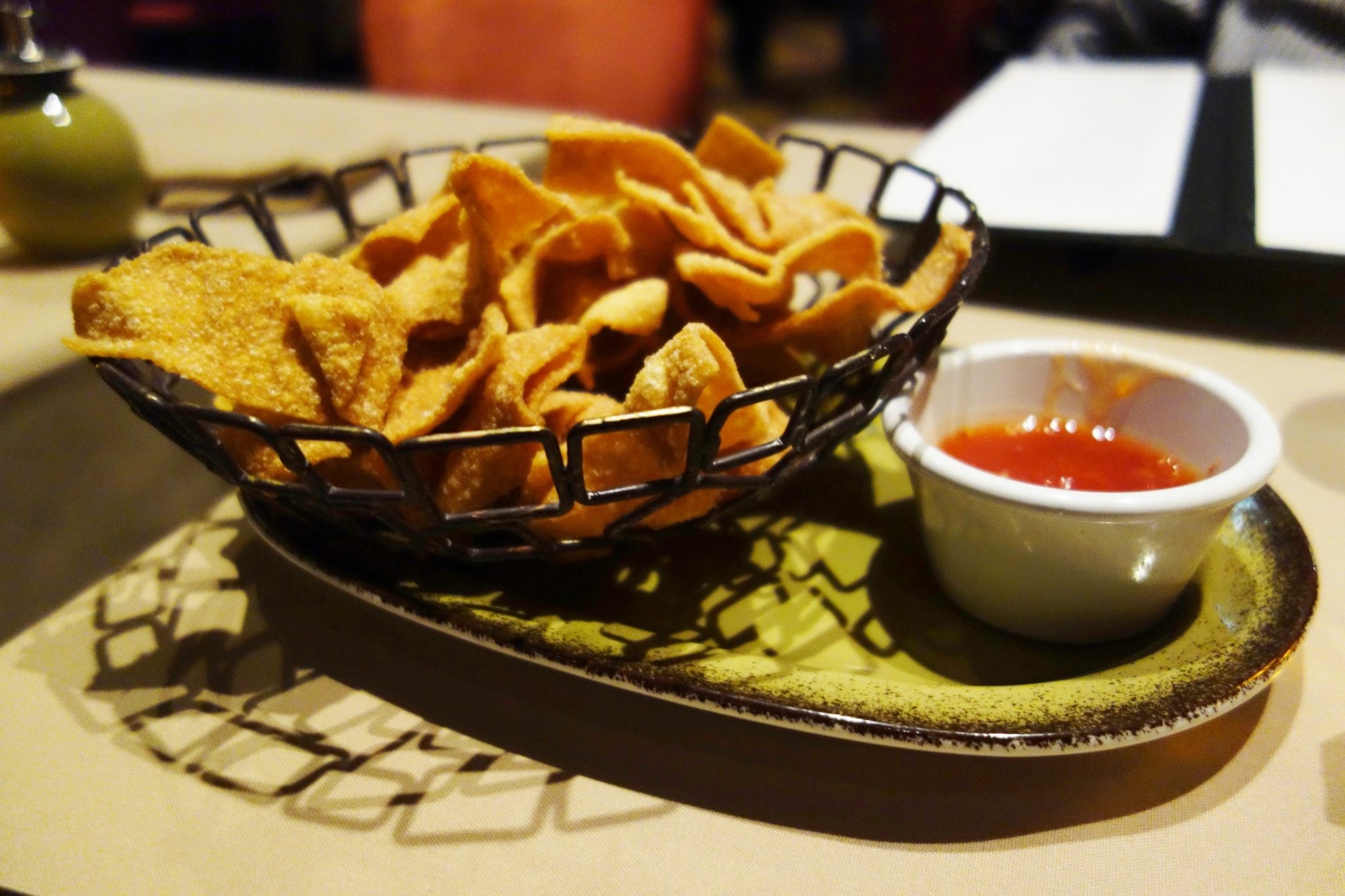 We ordered a round of drinks, a Dragon Passion for me  and a Masala Sour for the Princess, and both drinks were quite tasty. Our waitress took our drink order, but they were delivered by a different server.
As for the food, Silk met and in some instances, exceed our expectations (which honestly were not very high given what we had previously read). If you go to the restaurant with a few people, we suggest ordering a bunch of appetizers to share. Some of the larger tables have rotating trays on them so you could easily share plates.
The Princess ordered the chicken egg drop soup as an appetizer; although scarce on chicken, it did have a well-seasoned broth and plenty of noodles. For all the starters, we did find that compared to servings on other ships, the appetizer portions definitely seemed larger.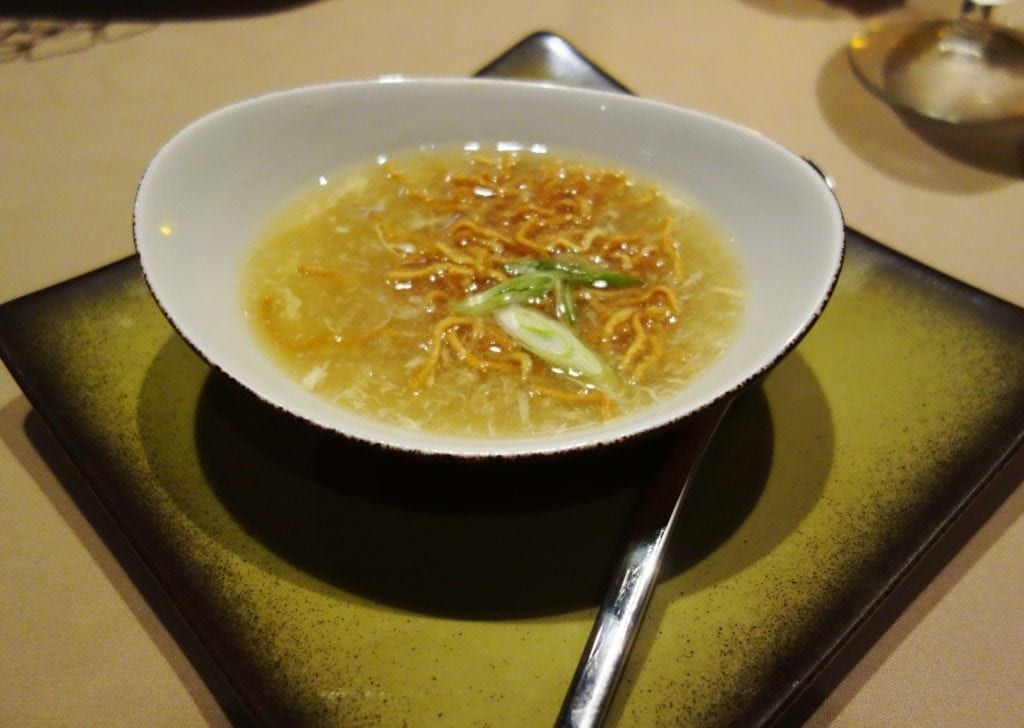 Of course, I ordered two starters. The Thai chicken wings were first, and they were hot and crispy with a light coating of a slightly sweet sauce, which was perfect. A bit messy, but I did manage to eat all four of them without any evidence left on my clothing.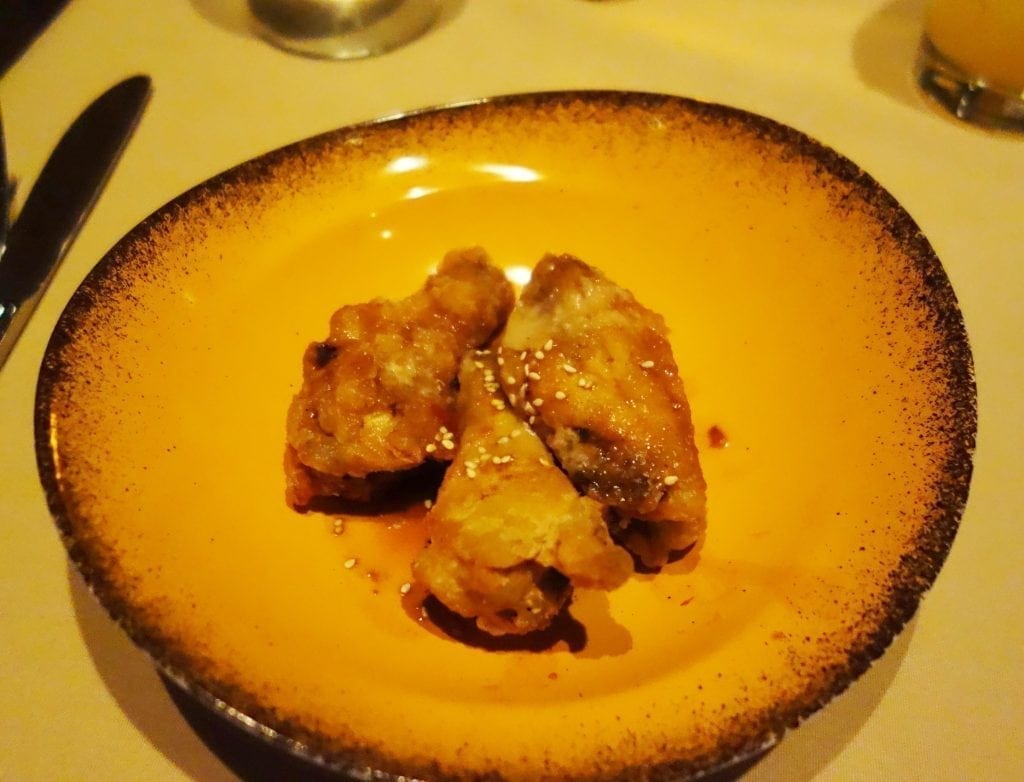 My second starter was the short ribs, which were only room temperature, but they were very flavorful and meaty . If I had to make a decision, I would say the chicken wings were my favorite, but I would probably get both appetizers again and maybe try a few others as well.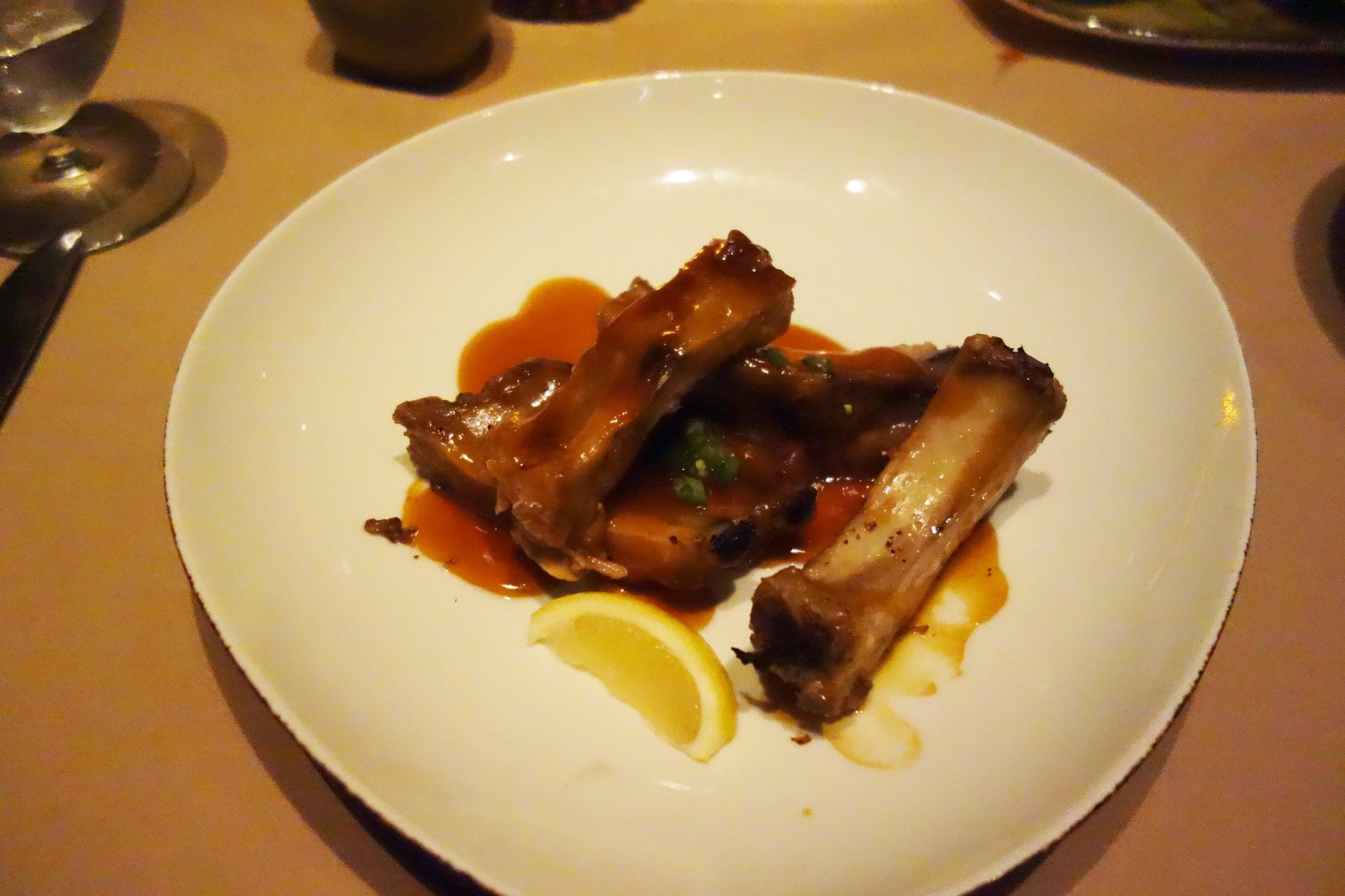 For dinner, the Princess got the only chicken entrée, the Tiki Masala. Her chicken was served with a bit too much sauce.  She was a fan of the mix of flavors on the dish, but it had too strong of a curry flavor for me.  Her chicken came with white rice, which she used to try to absorb some of the sauce. The two women next to us also ordered the Tiki Masala, and their dishes didn't look quite as soupy.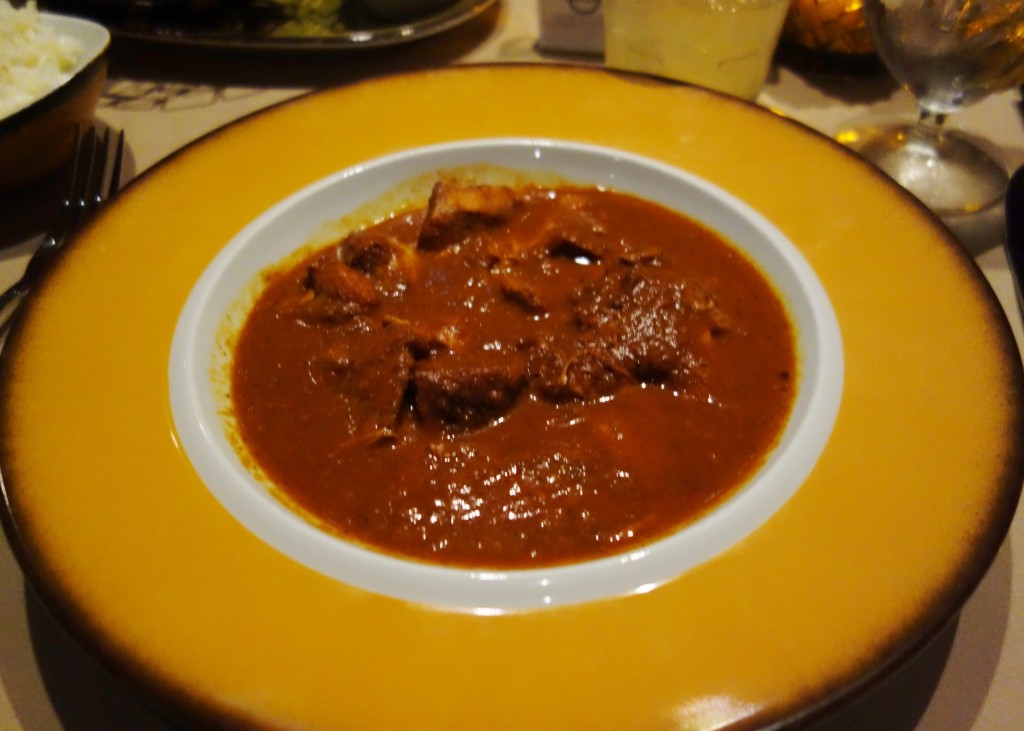 For me, I got the hibachi steak, medium, which was cooked just right, and the serving size was more than generous. The steak was tender and juicy. Good thing I took Junela's recommendation to try that meal over the duck. For the side dishes, I did not really try the mashed potatoes, but the stir fry vegetables were the perfect accompaniment. This would turn out to be one of the best entrees I would have all week!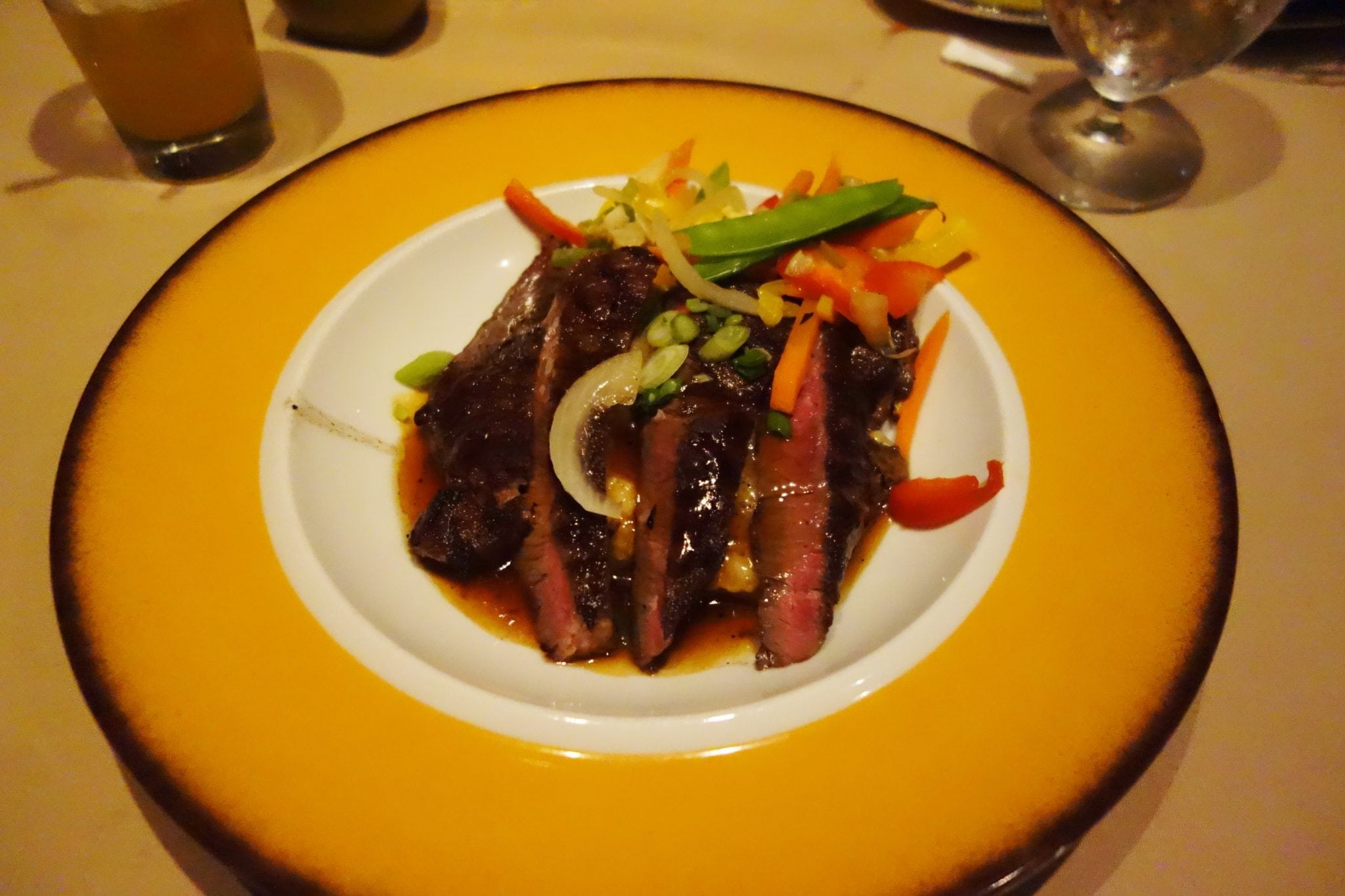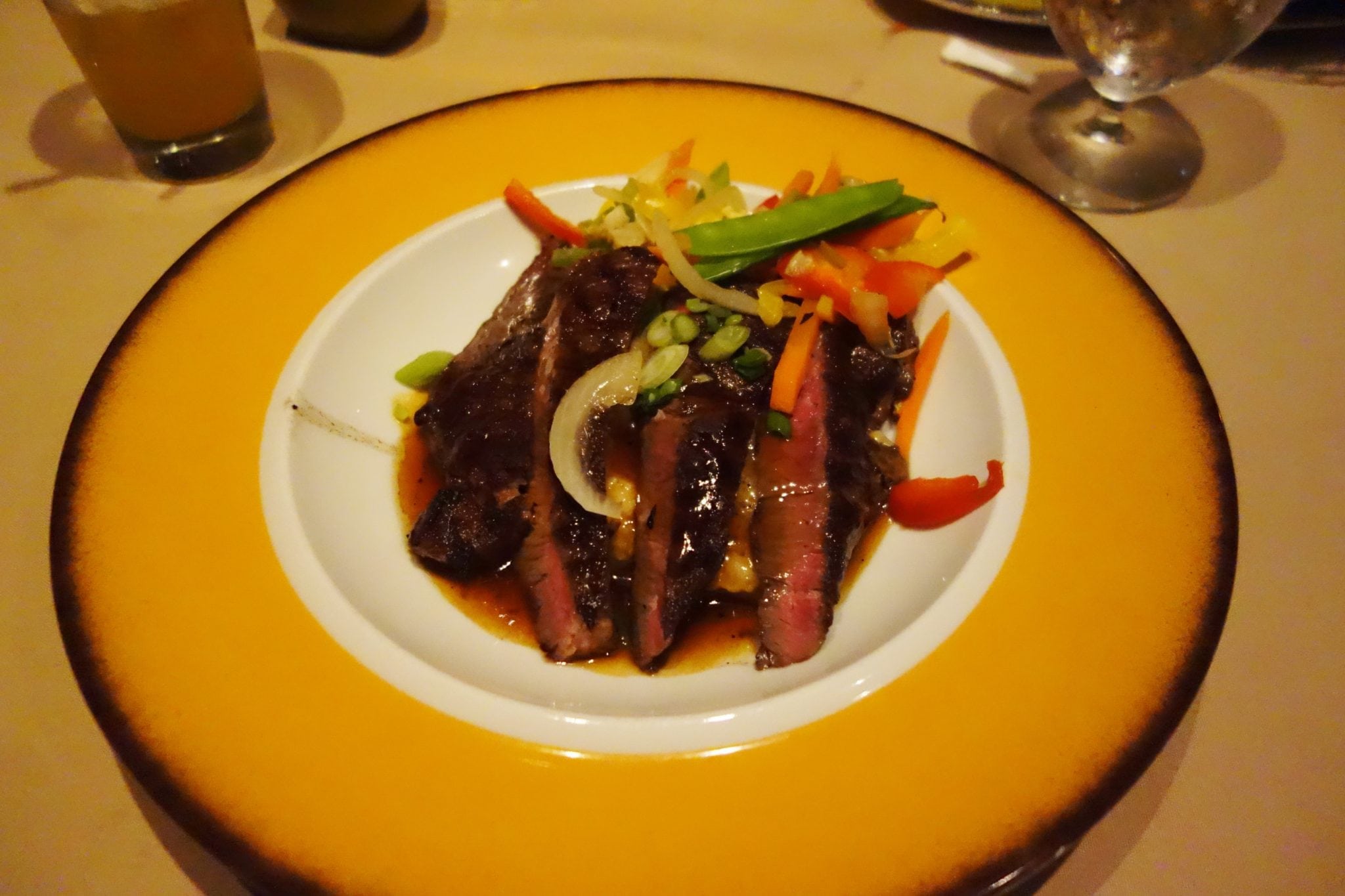 For dessert, the wife ordered the chocolate tart, and I did the peanut Thai cheesecake. I also ordered coffee, which took quite long to be delivered, as I was told they were making a new pot. We were both nearly finished with our desserts by the time the coffee finally arrived .
Both slices of dessert seemed, again, bigger than usual servings on cruise ships. We both really liked the desserts; although, I think the wife and I favored  the cheesecake more than the chocolate tart. The theme of the week seemed to be that the Princess always ended up liking my dessert more than her own. Good thing I was nice enough to share! The cheesecake was similar to a peanut butter New York style cheesecake with some crunchy nuts on top.
My Half of the Desserts from Silk Restaurant
To recap our Dynamic Dining Review for Silk, the complete dining experience, once seated, took about 75 minutes, which was much less than the two hours Royal Caribbean suggests you block off for dinner. For our first Dynamic Dining experience we would have to give the experience a thumbs up for food and a thumbs down for service due to the kinks we experienced with wait times.
Summary
Type of Food- Pan-Asian
Meals served-Dinner
Dress code- Smart Casual
Cost- Complimentary
Comments
Have you had a chance to try Dynamic Dining yet? If so, what were your thoughts on Silk? Drop us an anchor below to let us know your favorite meals. We would love to hear about your experiences with the restaurants on this new ship, Quantum of the Seas!