One of the aspects the Princess likes about cruising is formal nights–getting all dressed up and taking pictures. If you are going on Quantum of the Seas or Anthem of the Seas and like to get dressed up to the nines as well, then Grande is your place to go. At this complimentary restaurant, formal attire is required. Dresses for the ladies and coats for the gentleman. It is time to get fancy with our Dynamic Dining Review for Grande!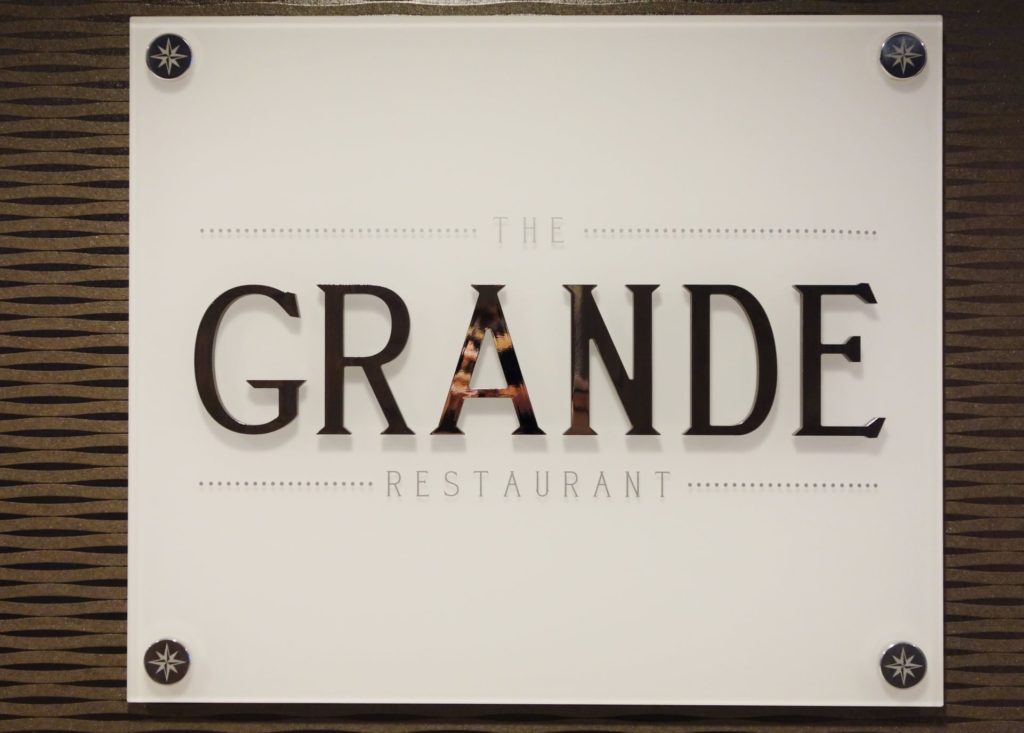 Quantum of the Seas: Dynamic Dining Review Grande
Of all the complimentary restaurants, we were looking forward to Grande the most. The Princess likes her formal nights, so with no official formal night on Quantum of the Seas, we planned to make our own, with plenty of pictures, and dinner here on the fifth night of our sailing. Many of the reviews of this restaurant that we had read prior to sailing had been mixed. After four previous days of Dynamic Dining, we had some inclination that the service would be rather slow and that the food was going to be hit or miss. Again, this proved to be the case at Grande.
The decor is similar to Chic, reminiscent of a typical main dining room found on other ships. We had seen long lines at Grande on previous nights, but luckily when we arrived for our 6:15pm reservation, there were only one or two groups ahead of us, and we were seated promptly.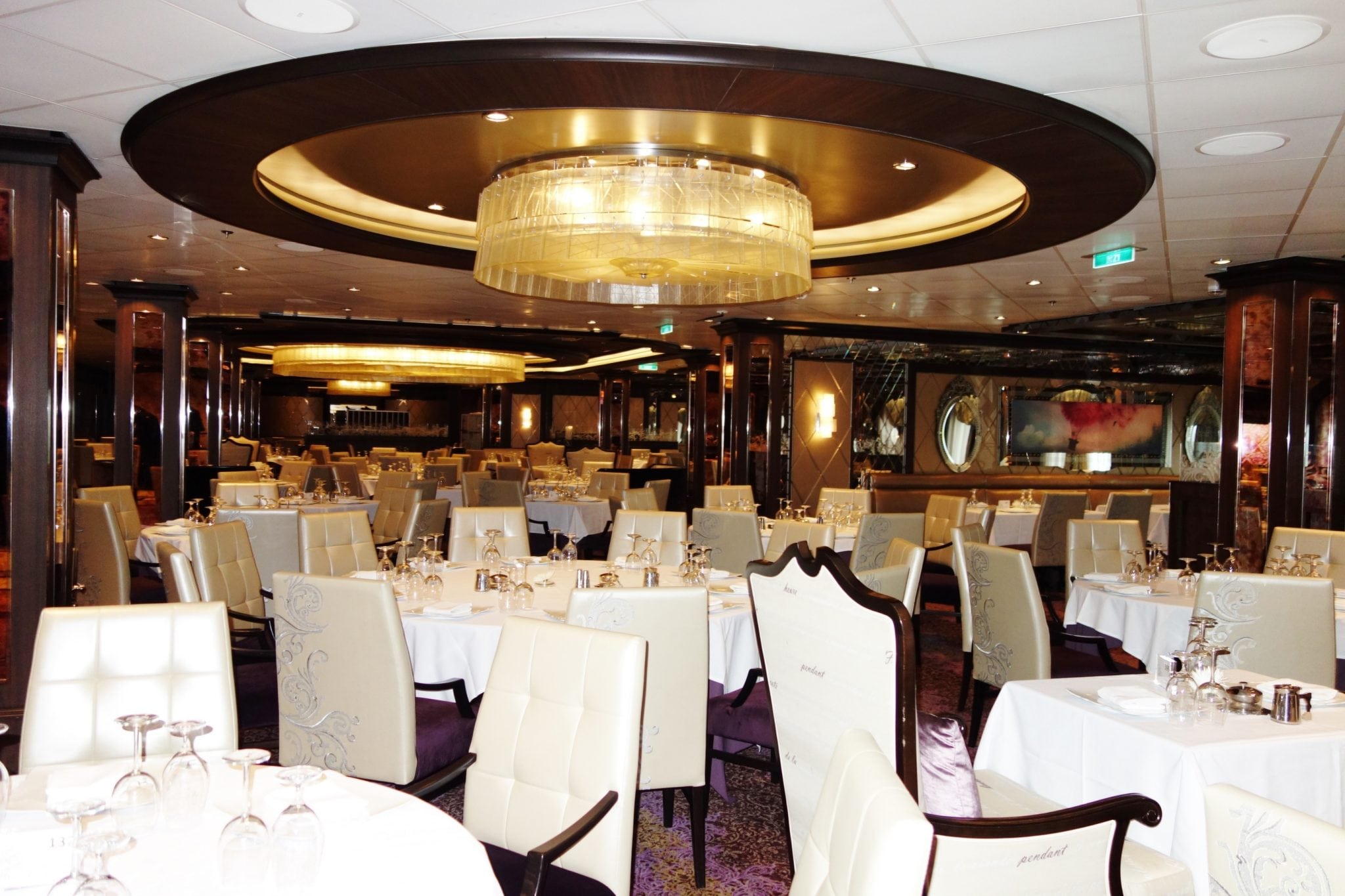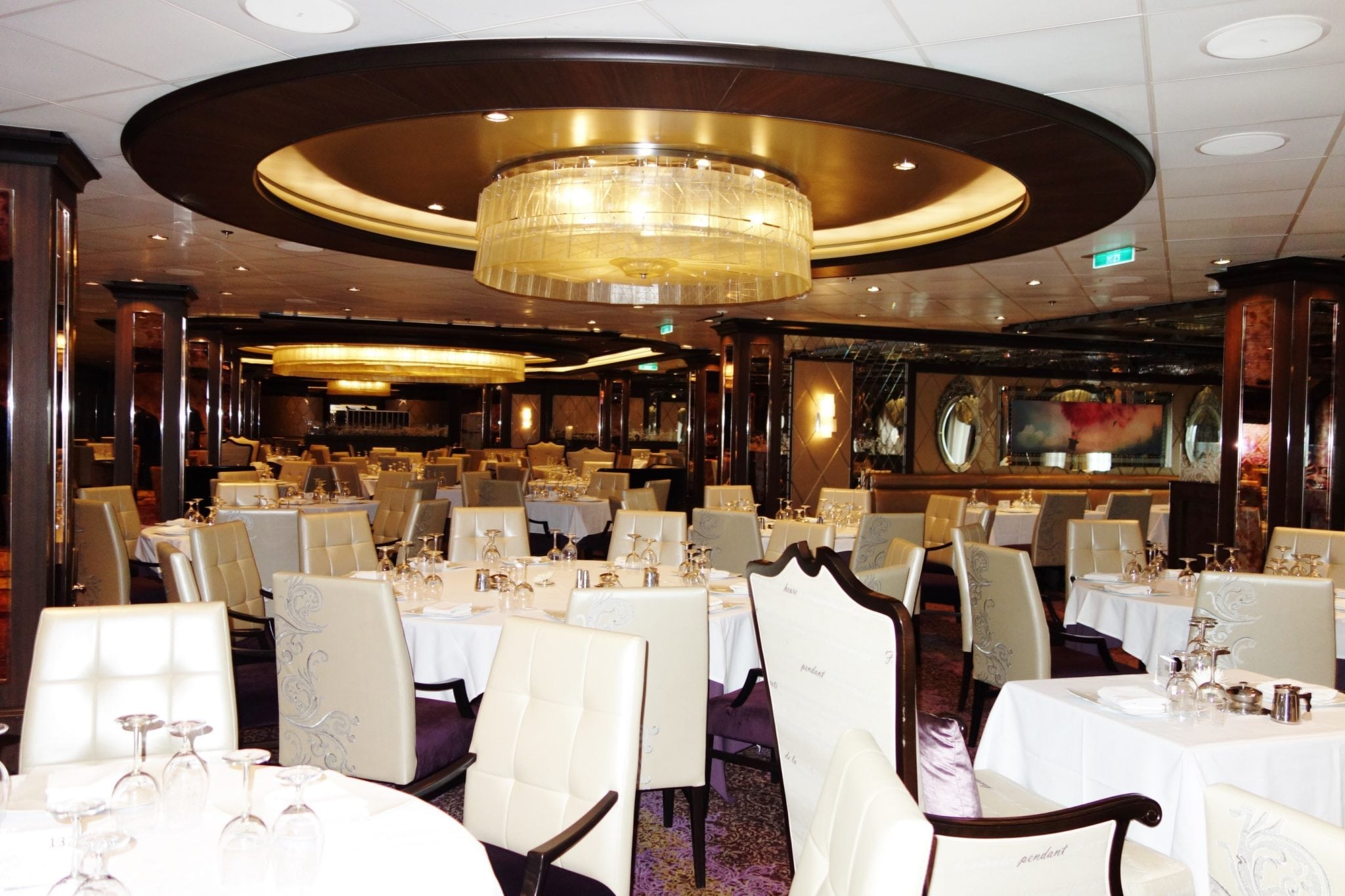 After being sat, it would take a while for the waitress to come over and introduce herself. She was not very pleasant or timely, and this dinner would take pretty close to two hours. The restaurant did not look busy, so it was hard to understand why things took so long. The couple next to us were half way through their dinner when we were first sat, and we noted that their service was equally as slow.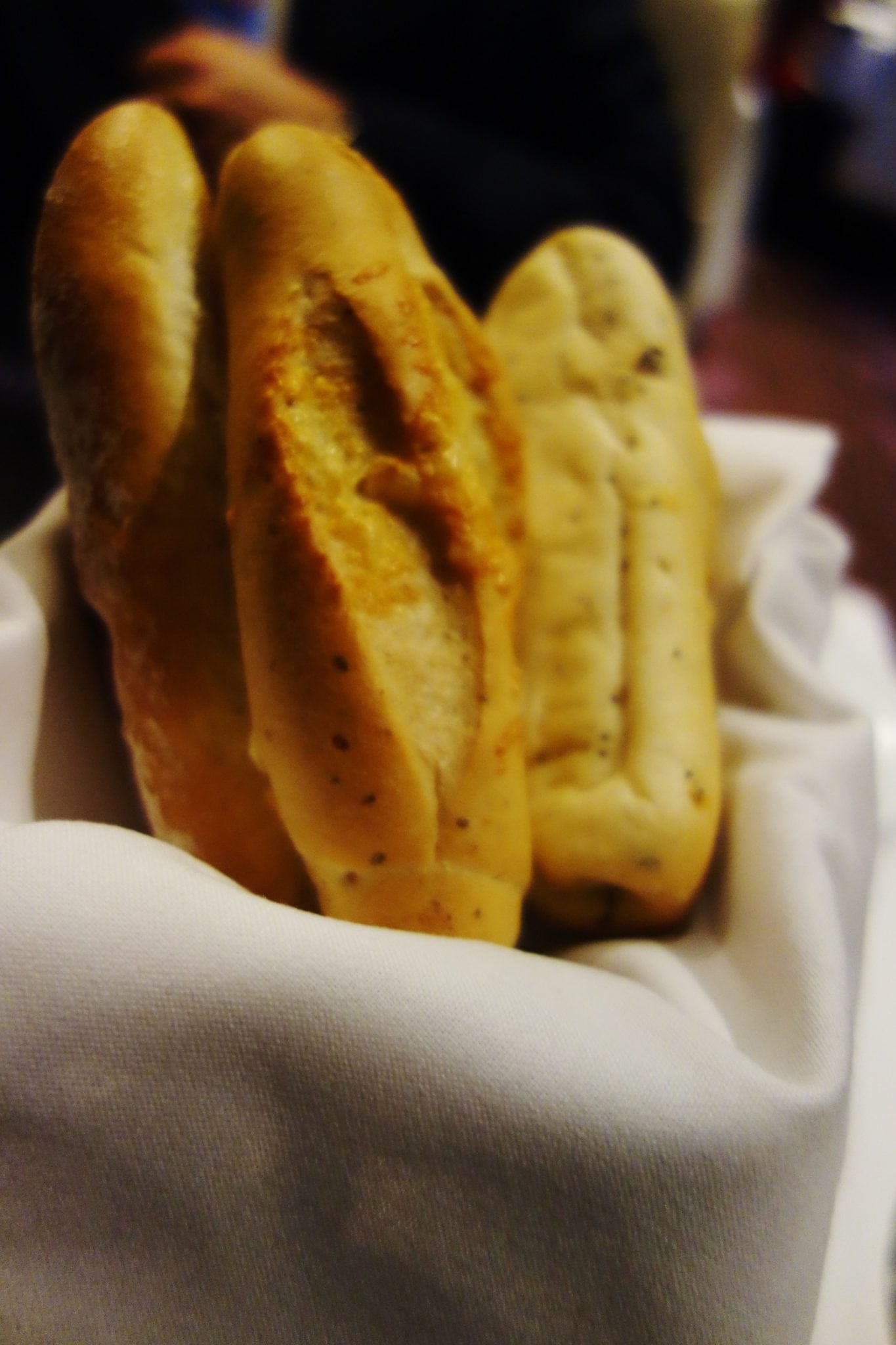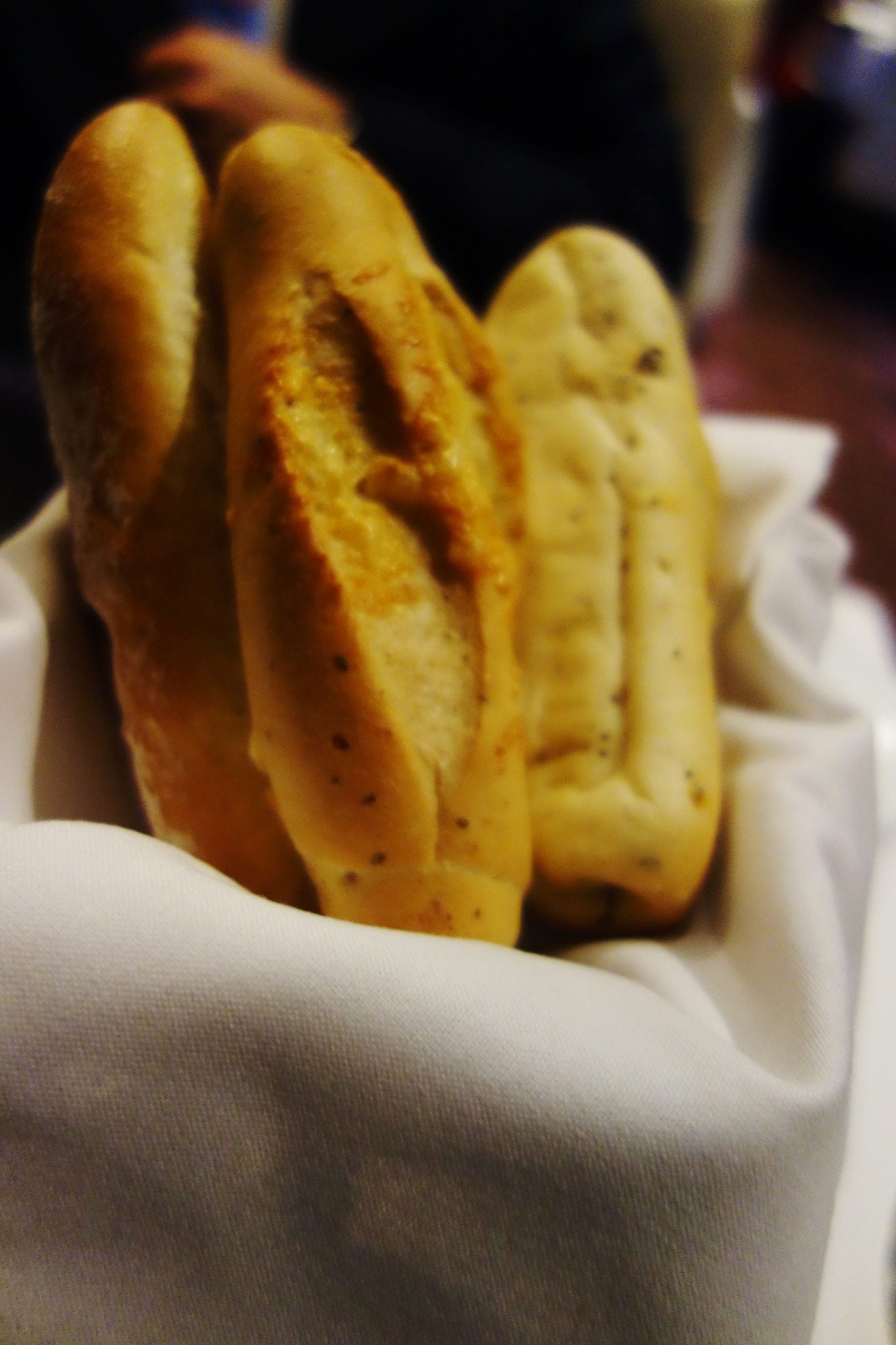 Presumably the delays were due to staffing, as our waitress did seem to do everything, including bringing the bread, taking our order, and delivering the food. At one point, there was someone who cleared our plates, but our server was mostly on her own.
The bread of course was mini french bread, nothing too spectacular, but definitely edible.
Since there was such an initial delay, we placed our drink and food order at the same time. Some of the things we missed about the traditional dining room set-up were separate bar staff and the personalization that comes along with having the same staff throughout the week.  Here, we felt that the waitstaff seemed put off when we ordered drinks. It turns out that not once during our dining on this cruise were we asked if we wanted bar service at dinner.
For drinks, I ordered Soixante Quinze, a take on a Hennessy side car. The wife ordered a vodka martini, the J'Dore. We both liked our drinks, but given the service we were only able to order one round of drinks.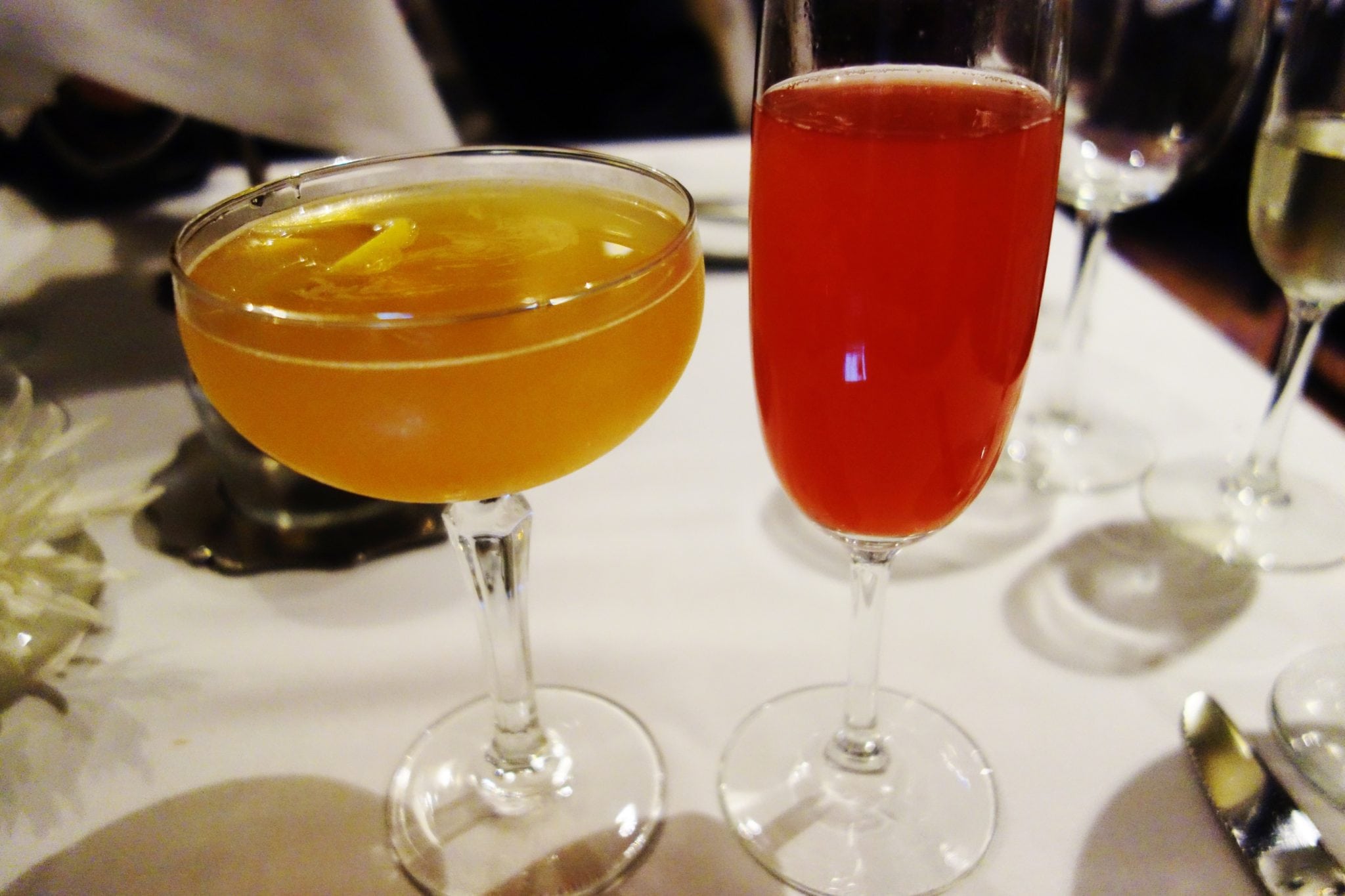 As I always order multiple starters and entrees, I made a point to try a few different things at Grande. I began with the Prawn Cocktail. These over-sized prawn were prepared exactly how I like them, with very little seasoning. They were served perfectly chilled with a mild cocktail sauce.   Compared to the shrimp cocktail you normally get on a ship, these were definitely an upgrade.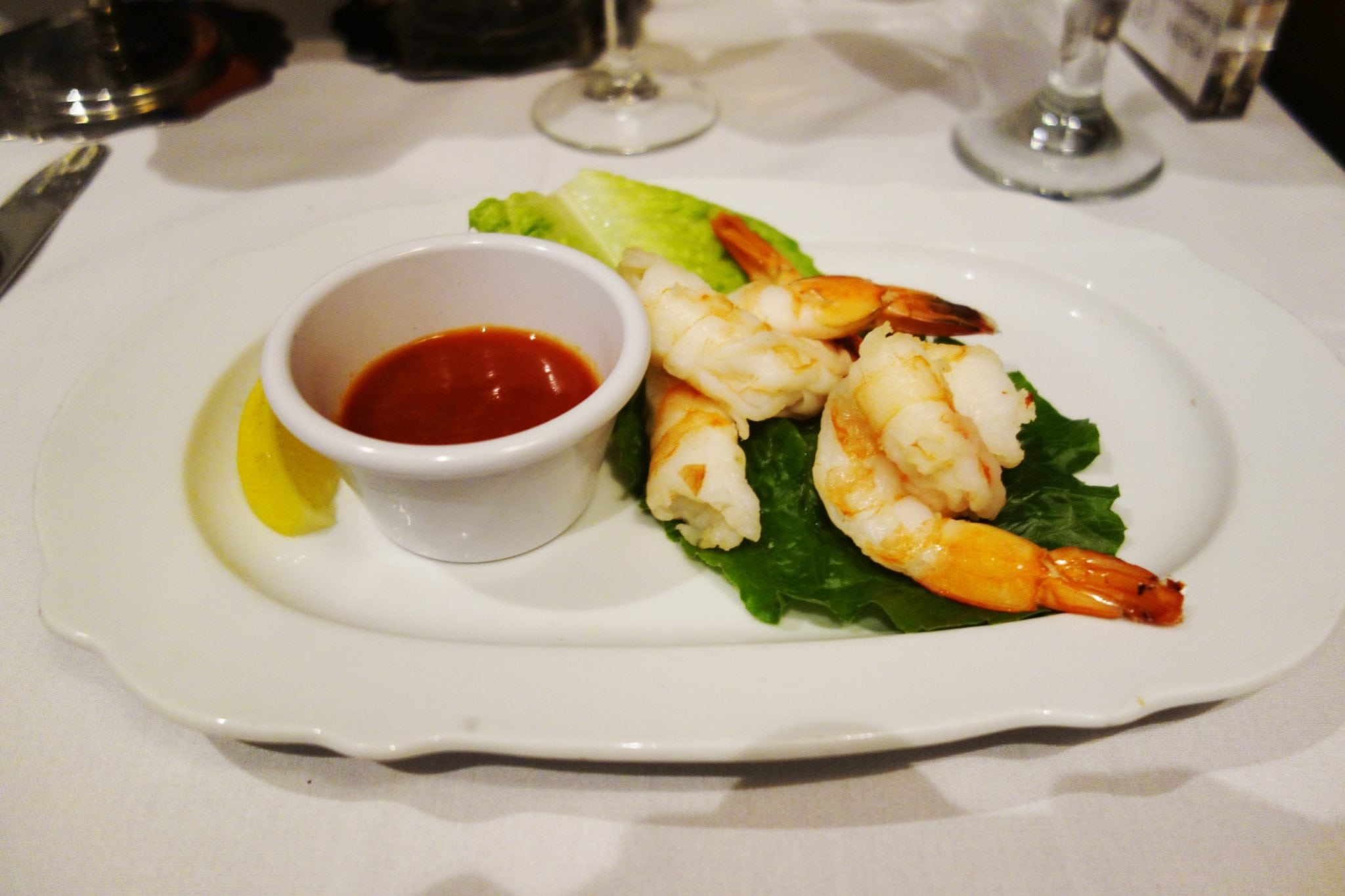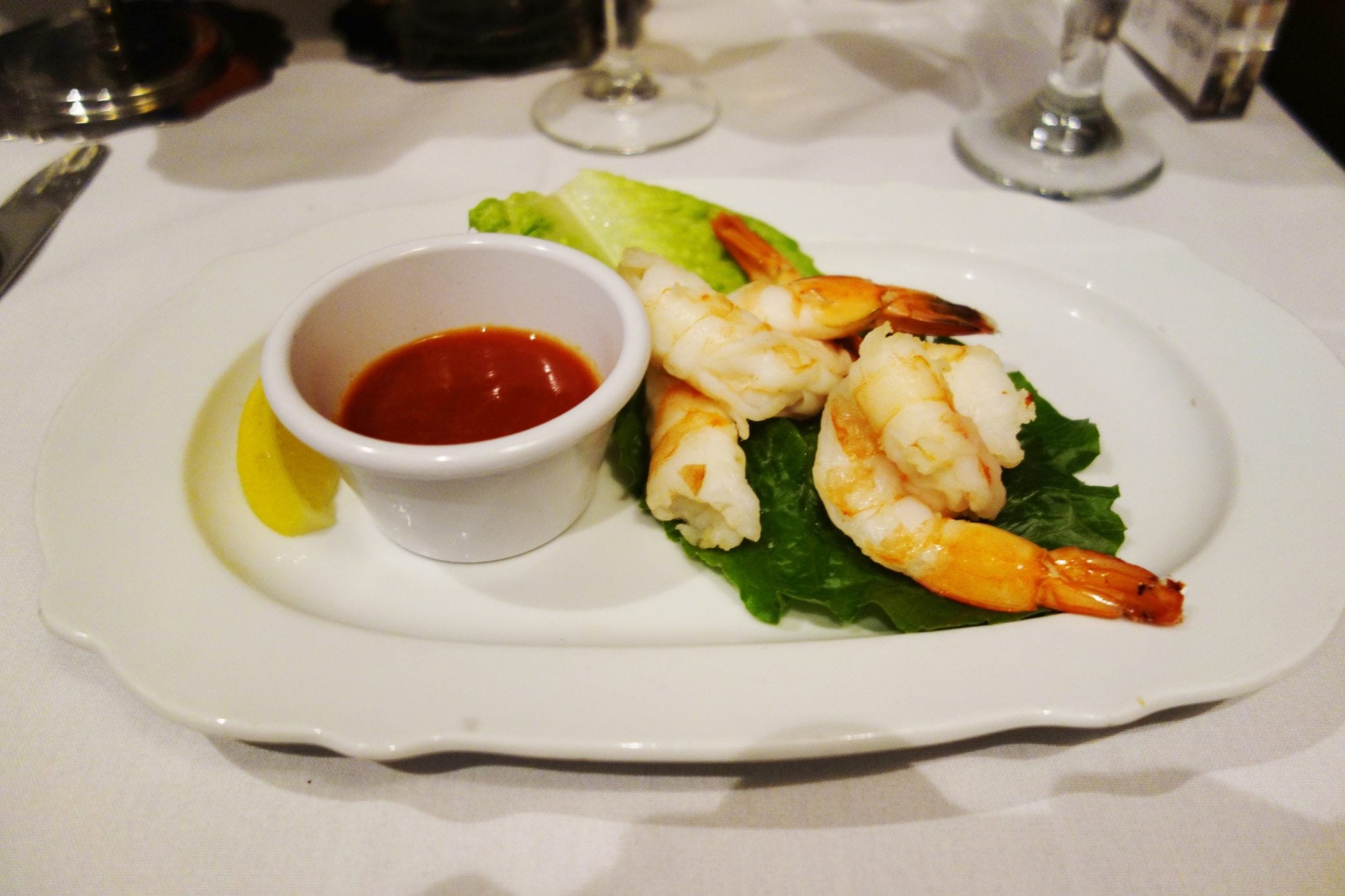 Next, I sampled the Beef Carpaccio. The beef was sliced very thinly and was rather bland. The next time I visit Grande, I will probably just get a double order of the prawn.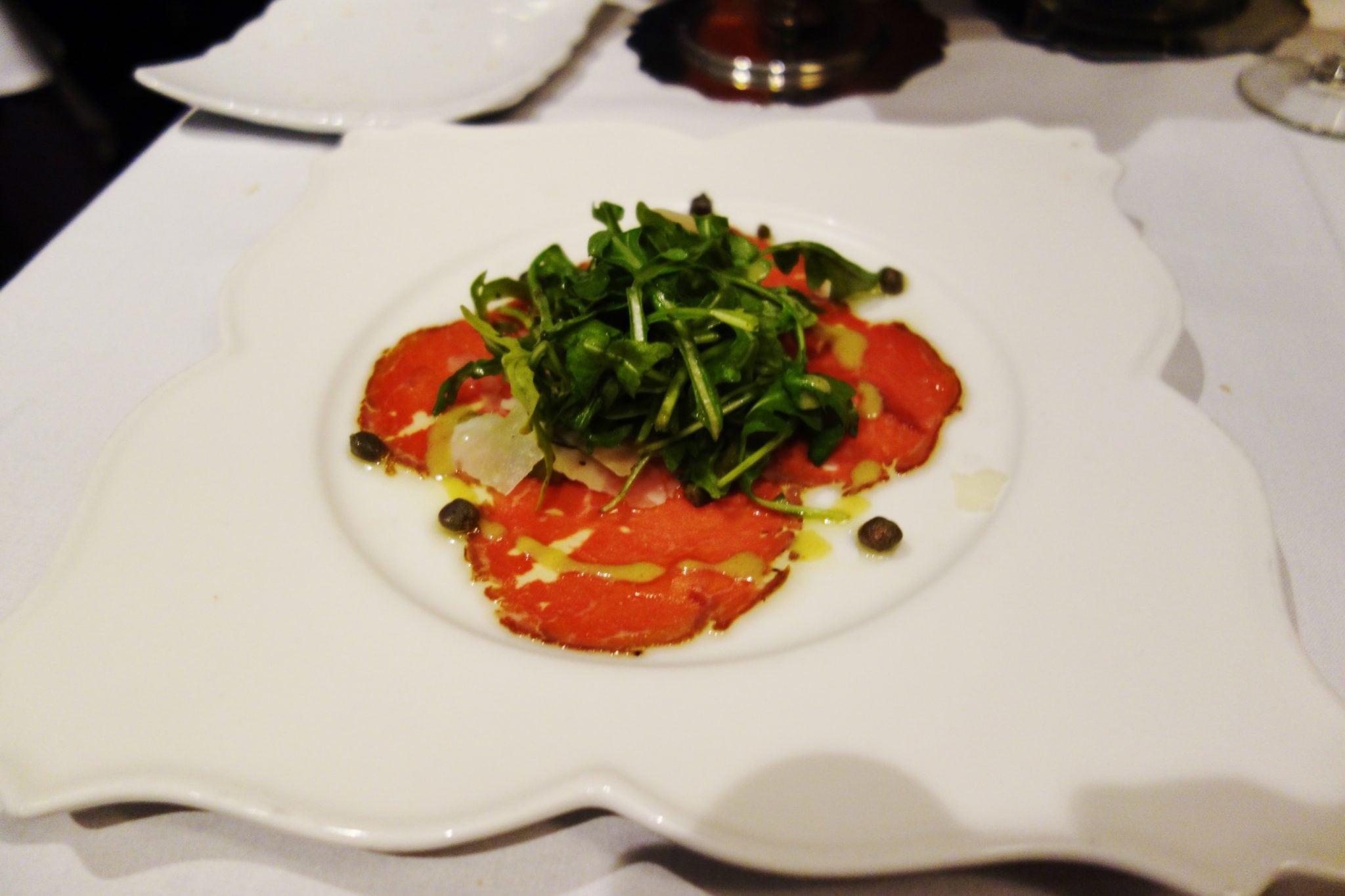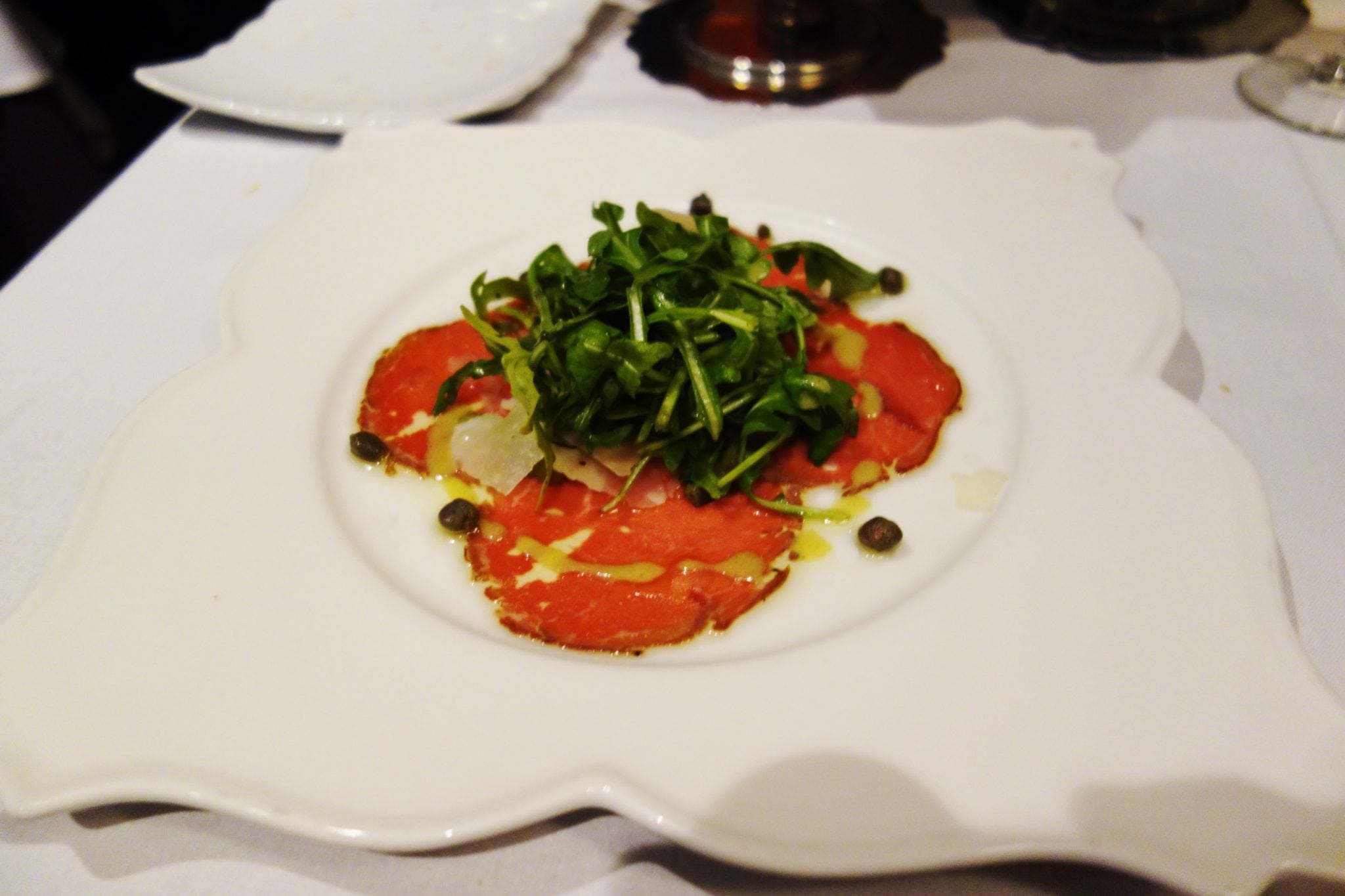 The wife did the French Bacon and Egg salad, a take on a cobb salad. The portion was a very good size and of course, everything tastes better with bacon. The only thing she wasn't expecting was a runny yolk in the egg.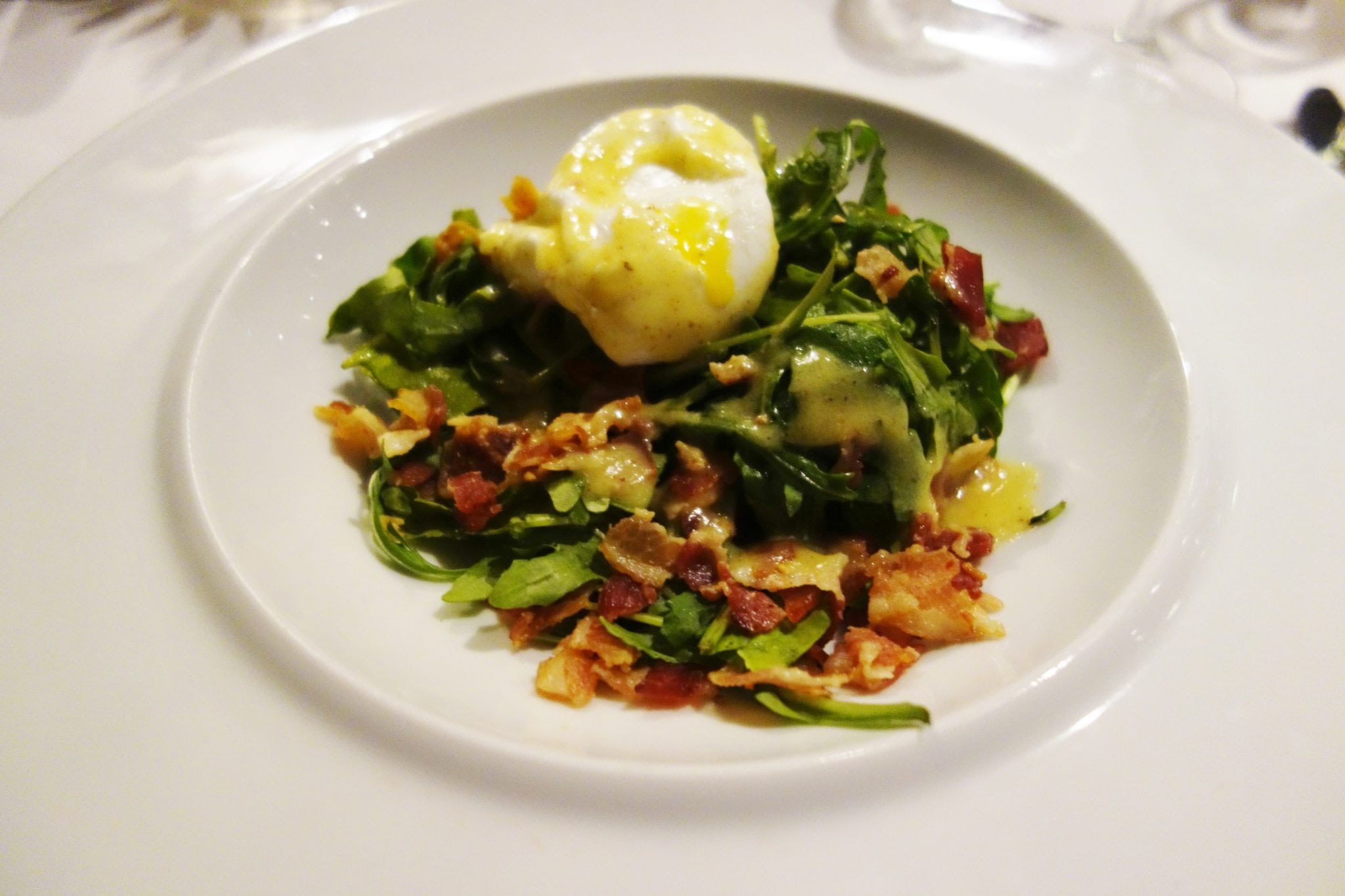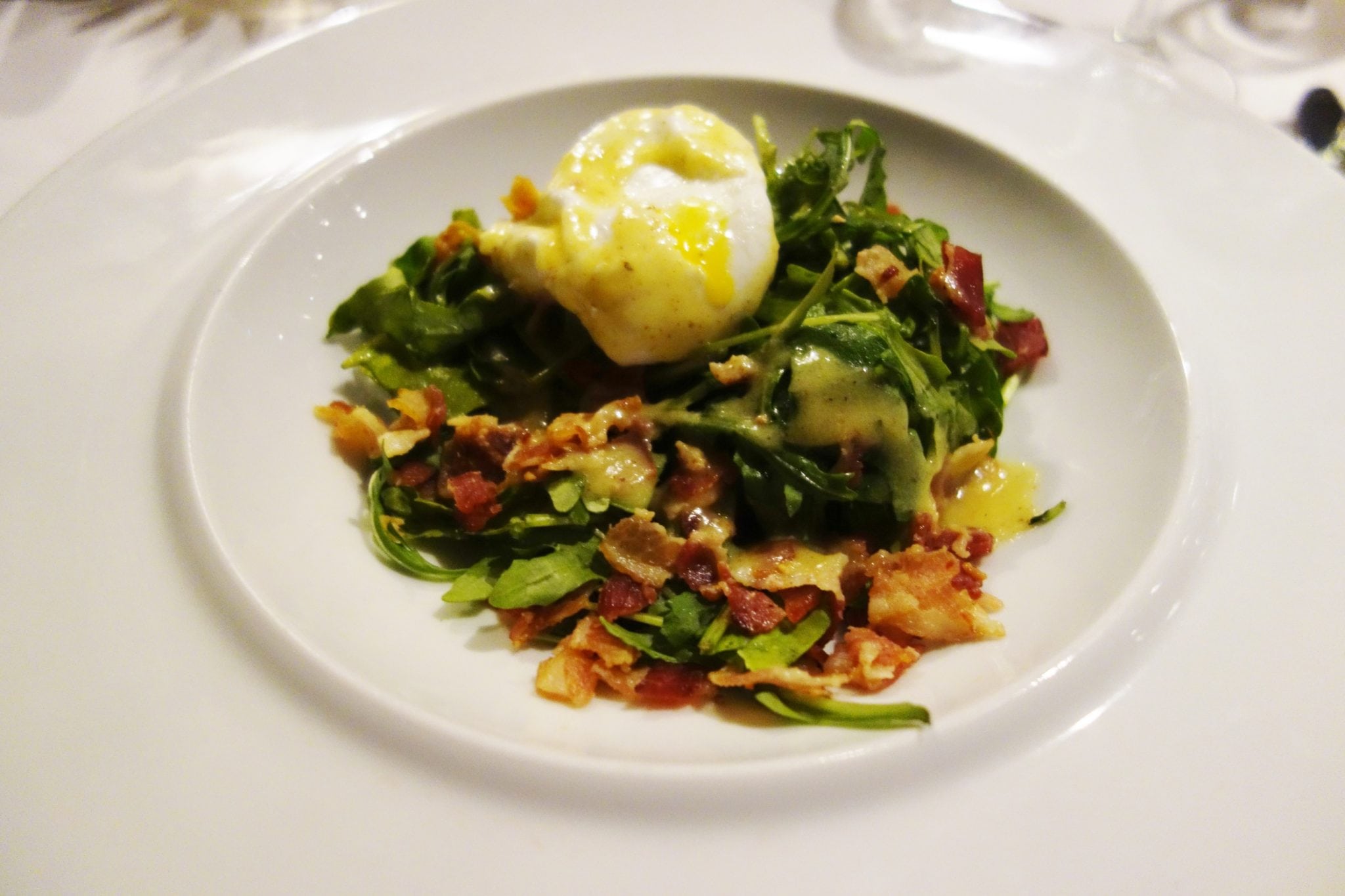 While I normally order multiple entrees when on a cruise, Grande was the first time I actually had two meals when sailing on Quantum of the Seas. I ordered both the Lobster Tail Thermidor and the Braised Lamb Shank. The Lamb shank came out first, and it was piping hot. It was very well cooked and fell right off the bone with some natural juices that gave the dish plenty of flavor.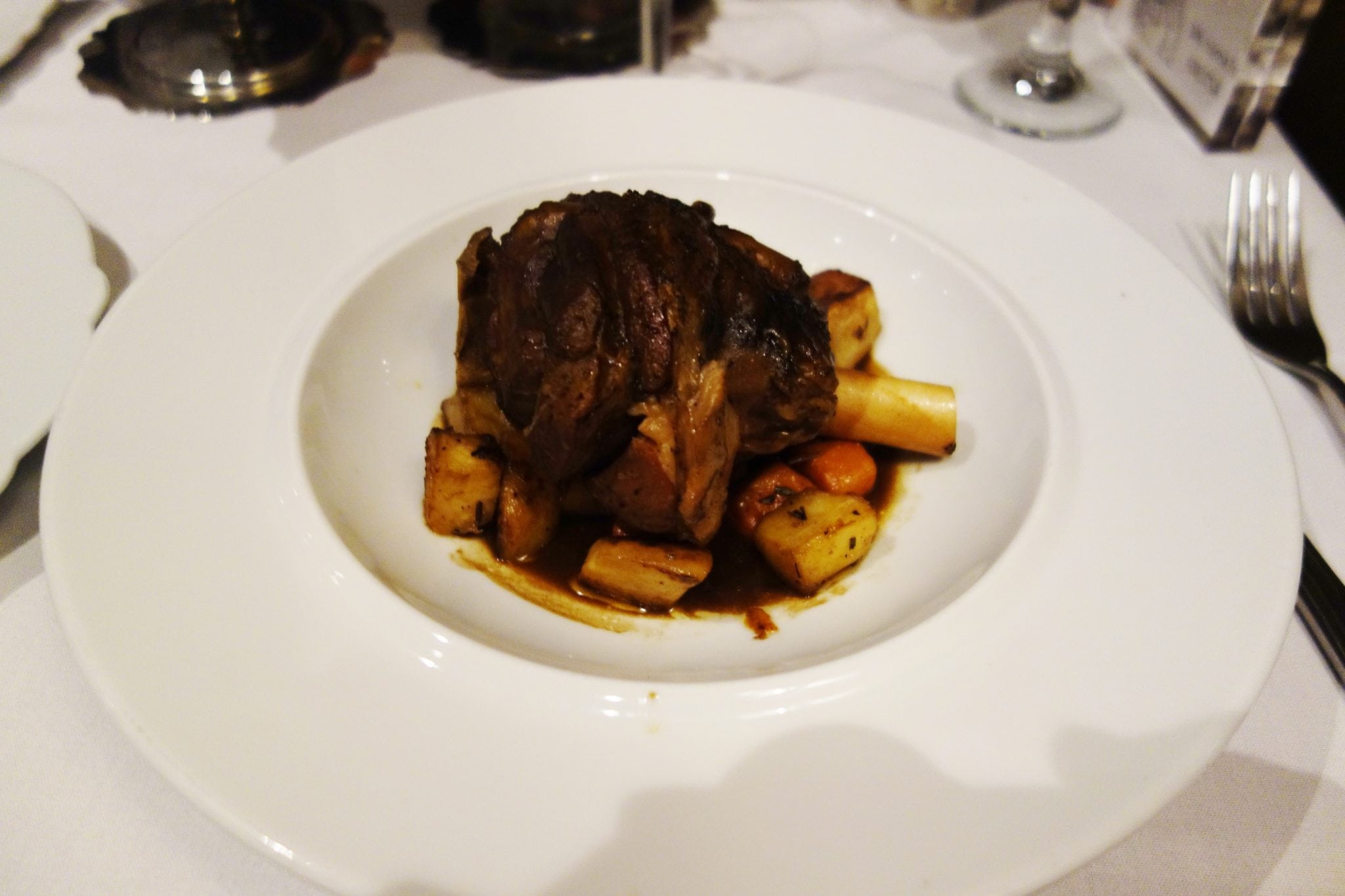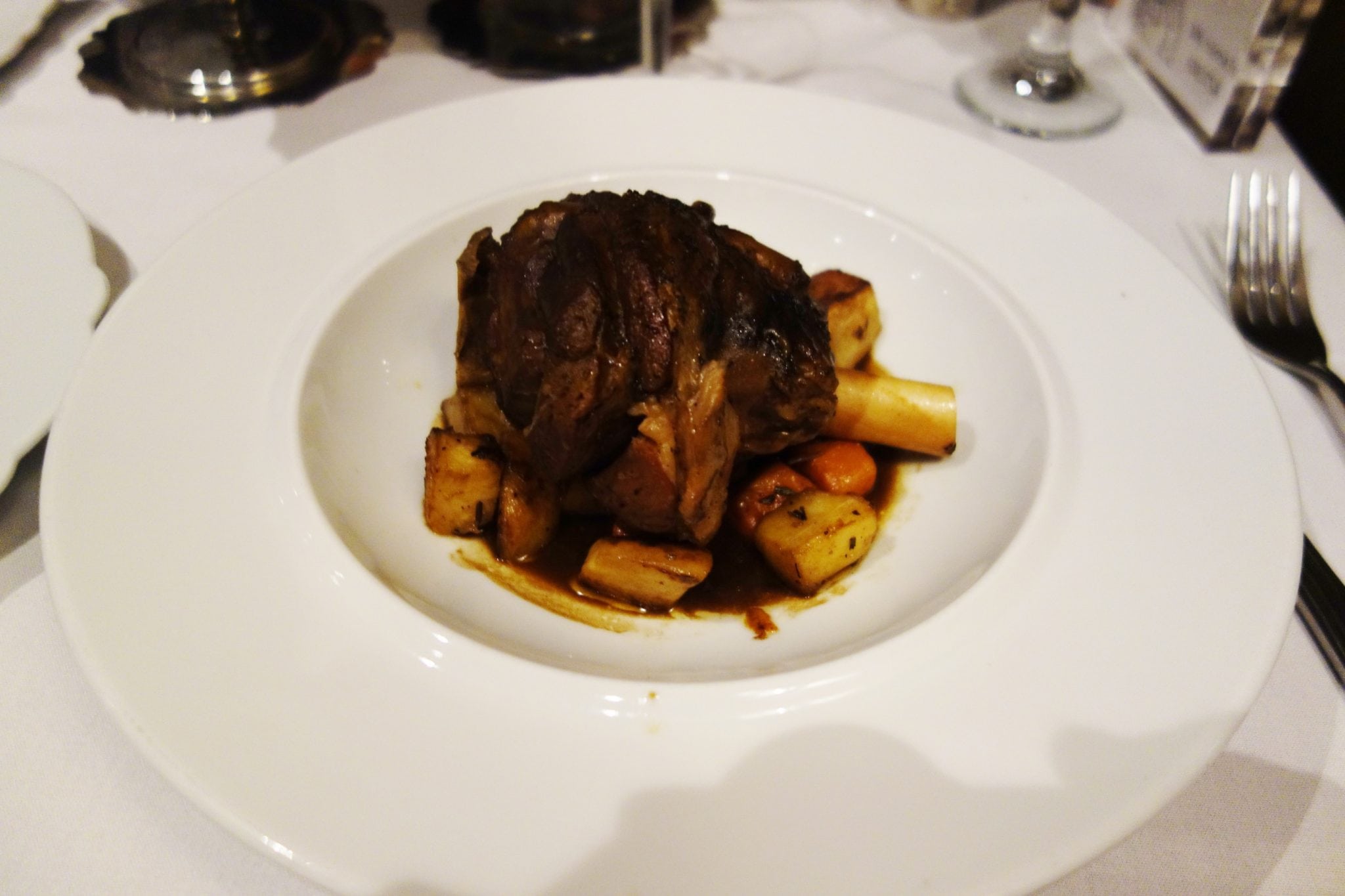 I wish I could say the same about the lobster. The two tails were not thoroughly cooked, they came out cold, and the sauce was missing something. I usually demolish three or more lobster tails on a typical formal night, but at Grande, I did not even finish these two little guys. I am going to give Grande another shot when we sail on Anthem next year, hoping they have perfected the lobster!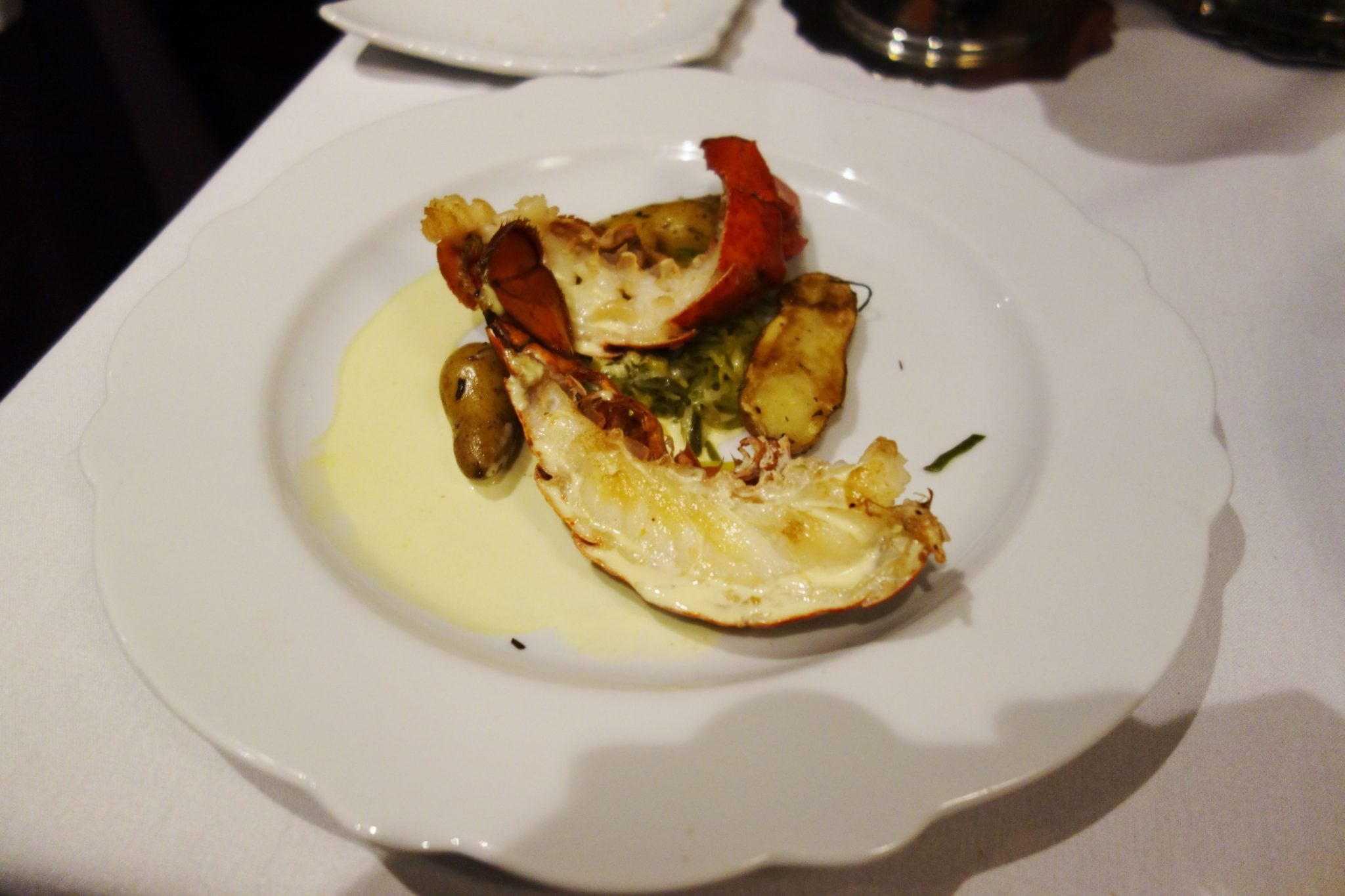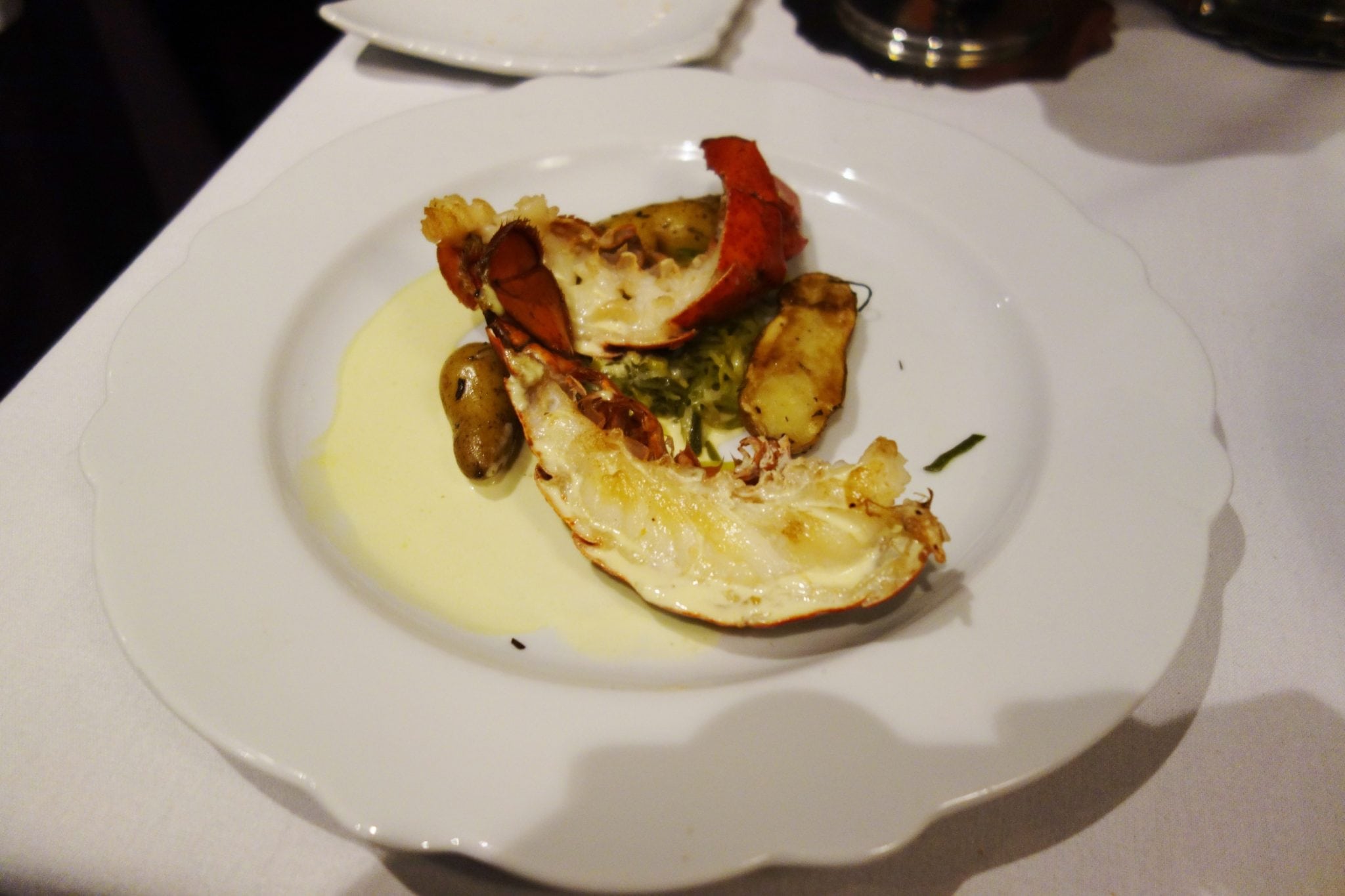 If you have been following us for any length of time, you know the Princess only eats chicken. Yes, I know, it is a bit boring. At Grande, the only Chicken dish was the Chicken A L'Orange. There was a bit of orange glaze on a quite large french cut of chicken, though this was not one of the wife's favorite dishes.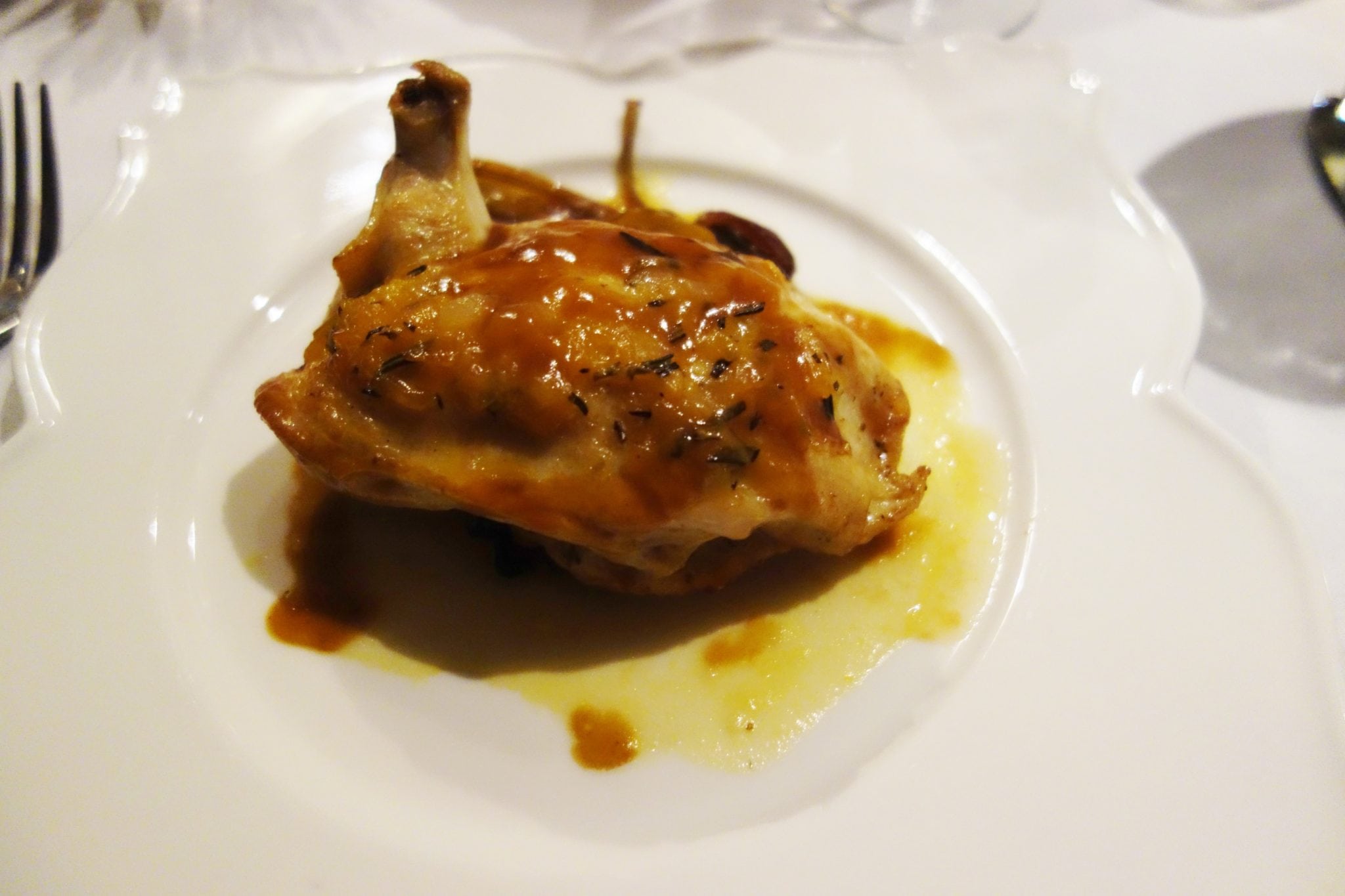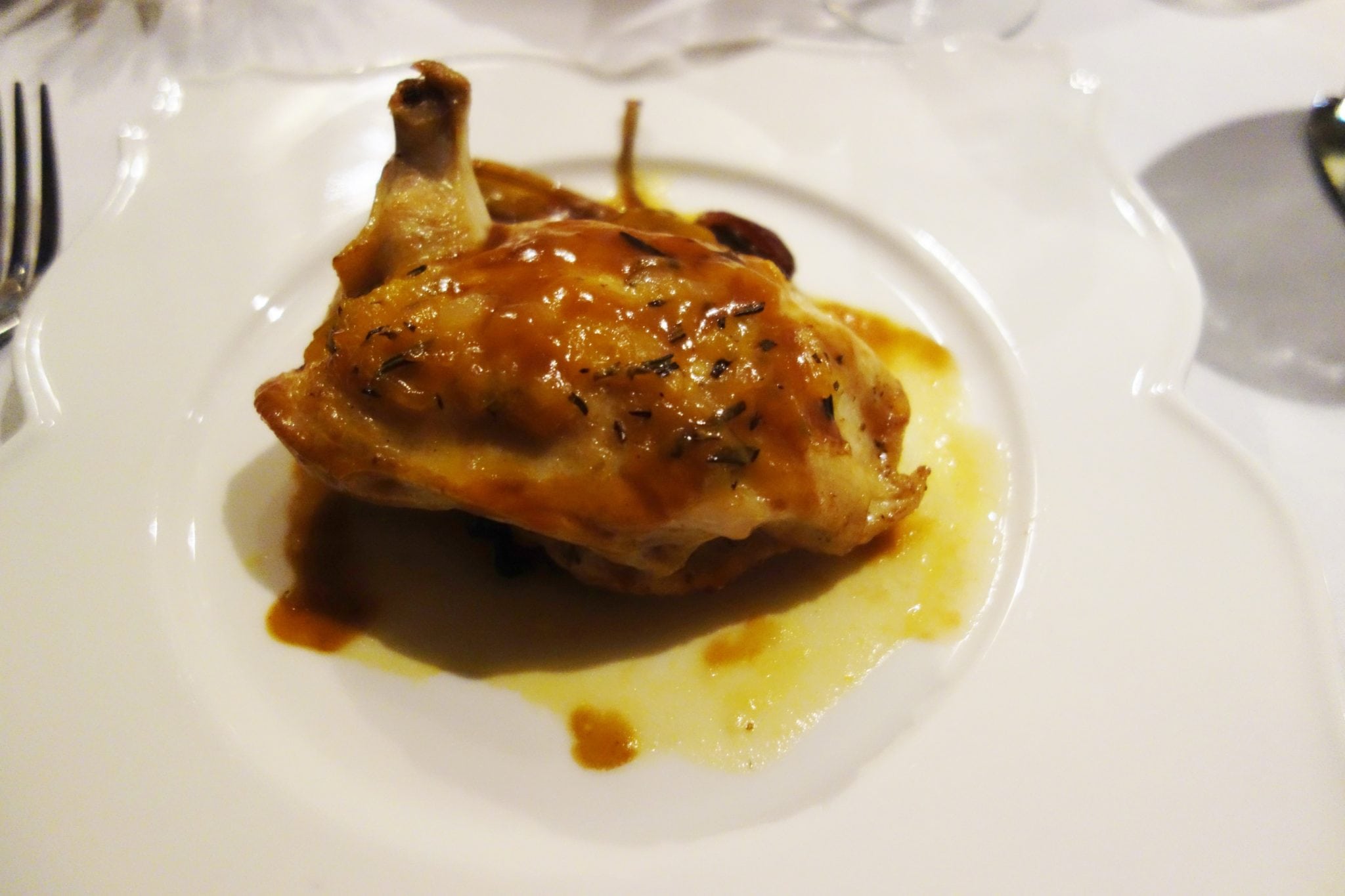 As we had to get to our guest entertainer showtime, we were in a bit of a rush for coffee and dessert. Getting coffee after dinner proved to be difficult in a few of the other restaurants on previous nights, but at least at Grande the coffee came quite quickly. For dessert, we were first provided with a small plate of cookies, as sort of a palette cleanser.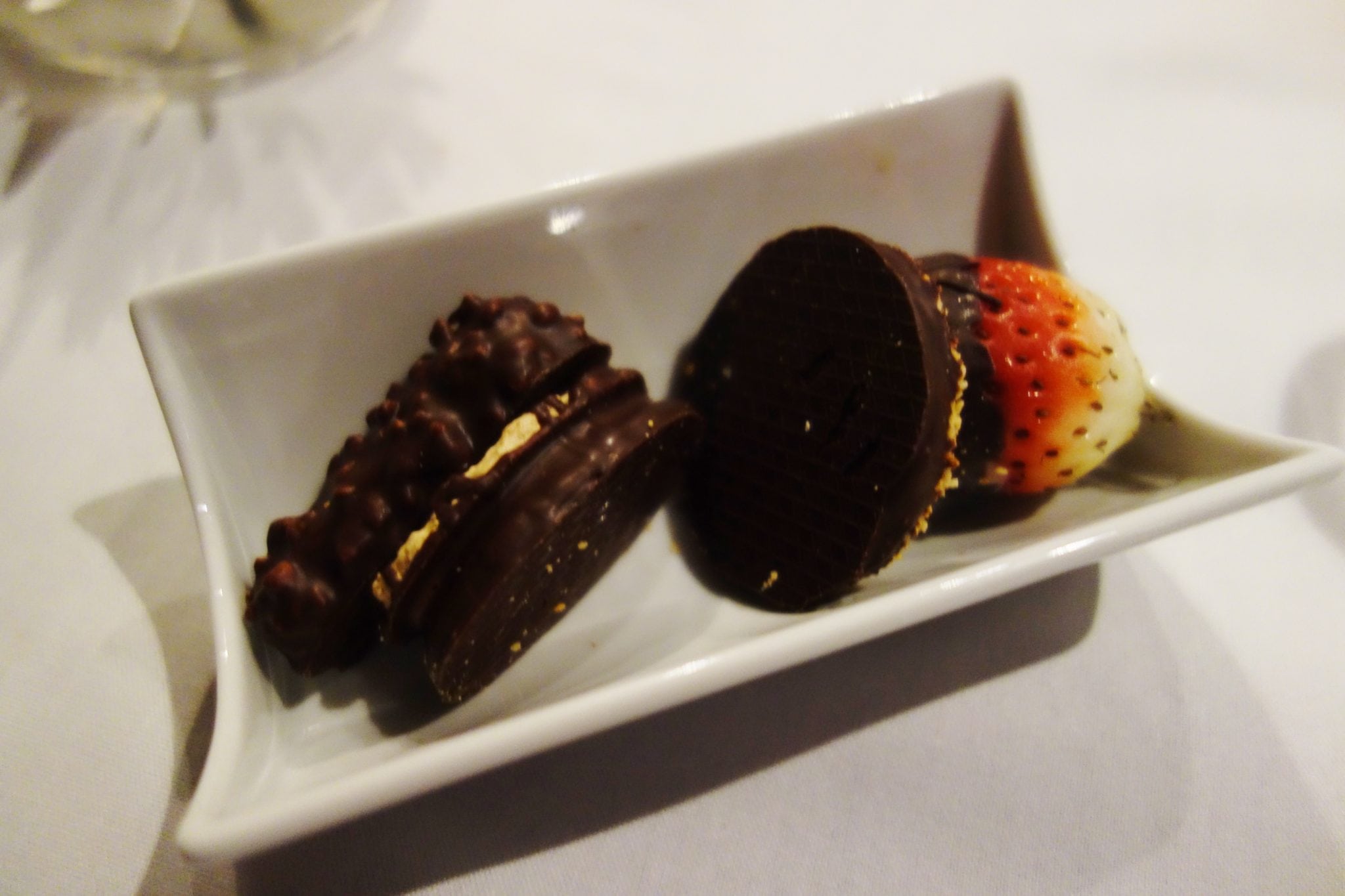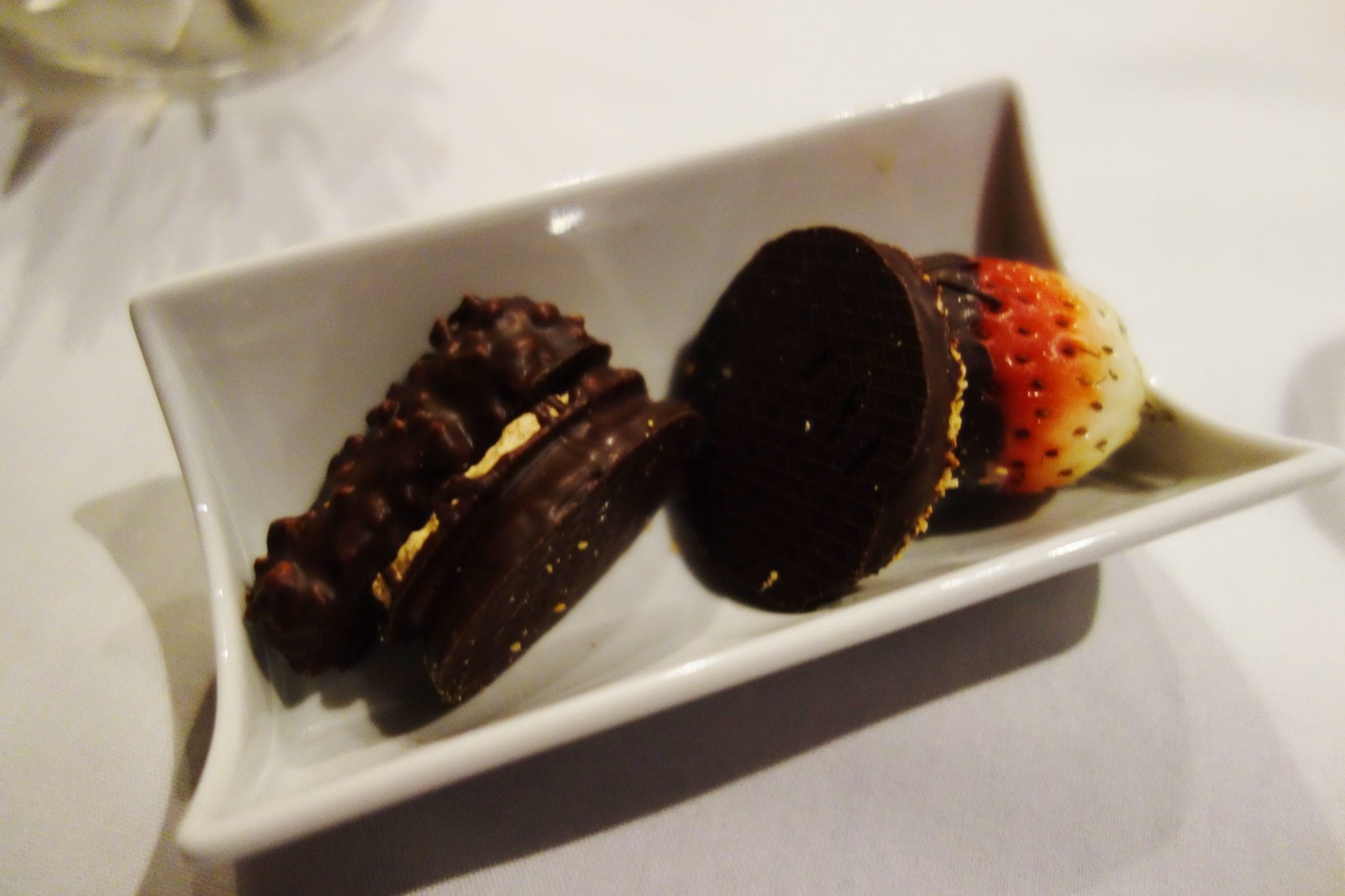 Then it was on to the real desserts. The Princess ordered the red velvet cheesecake, and I decided on the German Chocolate cake. This was the first night that the wife's dessert was better than mine! The red velvet cheesecake was quite tasty.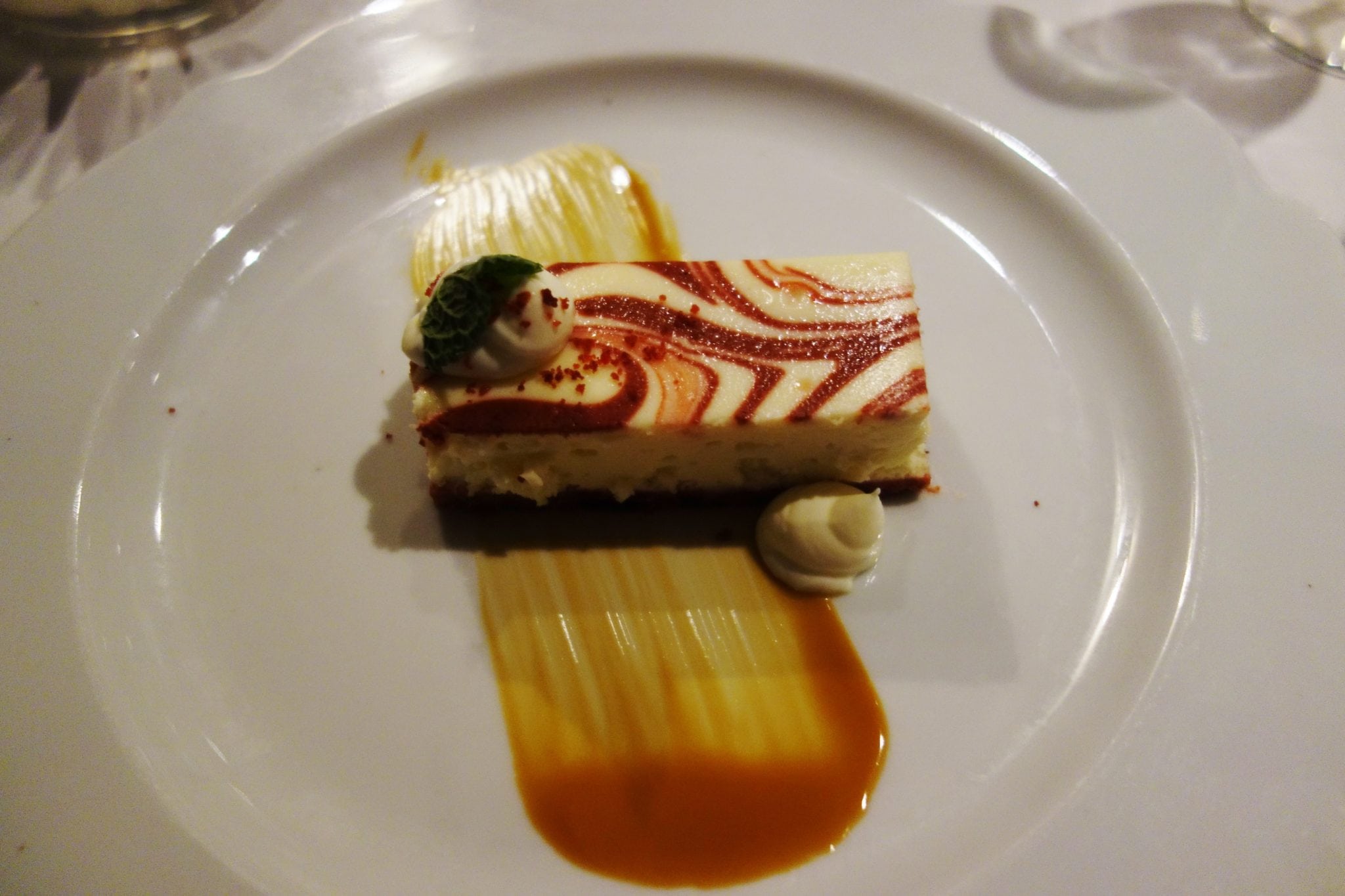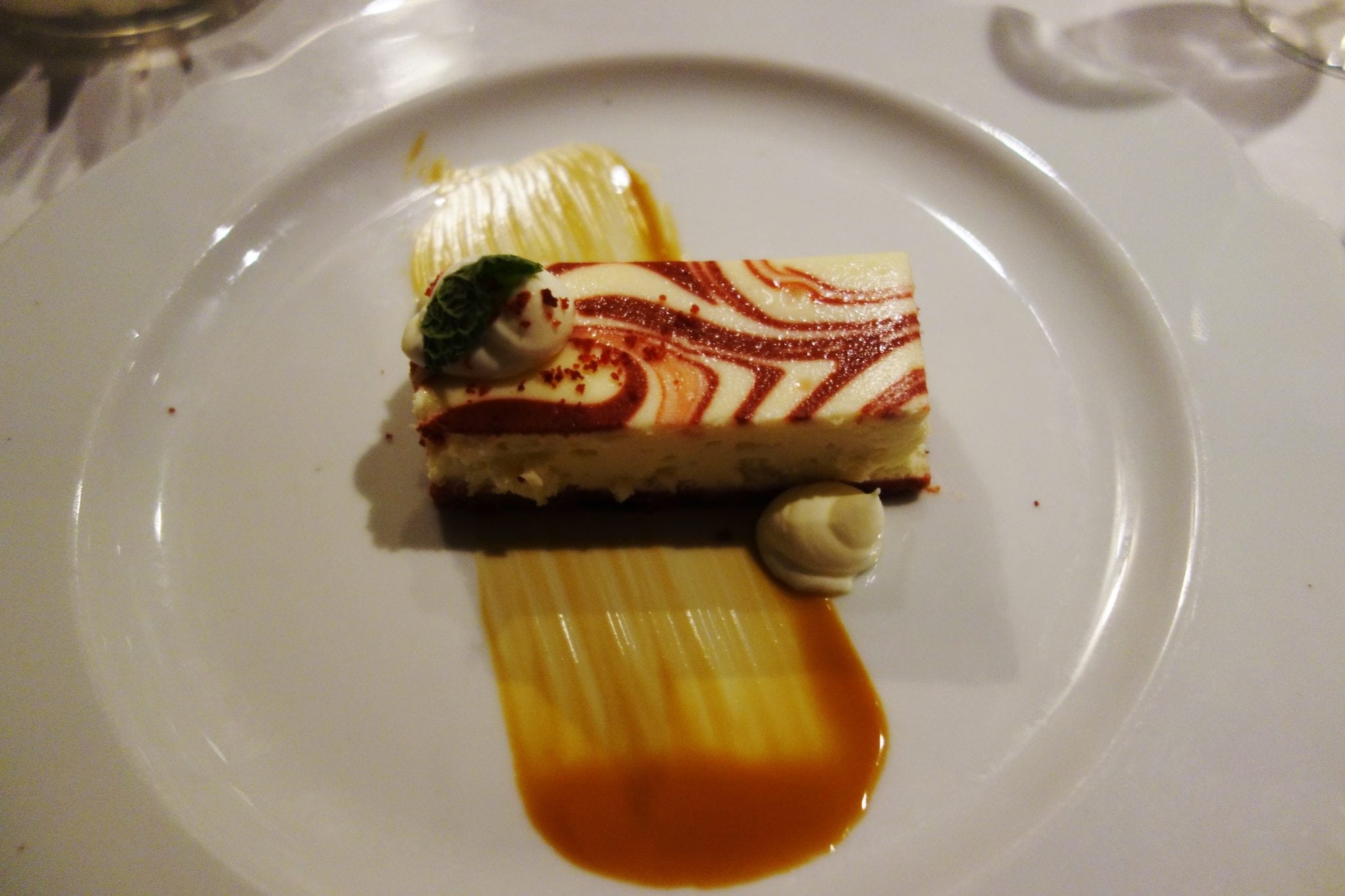 One the other hand, we were disappointed in the German chocolate cake. It tasted stale and was very dry. Hands down, this was our least favorite dessert of the trip.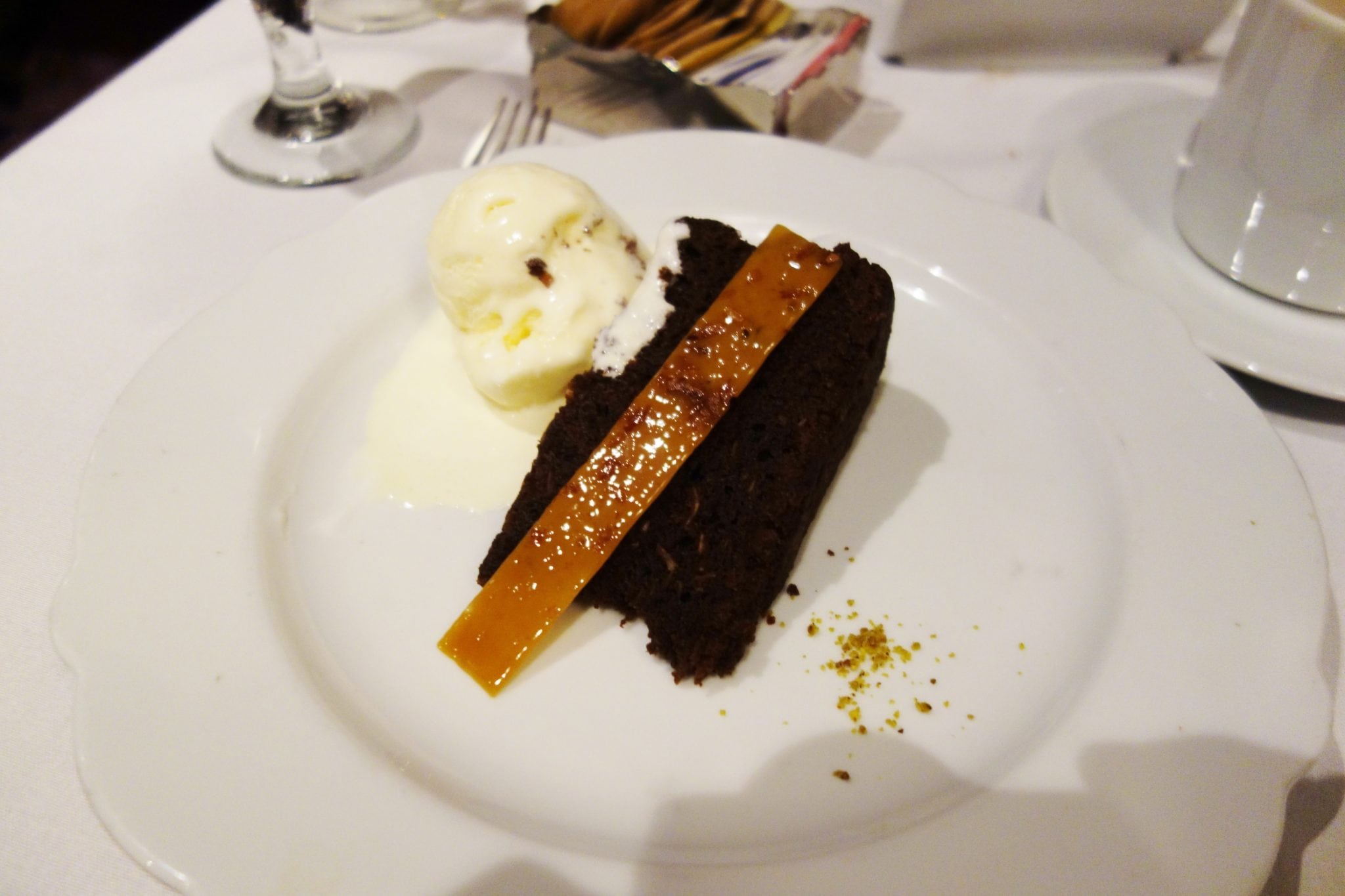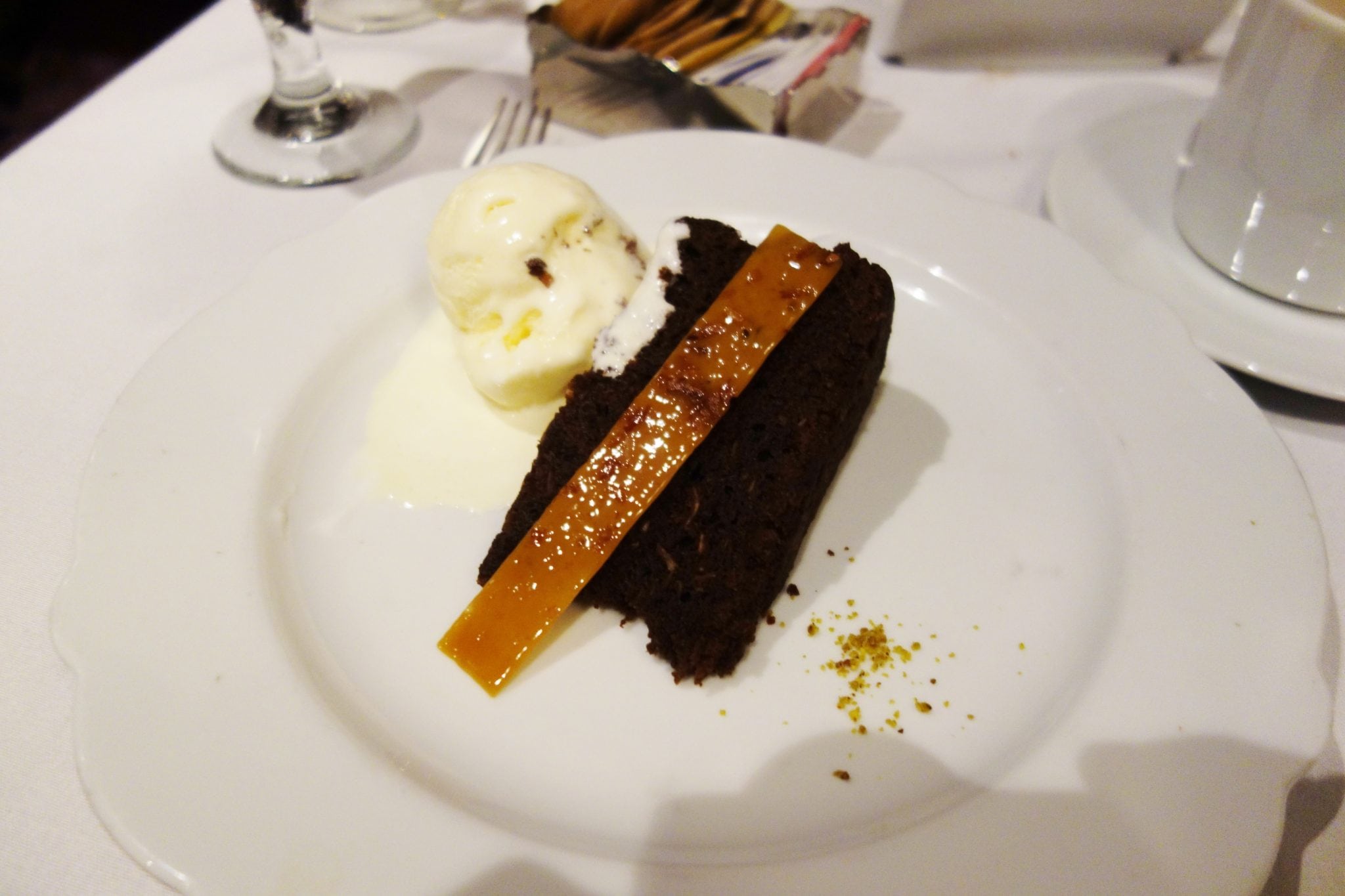 In closing,  our Dynamic Dining Review for Grande was average.  While many have liked this restaurant, it does depend on what you order. The starters again were very good, but the entrees were average and one dessert was subpar. The overall service in Grande was also a bit of a let down and proved to be our longest dining experience at nearly 2 hours. We are going to give this restaurant another try when we sail on Anthem of the Seas in January of 2016. We will be sure to give some other menu items a test drive then.
Summary
Comments
Have you had a chance to try Dynamic Dining yet? If so, what were your thoughts on Grande? Drop us an anchor below to let us know your favorite meals. We would love to hear about your experiences with the restaurants on this new ship, Quantum of the Seas!