Cruise vacations are a time for new experiences, visiting new places, and doing all those things you wouldn't normally do–including indulging in some extra calories. I mean, who eats three course dinners for seven nights in a row at home? With all this fun and excitement, sometimes we can over look, or neglect completely, our health while at sea.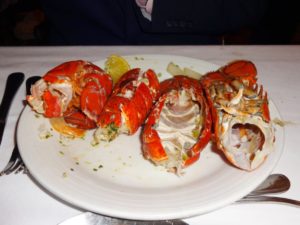 While cruising, it is important to keep in mind some general health tips to ensure that you can have the fun and relaxing vacation you deserve and make plenty of eat, sleep, cruise memories.
Here are the 6 essential tips that all cruisers should follow.
1. Wash your hands frequently!
Handwashing is the most effective way to prevent the spread of disease, including the all too common Norovirus which can spread quickly throughout cruise ships. Wash hands frequently and thoroughly with soap and water and be sure to take advantage of the anti-bacterial dispense systems around the ship. Even if you feel like the staff on the ship is being a bit over the top requesting you to use the hand sanitizers, just humor them and apply. You wouldn't want to miss out on all the excitement by catching a bug onboard the ship.
2. Exercise is important!
Even though you are on vacation, exercise is still important! As most of us will consume more food and beverage while on vacation, it is important to also increase activity levels accordingly to burn extra calories. Regardless of what activity you choose, remember that aerobic exercise is the key. Most modern ships have nice fitness facilities with a variety of equipment, and many offer free classes to help you stay in shape. So pick an activity that you enjoy and don't worry–you will still have plenty of time to lounge in the sun and indulge in all other aspects of the ship! See our blog post on exercise tips here.
3. Don't forget to pack your medications!
Be sure to pack all prescribed medications, inhalers, and motion sickness aides if prone to such. Remember that heat, humidity, and changes in eat, sleep, and activity patterns can affect your body and may require use of meds/inhalers that are prescribed on an as needed basis. You should contact your doctor if you have any questions about your medications prior to travel. All cruise ships have onboard medical facilities, so in the event you realize you forget something or are in need of additional medications, please contact the cruise ship's doctor immediately so they can assist you.
4. Hydration is key!
It is a good idea to keep a refillable water bottle with you at all times. Whether you are lounging on the pool deck, participating in ship activities , or walking around a port of call, drinking plenty of fluids is essential to avoid the effects of dehydration. Have fun, enjoy your vacation, and just remember to alternate some water with those other beverages of choice! A good rule of thumb is to have a glass of water with any alcoholic beverage you consume. Keep in mind that some drink packages include unlimited bottled water. If that is the case, grab some extra bottles so you can have them in your room or store them in your bag when at port. You can never have too much drinkable water when on your cruise vacation.
5. Apply sunscreen!
If you want to avoid the painful sting, reddness, and peeling associated with sunburn, be sure to apply sunscreen frequently throughout the day. Some basic facts to keep in mind about suncreen: choose an SPF appropriate for your skin-type, choose a waterproof suncreen if you will be swimming or exercising, apply even if the weather doesn't look "sunny", apply to all exposed areas, and supplement with hats, sunglasses, and other protective garments to avoid over-exposure. If you are prone to burning, you also should limit the amount of time you spend in the sun. Don't worry, there are plenty of great activities in which you can participate that occur indoors.
6. Don't forget to stretch!
After a long day of activity on the ship, excursions, and walking around ports of call, it is a good idea to take 5-10 minutes to perform a few simple stretches to keep those muscles flexible and ready for the other adventures that await. Below are 3 simple leg stretches. Remember these are just general stretches. It is recommended that if you have any health concerns or mobility limitations that you talk to your doctor or physical therapist about which stretches are right for you.
Calf stretch– make sure your back foot is firmly planted on the ground and pointed forward, then bend front knee while leaning forward until you can feel a stretch in your calf. Make sure your heel does not come off the ground.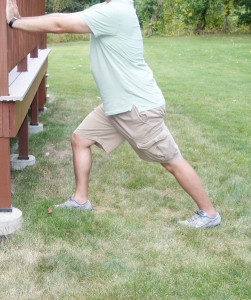 Hamstring stretch– place one leg on an elevated surface, then lean forward reaching towards your toes until you can feel a stretch in the back of your thigh. Make sure to keep your knee straight.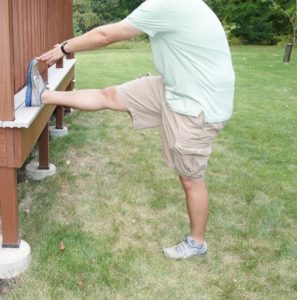 Quad stretch- grab one leg by your ankle pulling heel up towards buttocks until you can feel a stretch in the front of your thigh. Make sure to keep your knee pointing towards the ground.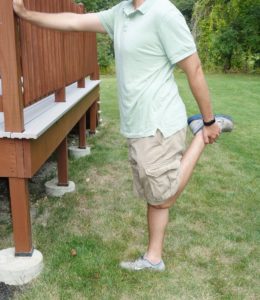 Disclaimer: Please remember that each individual's circumstances are unique and that the recommendations here are general guidelines and do not constitute medical advice. If you have any specific questions or concerns please contact your healthcare provider directly.
How do you make sure to stay in good health while on a cruise? Please share your tips for staying healthy below.