If you are looking for a short getaway, a cruise on Norwegian Sky might be your best option. This cruise ship offers travelers a few relaxing days to recharge their batteries. Whether you have already booked your trip or are considering this cruise, we have put together some important details you should know before boarding the ship. Being prepared for your vacation will allow you to make the most of the few days you have at sea. So, here is our list of the 10 Things You Need to Know Before Cruising on Norwegian Sky.

10 Things You Need to Know Before Cruising on Norwegian Sky
It Leaves from Miami
Norwegian Sky departs from Terminal B in the Port of Miami Cruise Port. The Port of Miami is easily accessible from the Miami International Airport or one of the many downtown hotels via shuttle, taxi, or Uber. Embarkation begins around 11am. Parking is also available nearby for those commuting to the port. Once you are onboard, it is time to get the party started.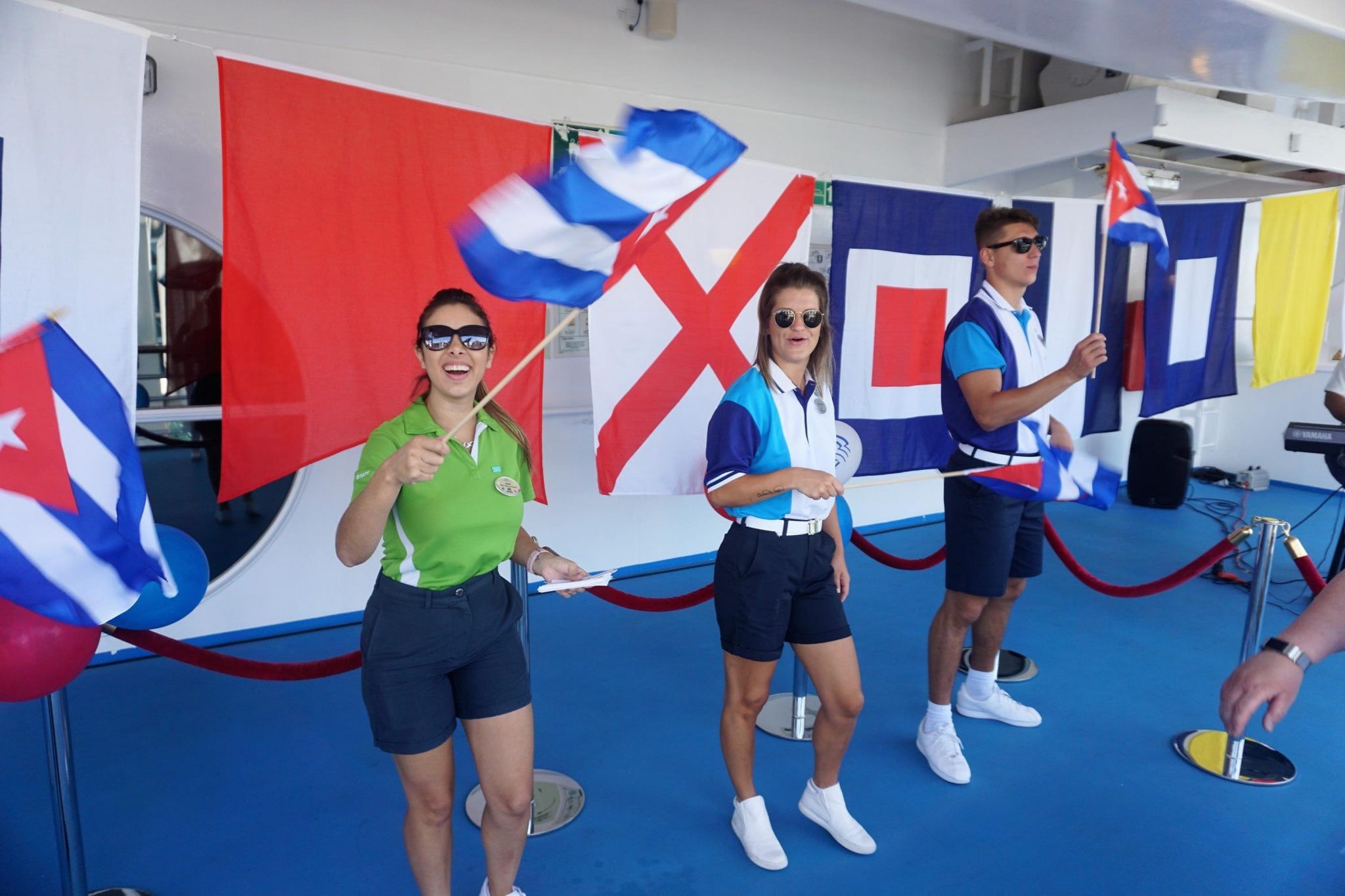 It Offers Two Different Itineraries
Currently, Norwegian Sky alternates between two different itineraries. The three day "weekend cruise" (Friday-Monday) is a great choice for first time cruisers or those looking for a quick getaway. Departing Friday afternoon and returning early Monday morning, this options means you can use little vacation time yet still squeeze a cruise into your schedule. From Monday to Friday, the ship offers a four day intinerary. You will be missing several days of work with this option, but it might be worth it because of the destination.
One of the Cruises Goes to Cuba
On select four day cruises in 2017 and 2018, you can cruise to Cuba on Norwegian Sky. We were fortunate enough to sail on one of the first trips to this largest Caribbean island. This 4-day itinerary includes an overnight in Havana, Cuba. There are a few additional steps to make sure your travel complies with the current travel regulations to the island, but the bit of extra work is worth it to spend two days touring Havana. If you are considering one of these Norwegian Sky Cuba sailings, check out our complete guide to cruising to Cuba.
All Cruises Stop at the Cruise Line's Private Island
Whether you choose the three day or four day itinerary, your cruise will stop at Norwegian Cruise Line's private island of Great Stirrup Cay in the Bahamas. The ship will tender while at this port, so make sure to get up early and secure a tender ticket to ensure you get ashore as soon as possible. The island offers plenty of activities to keep you busy. Or, you can just relax at the newly revitalized beach area. Wondering what to do while on the island? Check out our Top Things to do on Great Stirrup Cay.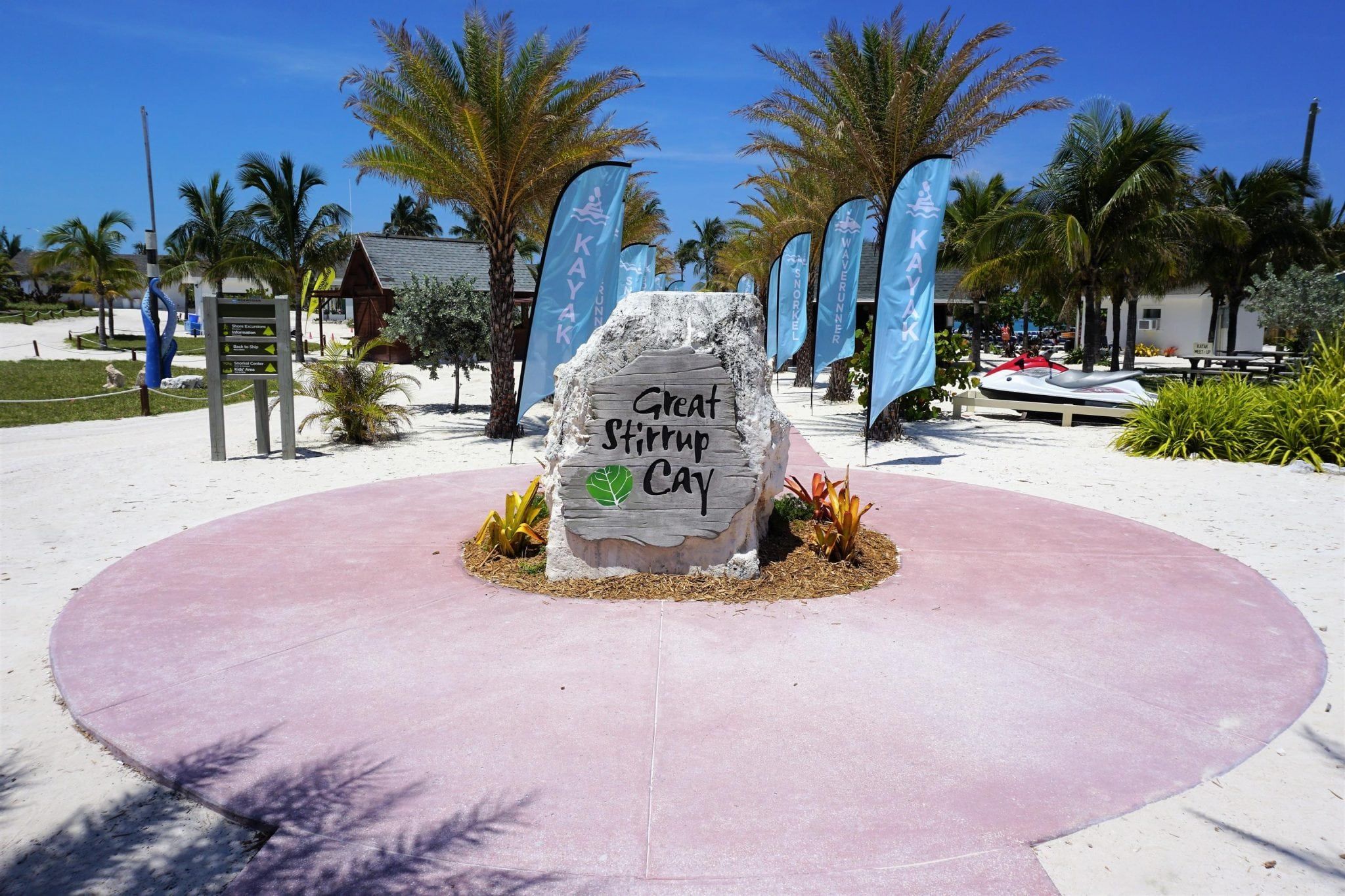 Dining in the Two Main Dining Rooms is the Same
The ship has a variety of complimentary dining options. The Garden Cafe offers breakfast, lunch, and dinner in a casual dining atmosphere. The adjacent Great Outdoors Cafe has similar selections throughout the day with al fresco seating at the back of the ship. There are also two main dining rooms. Crossings (aft Deck 5) serves breakfast, lunch, and dinner. The Palace Dining Room (midship Deck 5) is open only for dinner. However, the menu at each venue is the same. The menus do rotate each evening, but where you dine has no impact on your options. With the Norwegian Freestyle approach, there are no set dining times or table assignments. You can just show up whenever you want to eat, or you can make reservations to ensure you have your optimum dining time.
There are Three Specialty Restaurants
We are huge fans of the specialty restaurants on Norwegian Cruise Line ships. Good thing Norwegian Sky has three of them. Cagney's Steakhouse is the signature steakhouse serving up select cuts of beef and seafood. This venue gets busy, so we suggest making reservations pre-cruise. Another popular venue is the French restaurant Le Bistro, offering an eclectic mix of starters and entrees. Make sure to save some room for the fondue for 2 dessert. Lastly, there is the Italian restaurant Il Adagio. It was our first time dining at this NCL restaurant. We found it to be similar to La Cucina with a slightly different menu. Given this was a four day cruise, we did opt for the 3 day specialty dining package so we could test out each restaurant. We recommend you consider doing the same.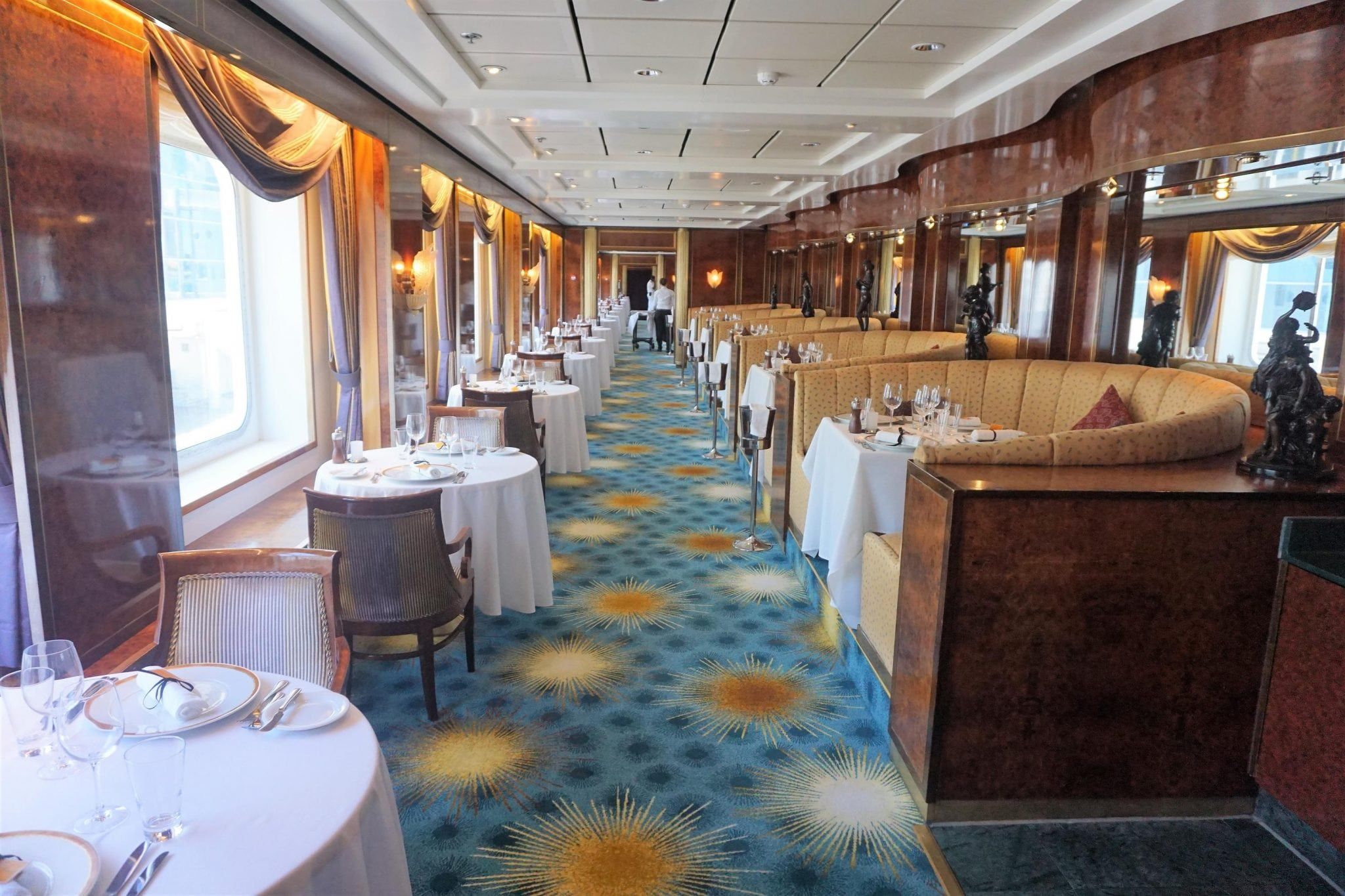 There are 12 Bars and Lounges
There is a bar for every type of cruiser on Norwegian Sky. You can relax poolside at the Breakers Bar, or enjoy the outdoor breezes away from the pool at the Champs Bar. Inside, you will find the Dazzles Lounge featuring game shows, trivia, and other nightly events with a full bar and table service. Martini drinkers will gravitate to Captain Cook's Bar which features live music in a cozy atmosphere. Sports fans will cheer together at the Longboard Bar, while karaoke fans will sing along with each other at the Plantation Club. With so many options, it's a good thing those drinks are included (see below).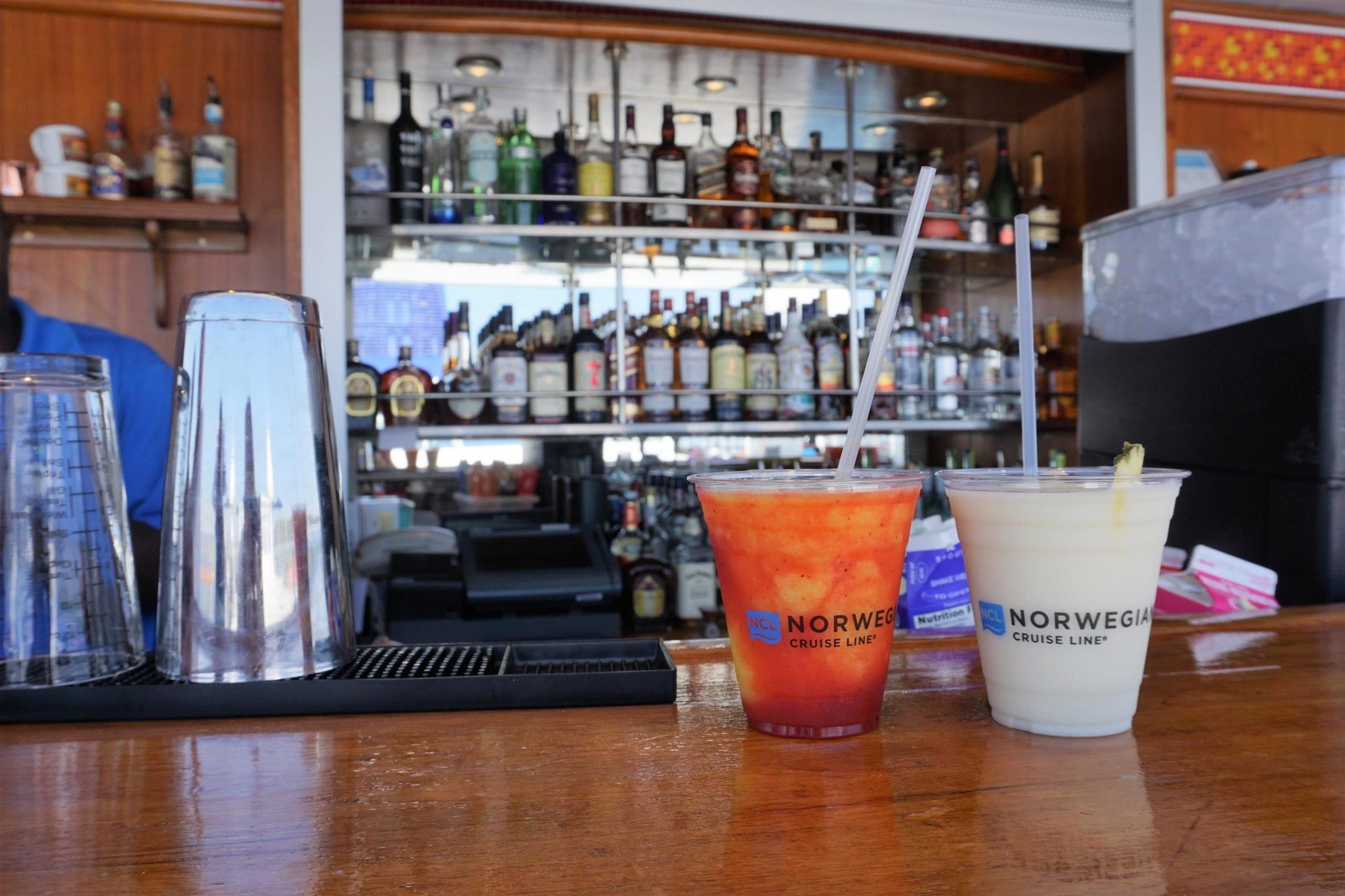 There is a Different Nightly Show in the Theater
Along with live music, game shows, and other nightlife happening throughout the ship, Norwegian Sky boasts a nightly show in the main theater. Located on Deck 5, the Stardust Theater has a lounge setup and feel with cozy chairs. During our four night cruise, there were two production shows, a comedian, and a Welcome Aboard variety show. Given the size of the ship, there was only one showing each evening at 9:30pm. If you are one who never misses a show, make sure to book your dining appropriately. We recommend arriving 15 to 20 minutes before the start of the performance to get a decent seat.
The Cabins are on the Small Side
The ship is one of the smallest in the NCL fleet. So, while Norwegian Sky packs a lot into her 70K gross tons, one thing that is compromised is cabin size. While we knew this going into the cruise, the 120 square foot inside cabin felt a bit cramped. If you are weary of small spaces, you may want to opt for a suite on this cruise. You should also pack accordingly, as storage is limited in these cabins. This should not detract you from booking the cruise, as you are not going to be spending much time in your stateroom anyway.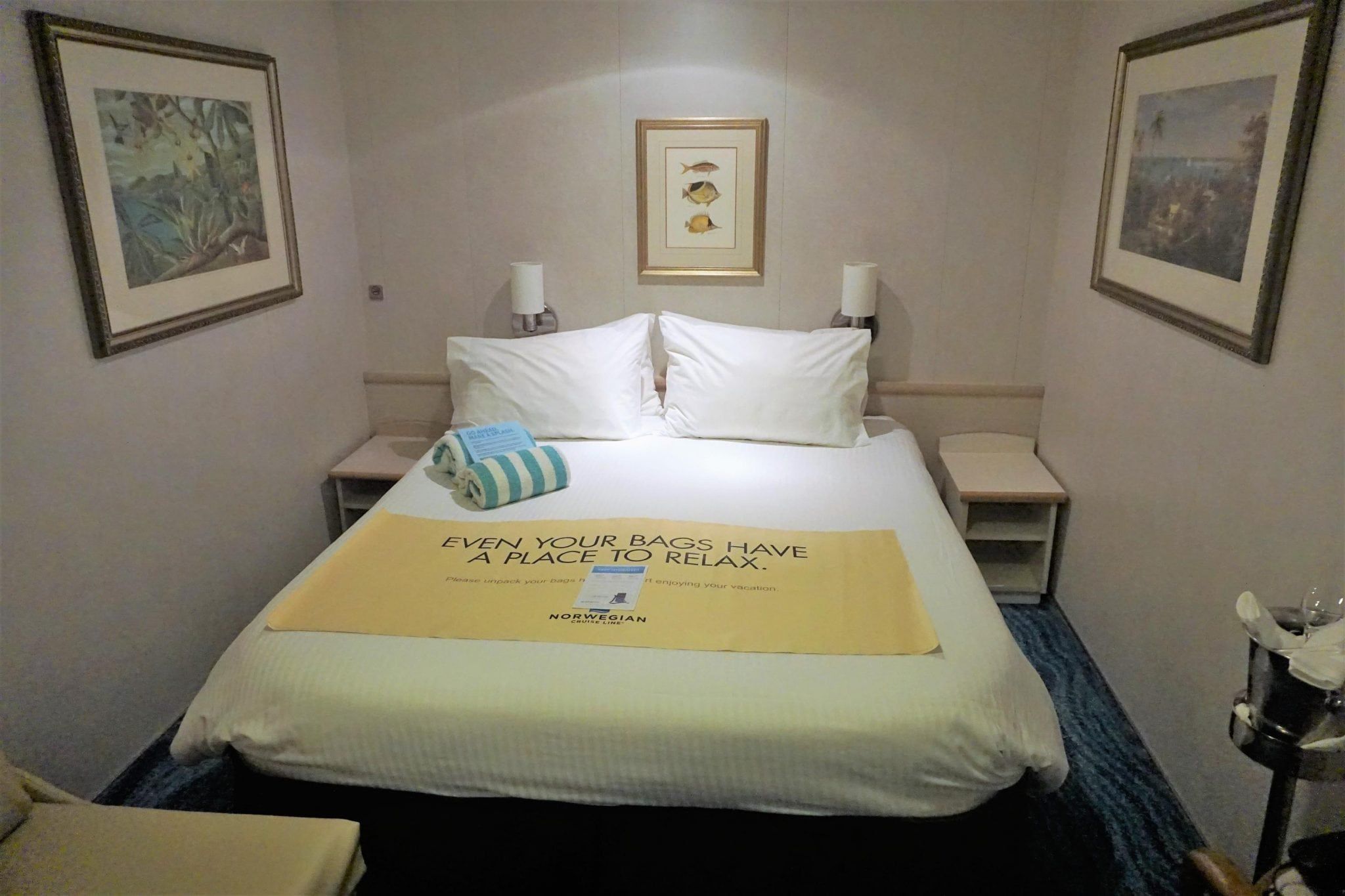 Alcoholic Beverages are Included
Yes, you read that correctly. One of the best values of cruising on Norwegian Sky is that your cruise fare includes an "open bar". This program covers almost all drinks you will find on the bar menus. Beer, wine, and many mixed drinks will cost you nothing during your time on the ship, so there is no need to worry about that bar tab at the end of the cruise. In fact, this open bar even works on the cruise line's private island of Great Stirrup Cay. However, not all drinks on the ship are covered. Bottled water, sports drinks, and specialty coffees (e.g., lattes) will cost you extra.
Comments
Have you sailed on Norwegian Sky? Do you have any tips to share about the ship? Drop us an anchor below to provide the top things cruisers should know about Norwegian Sky.